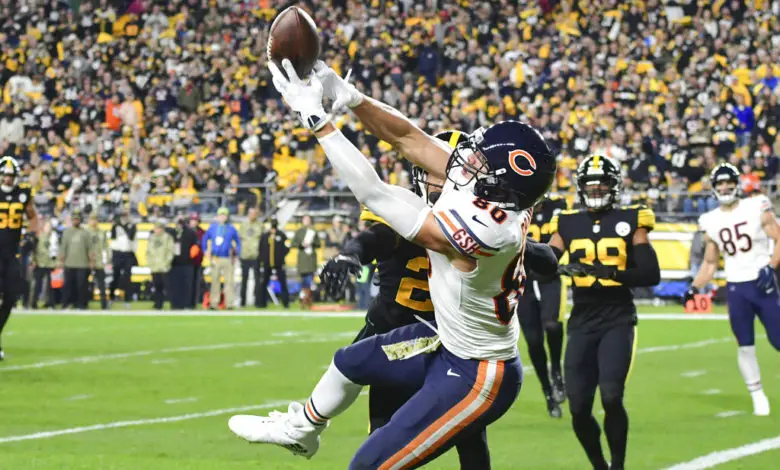 Cole Kmet Should Benefit From Bears' New Offense
Cole Kmet has been a bit of an enigma since joining the Bears in 2020. He was the first pick by Ryan Pace that year when he was selected No. 43 overall, and the 23-year-old Illinois native has had a lot of ups and downs since. At one point he, Darnell Mooney, and David Montgomery, along with Mitchell Trubisky were supposed to be the future cornerstones of Chicago's offense. Trubisky is with the Steelers now, and Kmet is still lagging behind Mooney and Montgomery production-wise.
You can partially blame the quarterback transition of the past two seasons, and the inept offense Matt Nagy too often directed didn't help, so Kmet will come to camp this season with something to prove. Luke Getsy likes his tight ends to be heavily involved in the passing game, and the 23-year-old will see his fair share of chances in the new offense. Though he didn't have a single touchdown last season despite numerous red-zone chances, expect that to change in 2022. The key to Kmet's success has always been increased targets, and the 6-foot-6 tight end is all aboard that train.
"Obviously we've been putting a lot in this past month and a half, two months, but you kind of see how the tight end [is] involved, you know, in the run scheme and off of that with play-action movements," Kmet said earlier this week. "And all those types of things, you know, can be really advantageous for tight ends.
"So, you see guys around the league in some of the offenses [similar to ours]. You know, whether it was Robert Tonyan a couple [of] years back with Green Bay or you look at obviously what George Kittle has done in San Francisco. And you even look at some things with Minnesota and things like that, how they've used tight ends in the last five years or so. You see those things and you can see how tight ends can get really involved in [the new] offense."
Let's build on it. 📈@ColeKmet | @justnfields pic.twitter.com/N8OEwucz3v

— Chicago Bears (@ChicagoBears) November 10, 2021
Clearly, Kmet is ready to step up, and he's looking to emulate some of the league's better tight ends. Getsy has the third-year tight end focusing on catching more with his hands than using his body to cradle the ball. Kmet has another item on his agenda, too, one that should be music to the ears of GM Ryan Poles: Blocking more violently in the running and passing game.
Will the new scheme increase Kmet's offensive production, especially in the red zone? Tonyan and Tyler Higbee are good examples of pass-catching tight ends that have benefitted from a scheme change to the Shanahan type of offense that will be the model for what Chicago deploys this season. Higbee went from 85 receiving yards to just under 300 for two years before exploding for over 700 yards under Sean McVay. Tonyan was a bit slower to develop, but he became more comfortable in the Packers' offense, then tallied nearly 600 yards with an emphatic 11 touchdowns.
Kittle, who has always played in the Shanahan offense, had 2,935 total yards in his first three seasons. Outside of some injuries, he's managed to maintain that productivity. Last year, Kmet was targeted 93 times, resulting in 60 catches for 612 yards, but zero scores. With Rodgers and Tonyan lighting up the endzone 11 times in 2020, it's fair to assume Chicago's new scheme portends more scoring opportunities for Kmet.
That's not something that should be etched in stone, however. Kmet will have to show better top-end speed because traditionally, this offense favors its wide receivers in the scoring situations, making Tonyan's 2020 campaign a bit of an outlier. The Rams and the Packers combined for 62 red zone touchdowns in 2021, but only six went to their tight ends. Despite two 1,000-yard seasons, Kittle has never garnered more than six touchdown receptions in a single season.
If the Bears and Kmet intend to improve their tight end red zone efficiency in 2022, the data is mixed but does offer hope. You can only go up from zero, but expecting double-digit scores from Kmet seems a little unrealistic. If Bears fans are counting on the Notre Dame product to light up the scoreboard, they may have their hopes set a little high.