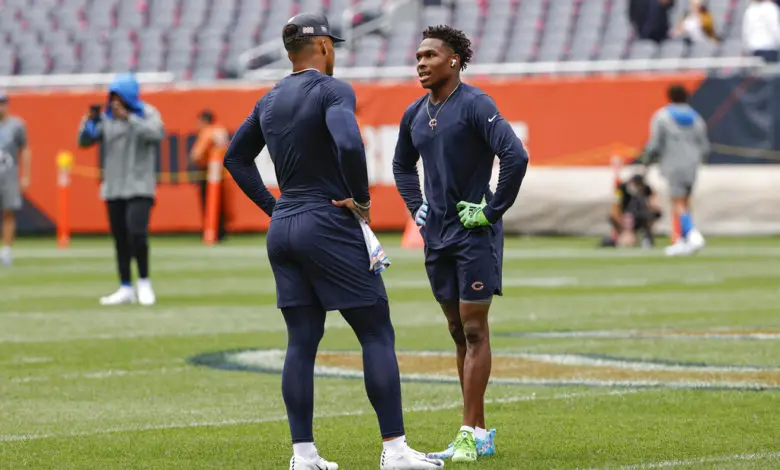 First & Long: Eberflus Impressed With Fields' Deep Ball Accuracy, Fencik Attends OTAs, Kaepernick Works Out with Raiders
It was my intention to pen a feature on the fact that Justin Fields and Darnell Mooney are working overtime trying to master the Bears' new offense. I think it's great that the two want to continue to build on the chemistry they created last season. I also think that it shows the leadership qualities of both men. But, 600-1,000 words on what is essentially a blurb seems like overkill. Nobody wants that much filler.
JUSTIN FIELDS AND DARNELL MOONEY CAN'T BE STOPPED
pic.twitter.com/kVx8gncTke

— PFF (@PFF) October 3, 2021
Honestly, I'm more impressed with what I can see instead of what I read. Reporters were at Tuesday's OTA practice where Fields put on a show. His arm strength is legit and has never been questioned by anybody. Head coach Matt Eberflus is also more impressed with the visual, and he gushed about his quarterback's deep ball accuracy.
"I would say, 'Man, he throws a good deep ball,'" Eberflus said Tuesday. "I'm excited about that. You could see it in the 7-on-7 and 11-on-11s. We're going to take our shots down the field. He does a nice job doing that, and that's what stands out to me."
Chicago worked on situational football in Tuesday's OTA practice, including third downs from all distances and two-minute drills.
The Bears have added a lot of speed at wide receiver, though most of the newer players aren't household names…yet. Fields has confidence in his receivers, and that's really all that matters. According to Bryan Perez at Bears Talk, the second-year quarterback has quickly taken to the role of team leader. Apparently, Fields walks the walk as well as he talks the talk.
"We're on top of everything and [we're] not making mistakes… The players we have right now are good enough," Fields told Scott Polacek of Bleacher Report. "Just because we don't have a big-name guy, doesn't mean those guys aren't talented. I have plenty of confidence in myself and my teammates that we're going to get the job done."
The Bears do not have Davante Adams or Cooper Kupp. Heck, they don't even have Allen Robinson anymore. Mooney is ready to break out, however, and Fields was involved in the decision to draft Velus Jones, Jr. Free-agent addition Byron Pringle is also ready to break out, and Luke Getsy is a big believer in talented-but-previously-underused Equanimeous St. Brown. When the quarterback believes in the guys he's throwing the ball to, that demonstrates leadership on the field and in the locker room.
At the end of the day, however, it's the big arm of Fields that should really excite Bears fans.
"Those things stretch you," Eberflus added. "When you get stretched vertically and horizontally like that, it always causes stressors on a defense."
Bears News & Notes
There's a Flag…On the Play
Kindle Vildor is running with the first team in place of Jaylon Johnson…for now. I wouldn't read too much into that. Coaches have different ways of lighting a fire under some players, though almost all involve pride.
#Bears HC Matt Eberflus had Kyler Gordon and Kindle Vildor starting at CB in practice. Jaylon Johnson was second string. Eberflus suggested that we not read into that. That it is a conditioning thing for Jaylon Johnson. Safety Jaquan Brisker was running with the ones.

— Mark Grote (@markgrotesports) May 24, 2022
Northern Exposure
Green Bay: Believe it or not, the Packers have one of the worst receiver corps on paper, even after making a couple of high-profile selections in this year's draft. Randall Cobb thinks the critics are wrong.
Detroit: The Lions are the feel-good team of the summer, at least according to columnist Peter King.
Minnesota: New GM Kwesi Adofo-Mensah is engineering a culture change after taking over the Vikings, and said there is no room for egos on his squad.
NFL News & Notes
The Raiders gave Colin Kaepernick a chance to work out with the team on Wednesday.
Former Raiders coach Jon Gruden scored a major preliminary victory in his lawsuit against the NFL and Commissioner Roger Goodell when District Judge Nancy Allf denied the league's motion to dismiss the case and, more importantly, the NFL's motion to compel arbitration.
The league is forcing each of its teams to pony up $7.5 million as part of a settlement agreement for moving the Rams from St. Louis to Los Angeles.
The NFL will launch a new streaming service called NFL Plus in July.
Players will now be allowed to return from injured reserve after four games, and practice squads have been upped to 16 players.
Here is a link to all the rules changes starting with the 2022 season.
Jameis Winston (ACL) has been practicing with the Saints.
Former NFL star running back Ricky Williams will take the name of his wife going forward. He will now be known as Errick Miron.
Lamar Jackson, Deebo Samuel, and Nick Bosa are NFL stars who are about to get big paydays.
Injuries on punt returns were up 50% last season.
The Rams and Packers are the odds-on favorites to sign injured wide receiver Odell Beckham, Jr.
Three Yards and a Cloud of Dust
London Fletcher holds the

NFL

record for the most consecutive starts by a linebacker with 221.

Tom Brady is the only active quarterback with 200+ interceptions but he's played 22 seasons.
For comparison's sake, Brett Favre ended his career with 336 interceptions.
Backfield in Motion
Gordon has been "lighting it up" according to Coach Flus.
.@kyler_gordon's got hops 😳 pic.twitter.com/bkSYxpGef6

— Chicago Bears (@ChicagoBears) May 7, 2022
From the Podium
"Mentally, what you assess this time of year [is], 'Can the guy pick it up? Is he fast mentally? Can he think on his feet? Is he able to adjust and make the adjustments on his feet?' That's No. 1. And then No. 2, physically, what you can see is athletic ability. I like to see athletes we're acquiring here, really good athletes that can run. Can they operate and be quick and not in a hurry as coach [John] Wooden would say? So, we're looking at those things: body control and those physical traits that we're looking for to succeed." – Eberflus
Running Out the Clock
Huddle Up by EBK Young Joc featuring LayDu$e & PayWes