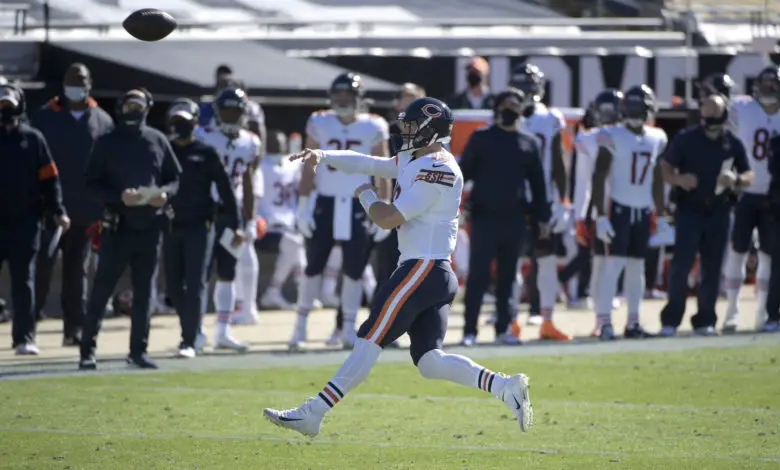 First and Long: Bears Smoke Jaguars While Improving Playoff Odds, Nagy Staying Put Per Report, Trubisky 25-12 Under Nagy as Starter
Thanks to a big win against the Jaguars in Jacksonville, the Bears (8-7) are now a prohibitive favorite to earn the final NFC playoff spot. Mitchell Trubisky accounted for three scores, including two touchdown passes to Jimmy Graham, and the Bears pounded the Jaguars 41-17 in a game that meant as much to Jacksonville's long-term future as it did to Chicago's imminent playoff fate.
One down.
One to go.@ProvenIT_ | #CHIvsJAX pic.twitter.com/71p1Lny5nT

— Chicago Bears (@ChicagoBears) December 27, 2020
In what is easily one of the craziest NFL seasons ever, the Bears have nearly rendered a mid-season six-game losing streak irrelevant. If Chicago can manage a win in next Sunday's finale at Soldier Field against the Packers, they will have clinched the sixth or seventh seed in this year's expanded playoffs, becoming just the third team ever with a six-game skid to reach the postseason.
With the way Chicago's offense has been clicking during their current three-game winning streak, the Monsters of the Midway could present a formidable challenge for the two or three seed. The Seahawks beat the Rams (9-6) last night, so if both the Cardinals (8-7) and Bears win this Sunday, Chicago would get the sixth seed with Arizona knocking Los Angeles out to grab the seventh seed. A Bears loss against the Packers would require the Rams to knock off the Cardinals to get to the postseason.
The Cardinals did Chicago a huge favor when they lost to the 49ers on Saturday night. Combined with the victory in Jacksonville, that outcome gave the Bears an 82% probability of earning at least that last Wild Card spot and a playoff game at the home of the NFC's No. 2 seed.
The Packers (12-3) already have clinched the NFC North title and can earn the No. 1 seed in the NFC playoffs if they win against the Bears in Chicago or if the Seahawks (11-4) lose to the 49ers (6-9) next week. Green Bay beat the Bears 41-25 in Week 12, their 99th win in the all-time series between the two teams. Since 1992, Chicago is just 15-43 against their rivals.
Bears News & Notes
There's a Flag…On the Play
This no-look pass by Ryan Fitzpatrick defies science.
HOW DID RYAN FITZPATRICK MAKE THIS THROW https://t.co/nOe1rBFOP4

— Nick Veronica (@NickVeronica) December 27, 2020
Three Yards and a Cloud of Dust
In the past three years, Trubisky's win percentage (66.7%) is better than those posted by several other first-round QBs during their 2-thru-4 seasons, including Carson Wentz (62.5%), Deshaun Watson (55.6%), Baker Mayfield (53.3%), and Ryan Tannehill (45.8%).
The Bears have scored 30+ points in 4 straight games for the 1st time since Weeks 4-7 in 1965 when their offense was led by Hall of Famers Ditka and Gale Sayers.
The Ravens have rushed for 100+ rush yards in 38 straight games, the 2nd longest streak in the NFL since at least 1948. The 1974-77 Steelers hold the record with 43 straight.
Northern Exposure
Packers WR Davante Adams now has 17 touchdown catches, tying him with Hall of Famer Don Hutson for second-most in team history. Sterling Sharpe holds the team record with 18, set in 1994
The Packers played their most complete game of the season in beating the Titans 40-14 at a snowy Lambeau Field last night.
The Lions gave up 588 total yards in their 47-7 blowout loss to the Buccaneers on Saturday.
Urban Meyer has been contacted by at least two NFL teams about head coach openings, including the Lions.
A loss to the Saints on Christmas Day eliminated the Vikings from playoff contention.
Minnesota head coach Mike Zimmer is unhappy with his team's defense.
Pick Six
Tom Brady – The 23-year veteran completed 22-of-27 passes for 348 yards and four touchdowns as the Buccaneers clinched their first postseason berth since 2007. The 43-year-old QB sat out the second half.
Aaron Rodgers – The 38-year-old veteran had one of the best games of his career, going 21-of-25 for 231 yards and three touchdowns.
Davante Adams – The big WR caught 11-of-12 targets for 142 yards and three TDs. Adams now has 109 catches on the season and leads the league with 17 scores.
Ben Roethlisberger – The veteran field general rallied his teammates from a 24-7 third quarter deficit with three TD passes in the final 18 minutes of play. Big Ben finished the game 34-of-49 for 342 yards with the three dimes.
Jeff Wilson, Jr. – The 49ers running back accounted for 204 all-purpose yards in San Francisco's big victory over the Cardinals, including 183 rushing yards on 22 carries.
Roquan Smith – The Bears linebacker showed the league why he deserved a Pro Bowl selection instead of a snub with two big interceptions on two passes defended paired with eight solo tackles.
Fumblerooski
San Francisco tight end George Kittle is a lifelong Bears fan, and helped deliver the perfect stocking stuffer to Chicago's fans.
#MerryChristmas @ChicagoBears 😏

Da People's Tight End | @gkittle46 pic.twitter.com/z0myz7cQ9u

— San Francisco 49ers (@49ers) December 27, 2020
At the Podium
"With where we're at right now as a team, it's definitely different. Green Bay is a hell of a football team and there's a reason why they're sitting right now as the No. 1 seed. We're guaranteed one more game, nothing else. If we do well in that one game, then we'll have an opportunity for more. But we can't worry about that. We just worry about us." – Matt Nagy
"It all starts with an expectation, just having a high expectation for us in this offense that, 'This is what we're capable of and nothing less is going to be acceptable.'" – Mitch Trubisky
"100  means a lot, with the parity of this league. The first time to ever get 100 catches, happening here at [TIAA Bank Stadium], is pretty funny … I tried not to get too much into the emotional side of it. After the season, it will be something cool as far as how that played out." – Allen Robinson
"It was business as usual for [Robinson]. He's been the same guy. His emotions don't get too crazy.  You have to respect a guy like that. It wasn't as personal for A-Rob as people might assume. Is it a little sweet? Absolutely. If they let you walk, those things are personal." – Tashaun Gipson
Today's Halftime Entertainment
Let it Ride by Bachman-Turner Overdrive – The Bears control their own fate , and only the Packers stand in their way of clinching a playoff berth.