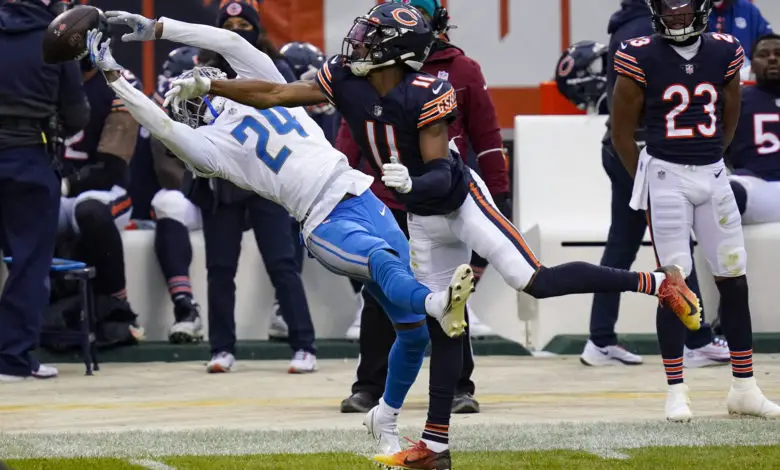 First and Long: Bears Lose 6th Straight, Offense Nauseating After Halftime, Nagy's Seat Getting Uncomfortably Hot
Let's start by stating the obvious: It's time to clean house in Lake Forest, starting with Ted Phillips and including head coach Matt Nagy and GM Ryan Pace.
Few things are as nauseating as the Bears after halftime and the NFL should really include a parental warning ahead of the second half to ensure younger fans aren't permanently traumatized by what they see. It's been an ugly season in both victory and defeat, but few things are as shockingly hideous as what the Bears are trying to pass off as professional football. The three gentlemen mentioned above deserve all the blame.
Hard to see how anyone survives that one.

— Adam Hoge (@AdamHoge) December 6, 2020
Why have the Bears fallen apart over the last two seasons?

"I don't know," Matt Nagy says.

And that's why he's done.

— Jason Lieser (@JasonLieser) December 6, 2020
If you're like me, all you should care about after yesterday's excruciating and needless 34-30 loss to the Lions is that the Bears keep losing in order to move up in next spring's draft. Any victory from here on out is just as bad as each of the six straight losses Chicago has suffered up until now. There is no moral victory in finishing the season with 6-8 wins and ending up in first round purgatory. The Bears need a franchise quarterback and the last thing any of us wants is Pace trading up and overpaying so Nagy can develop the team's next bust.
Since going 12-4 in 2018 as a rookie head coach, narrowly missing the NFC Championship Game and being named Coach of the Year, Nagy has led the Bears to 13 wins in 28 games. His team's ineptitude in the 3rd quarter is as astonishing as it is completely unacceptable. After the Lions kept them off the board coming out of intermission yesterday, the Bears offense has now gone scoreless in 11 of 12 third quarters this season.
And this is not just a 2020 problem. Nagy's offenses have scored just 38 third quarter points since Week 5 of last season when they notched three TDs against the Raiders in a 24-21 loss. It doesn't take an NFL insider to see that Nagy has failed badly to make the necessary halftime adjustments to put his team in a position to win.
It's almost unbearable to think that the McCaskeys won't make immediate changes, but it's rare that the league's first family will elect to pay employees not to work, and the three men at fault are all under contract. Nagy was signed for five years through the 2022 season when he was hired and Pace's last extension expires at the end of next year. I'm assuming Phillips is on an open-ended deal with ownership.
If you account for revenues lost due to lack of home attendance and the loss of game day concessions in this pandemic-adjusted season, it's at least worth noting that Pace and Nagy could be potentially allowed to stay for at least one more season with the Bears. If that's the case, they'll need to do whatever they can to right the ship, though neither will inspire much confidence in the team's fanbase.
Bears News & Notes
There's a Flag…On the Play
I would love to see Pat Fitzgerald get a chance to coach the Bears, but I truly believe it would take a lot for him to leave Northwestern, probably more than Philips and the McCaskeys would offer. And as much as I love Fitzy, the Bears need to stop hiring coaches and executives with no professional experience. We've seen too many times that that dog just doesn't hunt.
If Bears make a coaching move, and it is becoming increasingly likely they will do so, they'll look within the state first https://t.co/WvOrC5MfIm

— Jason La Canfora (@JasonLaCanfora) December 6, 2020
Northern Exposure
Lions QB Matthew Stafford now has 31 4th-quarter comebacks, the most in the NFL since 2009 and tied with John Elway for the seventh-most in history. Stafford's 38 career game-winning drives are second-most in the NFL since 2009, leaving him tied with Falcons QB Matt Ryan & the legendary Johnny Unitas for eighth-most all-time.
Detroit interim head coach Darrell Bevell did his best to keep his players loose but focused throughout the game, and his team made big plays when they needed to, resulting in yesterday's shocking win.
The Packers defeated the Eagles 30-16 yesterday, improving to 9-3 and all but clinching the NFC North title. With the win, Green Bay grabbed the No. 2 seed in the NFC and leads the division by three games over the Vikings with four remaining.
Aaron Rodgers became the fastest quarterback to get to 400 career touchdown passes in yesterday's win. The 37-year-old has just 88 career interceptions. So what's next? Said Rodgers: "I'm going to see if I can get to 500 before I throw 100 picks."
The Vikings had no business winning yesterday, but their 27-24 overtime victory against Jacksonville kept them in the thick of the playoff hunt. Minnesota would enter as a No. 7 seed if the season ended today.
With his 20-yard touchdown during the third quarter of Sunday's game, Minnesota WR Justin Jefferson became just the fifth rookie in the Super Bowl era to top 1,000 receiving yards in his first 12 career games, joining Odell Beckham Jr., Randy Moss, Marques Colston, and Anquan Boldin.
Pick Six
Baker Mayfield – The Browns are 9-3 and, barring an historical meltdown, will make the playoffs for the first time since 2002, with Mayfield as one of the key reasons. The third-year signal-caller was absolute fire yesterday, completing 25-of-34 pass attempts for 334 yards, good enough for a 147 QBR. Legendary.
Matthew Stafford – The Lions QB capitalized on Chicago's mistakes, engineered yet another come-from-behind victory, and threw for 402 yards and three dimes on a day when the Bears defense looked like they have already started the offseason.
Aaron Rodgers – I don't think the Packers QB is capable of regressing with age. His 128.9 QBR yesterday is so commonplace it's boring. Three touchdown tosses, 395 yards passing, yada yada yada.
Kyle Van Noy – The Dolphins linebacker had 8 tackles, 3 sacks, 5 tackles for loss, and 1 pass breakup. In other words, Van Noy earned his paycheck and then some.
Darren Walker – The Raiders TE caught two touchdown passes and hauled in 13-of-17 targets for 200 yards.
Gunner Olszewski – The Patriots WR and aptly-named special teams star had 183 all-purpose yards, including a 70-yard punt return for a touchdown. Olszewski also had a 38-yard TD reception.
Fumblerooski
Mitchell Trubisky fumbles the football on the Bears' 7 yard line with a three-point lead and just under two minutes remaining. It was a poor call in that situation and the execution was even worse. Just a complete team breakdown deep in their own zone with the game still on the line. Shame on Nagy for making that call. With the fumble, Trubisky likely sealed his fate and maybe those of his head coach and GM. That fumble just cannot happen and the Bears signal-caller should never have been in a position to lose the game.
Strip. Sack. #ProBowlVote @RomeoND45#DETvsCHI | 📺 FOX | #OnePride pic.twitter.com/IkeiLUs7yi

— Detroit Lions (@Lions) December 6, 2020
At the Podium
"We were in control most of the game. They took the lead late. I just believed that we were going to go down and get a score." – Mitch Trubisky
"I think the easy way out is for people in different positions to just chalk it up and say this just wasn't our year but that'll never happen with me." – Matt Nagy
"Again, I won't get into any speculation [about my job security]. What my job is to do is to make sure that each and every week I'm giving it everything I can as a coach and as a leader." – Nagy
Halftime Entertainment
One for My Baby by Frank Sinatra –  "We're drinking my friends, to the end of a brief episode." I don't know if enough alcohol exists in Chicago to properly satiate Bears fans if the team doesn't start making immediate organizational changes.