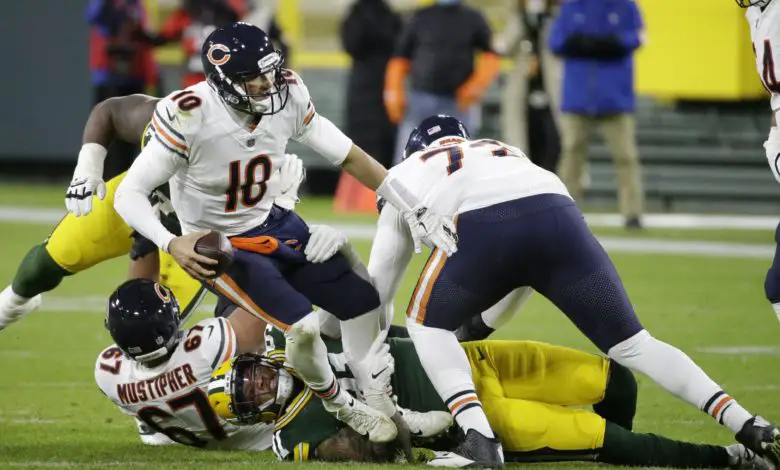 First and Long: Packers Blast Listless Bears, Fans Calling for Organizational Changes, Broncos Start Fifth-String QB
After six games the Bears were 5-1 and winning games in the ugliest of ways. Since then, they are 0-5 and have given new meaning to the word "ugly." After last night's 41-25 loss to the Packers, a game that seemed lost midway through the 2nd quarter, the best Bears fans can hope for is that they continue to lose in an effort to climb up the draft ladder toward a higher pick this spring.
The defense was atrocious last night and the offense wasn't much better. At times, head coach Matt Nagy looked like a defeated soldier in yet another primetime loss to Green Bay. Team owner and franchise matriarch Virginia McCaskey was on hand at Lambeau Field to witness the bloodletting.
The highlight of the evening for the Bears came on their second offensive play of the game, when David Montgomery busted loose on a 57-yard run.
.@MontgomerDavid HOT out da gates!! 🔥

📺: @SNFonNBC
📱: https://t.co/MoB37LyYVJ pic.twitter.com/Y4JkkWF2Br

— Chicago Bears (@ChicagoBears) November 30, 2020
The second-year running back finished with 103 yards on 11 carries. Wide receiver Allen Robinson caught two touchdown passes, though both came after Green Bay was well ahead.
More than the halting offense, it was the Bears defense that was surprisingly awful last night. They simply couldn't stop Aaron Rodgers in the first half as the Packers put up 15 first downs and had made 5-of-6 third-down conversions. When the Bears finally stopped Green Bay on third down, the Packers converted on fourth-and-two on their way to their third TD of the game. Before most fans had barely finished their second beverage the Monsters Misfits of the Midway were down 27-3.
Where do the Bears go from here? Well, their executive team tends to work in deliberate fashion, so don't expect any drastic changes in the short term. It's painfully obvious that the team needs to clean house, but the Bears historically tend to wait until all the best coaches and front office personnel with established NFL pedigrees are employed before sifting through the unheralded and unknown to find replacements. Those types of hires tend to be significantly cheaper, but more importantly to the McCaskeys, they're also more likely to agree to give team president and CEO Ted Phillips final approval over any personnel decisions that need to be made.
At 5-6, the Bears realistically need to run the table to make the playoffs. If the last five games are any indication, that's probably not going to happen. It may be time to start looking at the draft boards and it once again looks like a franchise quarterback will be at the top of the team's wishlist. I'll have more on Mitch Trubisky later this week.
Bears News & Notes
There's a Flag…On the Play
Nagy isn't worried about losing his job, at least right now. If I were a head coach that lost five games in a row while my team got progressively worse, I'd be worried about job security every single day.
#Bears head coach Matt Nagy was asked if he's concerned for his job after tonight's loss to the #Packers.

"No, I'm not," Nagy said. "I just think that right now with our team, this is the stuff through the season that you go through. It's about fighting adversity."

— Sean Hammond (@sean_hammond) November 30, 2020
Northern Exposure
Green Bay improved to 8-3 on the season, likely locked up the NFC North division title, and now trails the Saints (9-2) by one game for the No. 1 seed in the conference.
After last night's performance, Rodgers now has 30 TD passes in a season for the seventh time in his career. That matches Tom Brady for the fourth-most 30-TD seasons, trailing only Drew Brees, Brett Favre and Peyton Manning.
The Vikings rallied late to beat Teddy Bridgewater and the Panthers 28-27 and are now tied with the Bears for second place in the NFC North.
Minnesota is now one game out of the seventh and final playoff seed in the NFC and currently holds the tie-breaker over the Bears because of their 19-13 win over Chicago two weeks ago.
After a 4-7 start and a listless Thanksgiving Day loss to the Texans, Detroit has fired head coach Matt Patricia and GM Bob Quinn.
Lions fans are reportedly donating to the DeShaun Watson Foundation after the Texans quarterback threw four dimes in Houston's win, which led to Patricia being fired. Donations totaled $1,070 dollars as of Sunday morning.
Pick Six
This week's best performances:
Kendall Hinton – The Broncos practice squad WR started as the team's fifth-string QB because all of the team's other quarterbacks were on the Reserve/COVID-19 list and he was absolutely brutal, though that wasn't unexpected. However, he was a champion for his effort and fulfilled his dream of one day being an NFL signal-caller.
Tyreek Hill – The 26-year-old Kansas City receiver had a career game in the Chiefs win over the Buccaneers, catching 13-of-15 targets for 269 yards and three touchdowns.
Jeremy Chinn – It's always fun when a defensive player scores a touchdown, but the Panthers safety scored TDs on back-to-back plays covering 18 seconds.
Derrick Henry – The Titans running back rushed for 178 yards on 27 carries, including three touchdowns, as Tennessee blasted the Colts 45-26. Henry surpassed 5,000 rushing yards for his career in the victory.
Nick Chubb and Jarvis Landry – The Browns duo combined for 319 total yards and two touchdowns in Cleveland's 27-25 win over the Jaguars. Chubb averaged 7.9 yards per carry, gaining 144 yards on 19 carries. The third-year running back also caught three passes for 32 yards. Landry nabbed 8-of-11 targets for 143 yards.
Aaron Rodgers – The Packers QB, who will celebrate his 37th birthday on Wednesday, completed 21-of-29 pass attempts for 211 yards and four touchdown passes against a porous Bears defense that neither sacked or intercepted the 16-year veteran.
Fumblerooski
The Broncos had to play yesterday without a single experienced quarterback on their gameday roster. Hinton served as Denver's makeshift QB and was 1-of-9 for 13 yards and two interceptions. After the game, head coach Vic Fangio expressed his disappointment with starter Drew Lock and the team's backups, Brett Rypien and Blake Bortles.
Vic Fangio: "I was disappointed on several levels, that our QBs put us in that position, that our QBs put the league in that position. We count on them to be the leaders of our team, the leaders of our offense, and those guys made a mistake."

— Lindsay Jones (@bylindsayhjones) November 30, 2020
At the Podium
"We're frustrated. We're pissed off. We're angry. Every feeling that [fans] have, we have. But [we've] got to fix it. And [we've]  got to do it on the football field." – Matt Nagy
"I haven't been paying attention to [fan backlash]. And I really focus on trying not to pay attention to it. I've been here for four years, I'm still trying to figure it out. [I've] got nothing but love in my heart for the fans. I think, if on offense, defense and special teams — if we can match the fans' passion for this team, then I think that's how you go out there and play with a lot of will and passion and put a good product on the field that you're proud of. That's all we want. We want the fans to be proud." – Mitch Trubisky
Halftime Entertainment
Waterloo by Abba – Last night's victory was the 100th win for Green Bay in their 101-year-old rivalry with the Bears. The Packers have earned 43 of those victories since 1992.