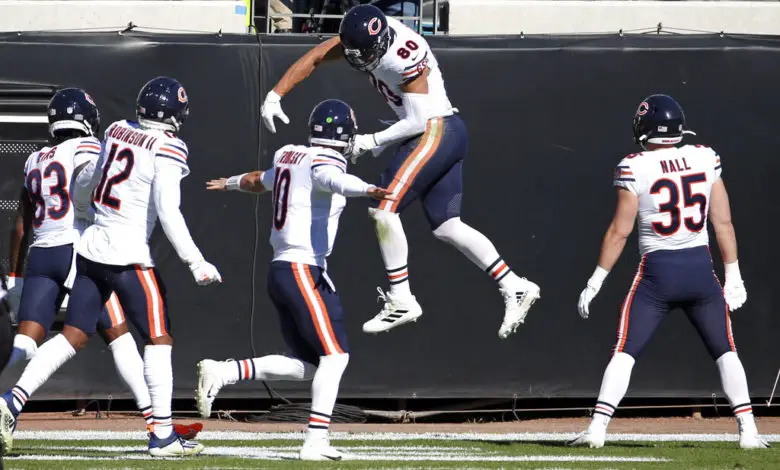 Chicago Bears Score and Recap (Week 16): Bears 41, Jaguars 17 – Bears Win Big, Keep Playoff Hopes Alive
The Chicago Bears (8-7) controlled their playoff destiny entering Sunday's game against the tanking Jacksonville Jaguars (1-14). With a win, the Bears would continue to have control heading into the final week of the 2020 season. A loss would've meant the Arizona Cardinals would only need a win against the Los Angeles Rams in Week 17 to qualify for the postseason, dashing the Bears playoff hopes.
Chicago let Jacksonville hang around in the first half before an uncharacteristically explosive third quarter blew things wide open. The 41-point performance was the fourth consecutive 30-point output for Matt Nagy's squad, something last seen in 1965, back when George Halas was head coach.
Why the Bears Won
Mitchell Trubisky and the offense scored touchdowns on each of the Bears first four possessions of the second half, all in the third quarter. They've scored 24 points combined in the third quarter all season. When Matt Nagy was asked why the Bears finally figured it out today, he replied, " I have no idea." (Box score)
Key Moment 
Trubisky threw a bad interception in the red zone with less than a minute left in the opening half. Instead of running out the clock and heading to the break tied at 10, Mike Glennon (remember him) attempted a pass that was picked by Roquan Smith. The Bears converted the turnover into a go-ahead field goal giving them a little momentum heading into the half.
Stats That Matter
Other than that one bad throw, Trubisky was good: 265 passing yards, 2 passing touchdowns, and a running score.
Jimmy Graham is alive! The veteran tight end had 4 catches for a very nice 69 yards and a pair of TDs.
Allen Robinson had 103 receiving yards against his former team.
David Montgomery once again rushed over 20 times (23), which is great to see. He finished with 95 yards rushing, 26 yards receiving, and one touchdown.
Bottom Line
If the Bears win next week they make the playoffs. That seemed highly improbable just three weeks ago, but what else would you expect from this crazy year?
Next Up
The Packers come to Chicago for a meaningful Week 17 matchup Sunday at 12:00pm CT on FOX.