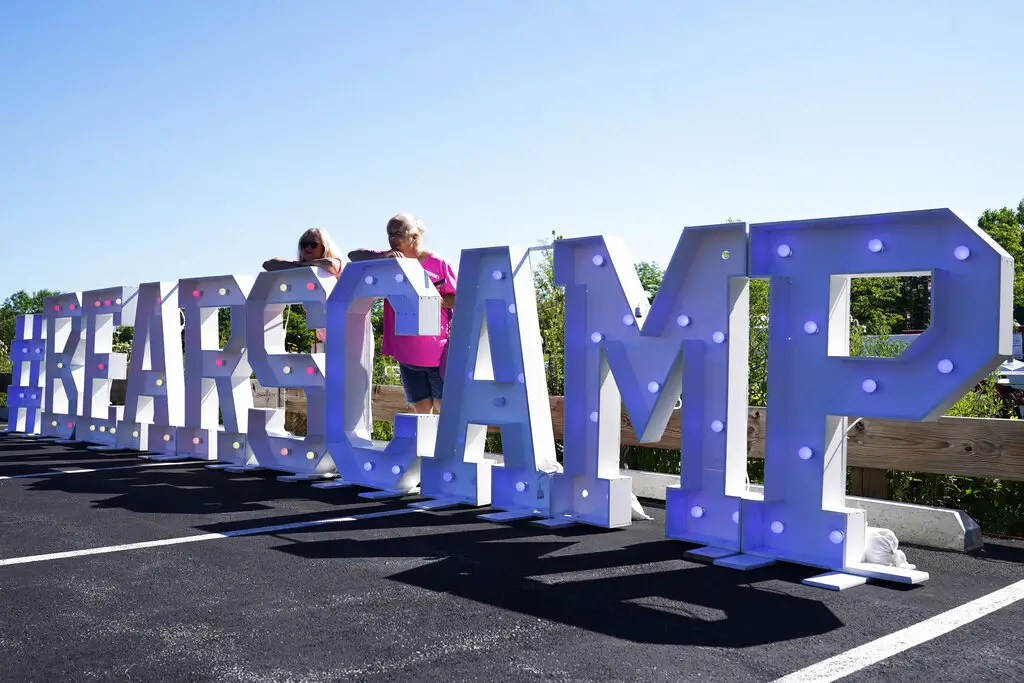 Camp Notes: Bears Practice in Full Pads, Secondary Vastly Improved, Braxton Jones Continues to Impress
The Bears practiced in pads for the first time on Tuesday, but the offense wasn't as strong as the coaches were hoping for. It's clear that Luke Gesty still has a lot of work ahead, as does Justin Fields. Here are your Wednesday morning Camp Notes.
#Bears 1st team offense was particularly bad in 2-minute offense today. Failed to move the ball really at all. Red zone 7 on 7 was also messy.

— Brad Biggs (@BradBiggs) August 2, 2022
.@braxtonjones742 is up on the 🎙 @Hyundai | #BearsCamp https://t.co/vvFEZ0VCsU

— Chicago Bears (@ChicagoBears) August 2, 2022
The Bears removed receiver Tajae Sharpe and cornerback Michael Joseph from the non-football injury (NFI) list and both are now eligible to practice. Safety Dane Cruikshank was removed from the NFI list earlier Tuesday.
Have you ever seen the movie Swingers? There's one scene where Mikey (played by Jon Favreau) gets a woman's phone number, tries to leave a message, messes it up, and then completely melts down trying to relay what he really wants to say. It's excruciating and unnerving to watch, and that's being kind. I usually swear at the TV and I've seen it a million times. Anyway, that scene reminds me of Lori Lightfoot's attempt to keep the Bears in Soldier Field. Striving to keep the team in a home they no longer want makes no sense at all to me, and it's excruciating and unnerving to watch.
Here's your friendly reminder that the NFL's oldest franchise has never owned its own stadium. That's 102 years and counting.
In case you are unaware, the woman Mikey met also plays Shane Falco's girlfriend in the underrated football movie The Replacements. That's actress Brooke Langton. Falco is of course played by Keanu Reeves, and Favreau stars in it too.
Five Things
Last season, the Bears struggled to defend the passing game, ranking last in the NFL with an opponent passer rating of 103.3. The defense was tied for third in passing touchdowns given up with 31 and recorded just eight interceptions. Because they are starting two rookies in the defensive backfield, and with Jackson and Johnson coming off of subpar years, the secondary was expected to be a work in progress. It no longer appears that way. It's rare that rookies will make the veterans of the group better, but that is exactly what is happening. It looks like Gordon and Brisker could be turnover machines, and it's becoming infectious among the entire group. The fact that they're physical makes things even more exciting. Ryan Poles wanted faster, leaner, and more violent football players on his roster. Gordon and Brisker epitomize exactly what he wants.
Poles has quickly become adept at managing Chicago's salary cap. The first-year GM had little expertise on the financial side when he joined the Bears, and many thought Ted Phillips would continue to manage team salaries. That's not the case, however. Riley Reiff is a great example. The team will pay Reiff a maximum amount of $12.5 million. Poles structured Reiff's contract in such a way that it will count for just $3 million against the cap next season. Brad Biggs of the Chicago Tribune provided more details on Twitter, noting that the lineman will earn a $3 million base salary and another $4.5 million if he's on the field for 10% of his team's offensive snaps. Reiff has incentives tied to offensive categories and a playoff appearance as well.
David Montgomery has been a standout as a receiving back through the first week of practices. You have to love the versatility, but if he's the primary target on offense it means that Fields is struggling with the new playbook. We know Getsy envisions an offense that is built on the run, but a good running game should create more opportunities for the wideouts, and that hasn't been the case – yet. It's too early to worry, and most expect Montgomery to have a big year. Mastering slip routes and bubble screens simply means that Fields has already improved over last season. He's shown no problems with the deep ball at any point of his professional career.
Believe it or not, Montgomery is willing to work on special teams. That's a rarity for a first-string, fourth-year running back, but the coaches are on board, at least from a learning perspective for Montgomery. It's more than just wanting to learn something new though. That's evidence that the team's leaders are buying into the staff's philosophy and are on board with the culture change. "That's one thing that coach Eberflus stresses, is if a guy has on a helmet, he wants everybody working," said special teams coordinator Richard Hightower. "He wants everybody to learn it and I'm all for that. He believes in special teams, as well as everybody here. That's been outstanding and David wants to do some of those things too."
If you're like me, you want the Jenkins issue to come to a resolution. I've heard too many times that Jenkins is the best tackle in camp but just too immature. He can say otherwise on social media, but there's just too much talk from too many people right now. Even his college coach has mentioned that Jenkins struggles to find the right mindset. Eberflus sure looks like he's testing the tackle's resolve. Perhaps that's a good thing, but if the Bears are truly listening to offers for Jenkins, maybe the staff just doesn't see him as a fit for this squad.
Camp Quotes
"It's like a puzzle. You're trying to fit it together and put the best guys out there, and is this combination of corners better than this combination? You also have to look up matchup, so that's a week-to-week thing. Sometimes it might look different week to week, where it's based on a matchup situation we like, and then by down and distance. You might like a certain matchup better on third down in two-minute than you do on first or second down. So that's all-encompassing." – Eberflus
"It's all about having the right mentality and understanding that everything we're doing is to win. Basically, you don't want to have to think, 'I need to go hard.' It needs to become a natural reaction. By doing it every day [in practice], on Sundays, it's just natural and it's like, 'Wow, this dude played lights out. He played hard.'" – Al-Quadin Muhammad