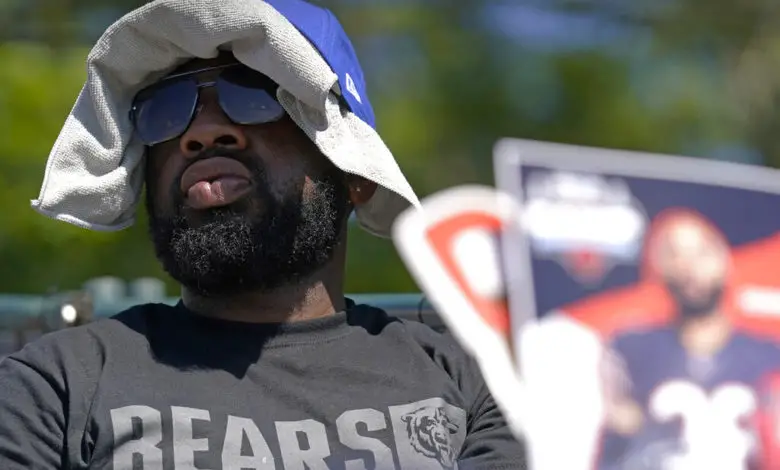 Camp Notes: Patrick Needs Surgery, Brisker Shows Mad Ball-Hawking Skills, Bears Announce NFL Fan of the Year Contest
Center Lucas Patrick will need hand surgery but should be back before the start of the season. Injuries along the offensive line could be a blessing in disguise. Meanwhile, new offensive coordinator Luke Getsy said he has been impressed with the progress of the Bears' offense, though he said there's a lot of work to be done. Friday's practice was open to the fans. Here are your training camp bullets for Saturday morning.
Patrick injured his right hand during Chicago's first practice earlier this week. The official word from Matt Eberflus is that there is no timetable for his return, though he should be healthy for the Week 1 tilt against the 49ers on September 11. "The reason I'm [saying that] is [because] he is going to be out for a little bit of time. It's not just a soft tissue injury or something where he might be out a couple of days. There is no timetable on the return." The head coach has been notoriously vague about all player injuries this week.
Patrick is arguably Chicago's best addition in free agency after playing five seasons in Green Bay. The center signed a two-year, $8 million contract with the Bears with the expectation of starting at center. He also has experience playing guard.
When healthy, Patrick will be the personal bodyguard of Justin Fields. He said last month he is fired up to play for the Bears and praised Fields. "He's a fun guy. He's young, so he likes to have the juice and the energy. He's got a live arm. I mean, there were a few throws he made today where the ball – it's like it keeps getting faster and faster in the air. He's soaking everything up… [We] couldn't have a better start to a working relationship."
Rookie Doug Kramer took reps with the ones in Patrick's absence. An undisclosed injury to Teven Jenkins has allowed Braxton Jones, also a rookie, more time with the starters, too. Injuries to the veteran linemen could be a blessing in disguise. Rookies Ja'Tyre Carter and Zachary Thompson are getting much-needed reps in practice. At times, Eberflus and Getsy had four rookies lining up on the first string. It would be disastrous to start the season that way, but the coaches are getting a great opportunity to evaluate line depth.
At some point, Riley Reiff will replace Jones fully at left tackle. At least, that's how it appears to be headed.
Jenkins is "working through something with the trainers," according to Eberflus, who designated the former second-round pick as "day to day."
Rookie Velus Jones Jr. told reporters how the Bears intend to deploy him this season. "Quite a few [ways]. They're moving me from Z, F, X. They want me to know everything. So it's been really fun getting to work with [Fields and Trevor Siemian] and stuff like that. They know my abilities, they know the reason why they drafted me. I am really good with the ball in my hands. Wherever they need me to be, I'm just going to be there and execute."
The Bears have thrown a lot at the 25-year-old Jones. He is taking it all in and has, to this point, not found it difficult to balance his receiving responsibilities with the return ones.
Another rookie, Jaquan Brisker, has been lighting it up during the first week of practices. He and Kyler Gordon, also in his first year, registered impressive interceptions this week. Brisker showed his instincts when he jumped a route and picked off a pass intended for tight end Cole Kmet. In a game situation, that's going to be a pick-six. "It's good," Eberflus said of his two second-round picks making plays. "Like I said the other day, ballhawks, that's what they are. That's why we brought them here."
Brisker said he wants to be Chicago's "takeaway king." Wait till Bears fans see his ability to master the Peanut Punch.
The rookie safety read the receiver and not the quarterback when he made his big play. "I'm trying to show my disguise. Just coming down, and Cole [Kmet] crossed my face so I just took my eyes to his hips, and then once I [watched] him ready to catch the ball, I just jumped in front of it, you know, made sure I caught the ball and just took it upfield."
The flip side of the ball-hawking abilities of Chicago's secondary is that the meatheads (fans and reporters) are too quick to pounce on Fields. But give the second-year quarterback credit for responding professionally to that type of adversity. After the Brisker interception, Fields hit Darnell Mooney for a touchdown on a crossing route and spent the rest of the practice making dazzling play after dazzling play.
This weekend, @SportsCenter is running a series on the outlook for 2nd year quarterbacks across the NFL. Here's my piece on Justin Fields and what awaits him in his second season with the Chicago Bears. pic.twitter.com/gus3dvVhzh

— Courtney Cronin (@CourtneyRCronin) July 30, 2022
Add cornerback Jaylon Johnson to the list of Bears players current and past who are throwing shade at former head coach Matt Nagy. "The way they hold us accountable is crazy compared to what we're used to [under Nagy]," Johnson said.
Friday's practice was open to the fans, and the team announced its third annual NFL Fan of the Year contest. Per Chicago's flagship website, the goal of the contest is to recognize and celebrate extraordinary fans who inspire others through their love of football. Fans can submit applications to nominate themselves or someone deserving of this award. If you know someone who rallies others to spice up the game, nominate them by visiting NFL.com/FanOfTheYear.
Five Things
Camp Quotes
"I don't want people in our division and I don't want people in the league looking at our roster saying, 'Hey, they're going to do this and do that with injuries. If you don't have to disclose an injury right now … why would you? To me, that's in-house business." – Eberflus
"Once [Gordon] got the first one, I was like, 'I've got to get one now.' There's definitely a competition between everybody in the room with the corners and safeties and linebackers. I'm definitely trying to be the takeaway king." – Brisker
"I've worked to try to get to [lining up with the first team], and I've put in a lot of time studying the playbook and trying to understand things in great detail and depth so I can be a tool for the other guys on the offensive line." – Kramer