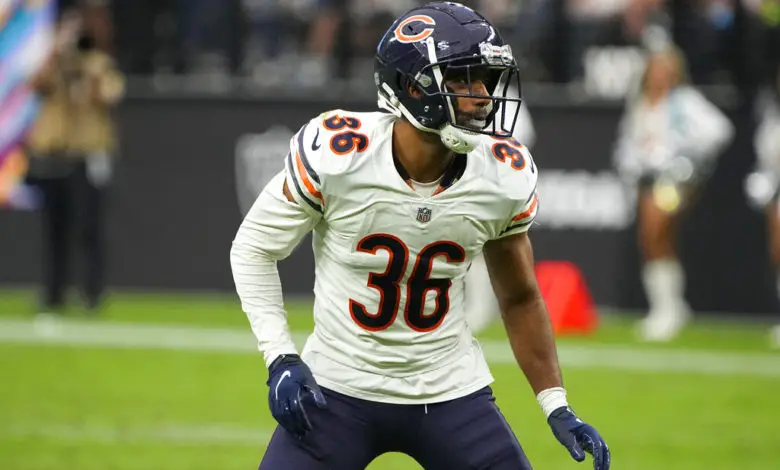 Bears Safety Deandre Houston-Carson Returns on One-Year Deal
Safety DeAndre Houston-Carson will return to the Bears for a seventh season after signing a one-year deal Sunday. The 6-foot, 202-pounder has played for Chicago since he was drafted in the 6th round out of William & Mary College in 2016. He and center Cody Whitehair are now the longest-tenured Bears.
#Bears are re-signing S and special teams ace DeAndre Houston-Carson.

— Brad Biggs (@BradBiggs) March 19, 2022
"I am excited," Houston-Carson told Larry Mayer of ChicagoBears.com. "My family and I love Chicago, and I really believe in [general manager] Ryan [Poles] and coach [Matt] Eberflus. So, I'm excited to be back and see where this thing can go."
Coming off of his best season, Houston-Carson's contract is worth $1.77 million. The 29-year-old defensive back has been a plus special items player throughout his career with the Bears, but last season he took to an expanded role in the defensive backfield. Playing 419 defensive snaps before missing the final five games with a fractured forearm, Houston-Carson recorded 51 tackles (33 solos) and one interception. At the time of his injury in the Week 14 loss to the Packers, he ranked fourth on the Bears in tackles.
DeAndre Houston-Carson came streaking in from deep center field. What a play. pic.twitter.com/RP4bONvmBa

— Chris Emma (@CEmma670) October 10, 2021
The Bears now have two safeties under contract for the 2022 season, including Eddie Jackson, who could be moved to slot cornerback this season. Needless to say, Poles will need to work the draft and possibly undrafted free agency to find at least one starter and some capable backups. Look for the Bears to scour the lists of undrafted safeties this May to provide competition.
Houston-Carson intends to build on the success he's had on defense the past two seasons, saying: "I believe in my process, and I think that every year has allowed me to get better and I plan on continuing that this year."
The safety earned his first career of two career interceptions in 2020 when he picked off a late 4th quarter pass by Panthers quarterback Teddy Bridgewater to seal a 23-16 win. Earlier that season, he broke up a 4th-down pass intended for TE Cameron Brate from Tom Brady to clinch a 20-19 win over the Buccaneers in a Thursday evening tilt at Soldier Field.
That's the game that Brady allegedly forgot what down it was.
The Bears need a boost in the secondary following a rough 2021 and Houston-Carson hopes he will earn enough playing time to make a difference. Obviously, Poles and Eberflus believe he is talented enough to compete for a starting position. The safety is confident in his abilities and believes his experience will definitely help him with that pursuit.
"[It's] everything; as far as knowledge of the game, understanding of my assignments, understanding of how other teams try to attack our defense," Houston-Carson said. "And then I just think my movement is better now, just six or seven more years of focusing on fundamentals of back-pedaling and tackling. But probably the biggest thing is just the knowledge of the game and having all those hours of watching films."
The safety was barely made the cut in the ranking of the league's Top 200 free agents by Pro Football Focus, finishing at No. 200 overall.
"Houston-Carson isn't a good enough run fitter to justify greater use yet," said the analytics site. "But on any given third down, he can give a defense surplus value as a coverage defender."