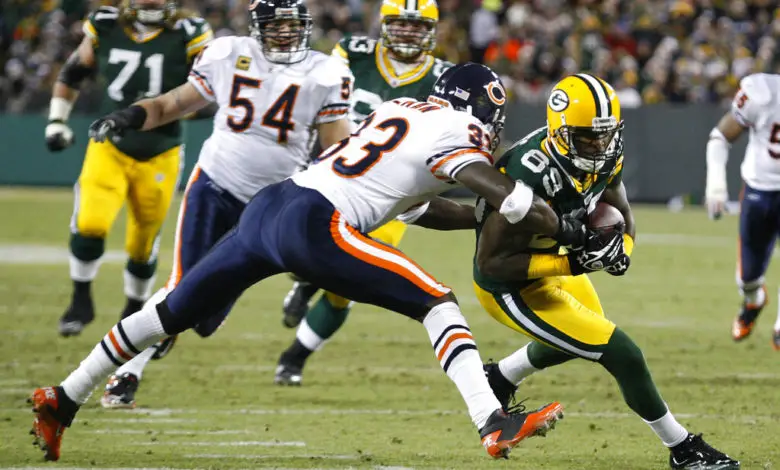 Using Chicago's 2005-06 Tampa-2 Defense to Level-Set 2022 Expectations
Editor's Note: Though Chicago has yet to play a single game, author Rick Leen is using the Bears' 2005-06 Tampa-2/Cover-2 defense to level-set expectations for 2022, since this year's team will run a similar scheme. Rick is aware that there are a lot of new faces, and that everyone is adjusting to the new scheme. I made some changes to his original post to maintain consistency. – Mike Canter
The Tampa 2 Defense was popularized by Tony Dungy in Tampa Bay in the mid '90s, though he gives credit to Pittsburgh's "Steel Curtain" defense, where he played as a safety. The 4-3 base defense focuses on smaller-than-average players with speed, intensity, and intelligence. Head Coach Matt Eberflus is resurrecting the defense in Chicago and he and GM Ryan Poles built their roster with specific players in mind. Today's column focuses on how well Chicago's personnel fits in the Tampa-2 scheme, and how well they stack up against Lovie Smith's 2005-06 defenses.
Tampa 2 Bears

Going back to our roots #DaBears pic.twitter.com/Tbkof2ILIA

— illwill (@79illwill) January 29, 2022
Defensive Linemen 
I've previously mentioned my concerns with the front seven, especially at defensive tackle. In the Tampa-2, you'll typically see smaller-sized linemen with elite speed and athleticism. Teams will usually start one larger tackle to plug gaps in run defense. Khyiris Tonga is Chicago's answer, but he hasn't shown enough to effectively replace Akiem Hicks. The Bears could also use someone like Tommie Harris, who at 6-foot-3, 295 pounds with a 4.68 40-yard-dash was an example of the slightly undersized fast DT this defense needs. Justin Jones is reliable, though at 6-foot-3, 309 pounds and with a 5.09 40-yard, he won't dominate offensive linemen. 
The Bears will need to rely on their ends to get to opposing quarterbacks. Trevis Gipson (6-4, 263), Dominique Robinson (6-5, 253), Al-Quadin Muhammad (6-3, 250), and Robert Quinn (6-4, 245) are a big improvement over Chicago's tackles. Each of the Bears' ends sport better-than-league-average speed except Muhammad. Expect a lot of focus on Robinson, a rookie who has received high praise despite being a work in progress. 
Linebackers 
It's impossible to talk about 2005 without mentioning Pro Bowl linebackers Brian Urlacher and Lance Briggs. Urlacher was the leader of that defense and a perfect combination of size and speed. Roquan Smith, though slightly smaller, compares favorably to the Hall of Fame linebacker. Briggs was a little slower, on the other hand, but excelled in pass coverage. It's far too early to make a comparison, but the Bears might have a similar type of player in Jack Sanborn. The Wisconsin graduate signed as a UDFA and will provide the necessary type of zone coverage instincts to excel on the strong side. You can even make a case that Sanborn compares to Briggs physically (size and speed). With little to no competition except for Matthew Adams, the rookie may get an opportunity to start. 
If Nicholas Morrow stays healthy, he could play a big role. Hunter Hillenmeyer handled the weak side for the 2005-06 Bears, but Morrow compares much more favorably to All-Pro Derrick Brooks of the Buccaneers. The Florida State two-time All-American was selected in the first round back in 1995 and made the most of his slightly undersized frame thanks to elite intelligence and agility. Morrow is similarly built but faster than Brooks. He'll most likely captain the defense and if he stays on the field, he has a big opportunity to excel in this defense. 
Secondary
Do you know what Nathan Vasher and Charles Tillman have in common? Each had at least 5 interceptions in 2005. The nuances of the Tampa-2 defense (utilizing a lot of zone coverage, keeping eyes on the quarterback, and attacking the ball) generally lead to a lot of turnovers. 
Poles and Eberflus added speed and playmaking ability to the secondary with the team's first two selections in this year's draft to pair with a couple of holdovers from last season. If ball-hawking was the stated goal, imagine what the Bears might be able to get out of big and fast corners Jaylon Johnson and Kyler Gordon. Both are works in progress but if they can keep up with the league's faster receivers and show more reactive instinct, each could have a bright future.  
.@kyler_gordon's got hops 😳 pic.twitter.com/bkSYxpGef6

— Chicago Bears (@ChicagoBears) May 7, 2022
A backup who matches the speed of Tillman and Vasher is Thomas Graham Jr. The 2021 rookie didn't see the field much last season, but Graham has flashed potential in OTAs and minicamp and could steal some snaps as a  nickel corner.  
One thing the Bears are lacking is the size/speed combination of Tillman. UDFA's Jon Alexander and Jayson Stanley (2019 draft)  fit the mold but both are probably ticketed for the practice squad if they're not cut outright. Jaquan Brisker comes close, but he plays safety. He and Eddie Jackson should provide a vast improvement over last year's squad but have a long way to go to match the production of 2005 stalwarts Mike Brown and Chris Harris.
So do the Bears have a Hall Of Fame defense? 
Chicago has the body types in place, they have a head coach and staff that provides expertise, and the players are ready to start hitting offenses in the mouth. Still, they're not a Super Bowl defense, not yet anyway. The point is that the Bears have quickly transitioned to a new scheme and filled it with the proper body types and athleticism that tend to flourish in the Tampa-2. Chicago won't have a top-5 defense this year, but they'll turn some heads.