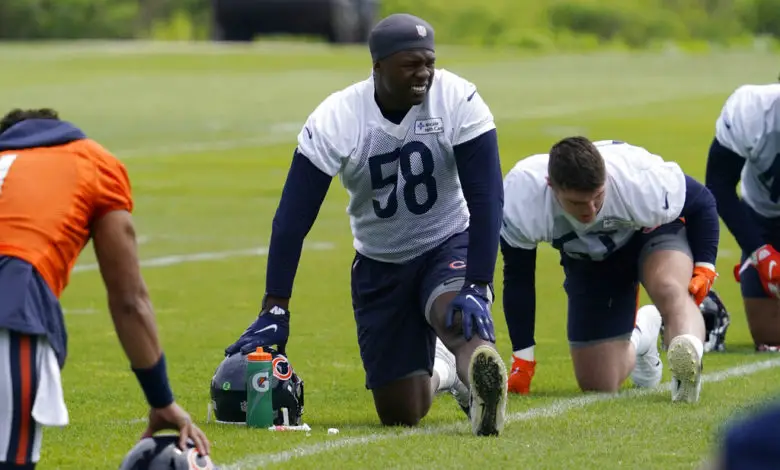 Bears' Front Seven Has Many Question Marks Behind Roquan Smith
The front seven for the Bears is not looking like anything special so far. The pads will come on soon and it's going to be time for Chicago's linebackers and defensive linemen to start to show something to the team's fans. Based on the historic success of past defenses, this year's collection of backups and injury-prone players is borderline embarrassing. There are not a lot of teams that can say that their best player is part of the team's worst position group, but the Bears have put themselves in that exact position.
THE GOOD
Roquan Smith is a perennial Pro Bowl snub and with his contract extension pending, he has the eyes of Chicago on him. Smith has yet to have a season where he didn't have an interception and multiple pass deflections. He gets to the quarterback, hits double digits in tackles-for-loss, and has been healthy enough to play every game in three of his four NFL seasons. The Georgia standout will do everything you would ask of your middle linebacker. Smith is almost guaranteed multiple All-Pro seasons and hopefully, it happens in the employ of the Bears.
ROQUAN SMITH PICK SIX‼️

Joe Burrow tried to tackle him on the goal line.

(via @NFLBrasil) pic.twitter.com/eWeUJ1n11L

— ESPN (@espn) September 19, 2021
Sadly, there's not much good among the front seven after Smith. The Bears haven't done much to generate substantial confidence in the rest of this group. Ryan Poles traded away six-time pro bowl pass rusher Khalil Mack to the Chargers in the offseason, garnering picks that landed defensive backs Jaquan Brisker and Elijah Hicks plus punter Trenton Gill.
THE OK AND THE UNKNOWN
I'm conflicted on Nicholas Morrow. The linebacker represents a significant risk, but one with a really good upside. In 2020 Morrow finished with career highs in TFLs, pass deflections, solo tackles, total tackles, QB hits, and sacks despite playing just 14 games. The Bears needed someone that will fill a stat sheet like that but I don't like the risk personally. The five-year veteran didn't play a single snap in 2021 and the Bears can ill-afford a starter that's a potentially high risk for injury. Morrow could very well end up being a one-year starter who took a step back in speed and explosiveness. Players with foot and ankle injuries haven't had a great track record in Chicago. Mack is a great example. When he was hurt, he was often inconsistent in effort, results, and availability.
Al-Quadin Muhammad was a smart acquisition, but I'm not sure how impactful he will really be. After barely seeing the field with the Saints as a rookie, Muhammad played four years with the Colts and started every game for the first time in his career in 2021, getting six sacks and providing decent production. That said, it's hard not to have a good season when you play on a top-five defense. It will be interesting to see if he can produce in a weaker Bears' defense. At least he knows the scheme Matt Eberflus and defensive coordinator Alan Williams are deploying this year.
Trevis Gipson is a player I have consistently advocated for on the Chicago Bears Den Podcast. He had a great season subbing for Mack, earning seven sacks with five forced fumbles in nine starts. The big question for Gipson concerns his stamina and maintaining his high motor through a full season. One positive is that Gipson is returning to DE, a position he had great success playing in his final two years at Tulsa. During his senior season, Gipson produced eight sacks with 15 TFLs in 12 games. He probably deserves to be categorized with Smith, but he just doesn't have enough experience to indicate last year's production will carry forward.
Like Gipson, Dominique Robinson came to the Bears as a fifth-round pass rusher with a high motor and great athleticism. That said, it's a little difficult to be confident in a former wide receiver that is also a former quarterback. Robinson had just 15 games of experience and 6.5 total sacks as a pass rusher in his collegiate career, so he has a lot of learning to do and has to adapt at the pro level. Eberflus has commended his work in offseason practices, but without pads, there's no way of knowing how much he'll help Chicago's defense.
Through the first week of mandatory minicamp, Robert Quinn is still a no-show. Additionally, his production in two years with the Bears has been a tale of extremes. He had a career-low two sacks in 2020 and was a half of a sack away from matching a career-high last year. Trade rumors have followed Quinn all offseason and he reportedly asked to be traded per a report from CBS insider Jason La Canfora. Does Quinn really want to be a Bear? It sure seems like he was a fan of the veteran pampering that former leadership endorsed, but that won't fly with Poles and Eberflus. There is so much unknown surrounding Quinn it's borderline bad or ugly.
Robert Quinn and Trevis Gipson combine on the strip sack for Chicago. #DaBears

📺: #CHIvsDET on FOX
📱: NFL app pic.twitter.com/a0QIctMnSs

— NFL (@NFL) November 25, 2021
THE BAD AND THE UGLY
Coming off his rookie deal, Justin Jones has yet to pop off the page in my eyes. There's a reason why the Chargers had no problem letting the 25-year-old walk in free agency: he can't complete a season, and he apparently can't complete a tackle. Jones whiffed on 11.9% of his tackle attempts last season, and he'll enter camp as Chicago's number one DT. The four-year veteran was placed on IR three times in 2020, and once in 2021 and has yet to finish a season injury-free. Worse, the Bears have limited depth at the position.
If Jones gets hurt it means Khyiris Tonga will need to step up. Tonga enters his second season with the Bears after being drafted in the seventh round out of BYU. He has yet to register stack, has one TFL, and 14 total tackles. That body of work leaves a lot to be desired. If Tonga is forced to start the Bears have zero depth behind him and things could get ugly. Chicago doesn't have a single defensive tackle beyond Jones and Tonga that is relevant enough to even dig into.
Matthew Adams could start at linebacker opposite Morrow. His only real competition is Jack Sanborn, an undrafted free agent out of Wisconsin. Either way, that means the Bears also have zero depth at the position. Adams started five games as a rookie and hasn't started since 2019 with little production to provide any confidence in his abilities. Adams would be a depth piece and/or special teams contributor anywhere else. That we are halfway into June and Eberflus is counting on the one-time, seventh-round draft pick to start is just pure neglect. How many other NFL defenses are counting on multiple late-round picks and UDFAs?
THE IRRELEVANT
Carson Taylor
Micah Dew-Treadway
CJ Avery
Chicago's remaining depth for the front seven totals only 31 seasons of experience with 24 of those seasons coming from veterans Blackson, Pennel, and Edwards. Poles is essentially relying on too much that is unknown. This front seven can't afford injuries to Morrow, Jones, or Quinn because the Bears don't have NFL-caliber depth. If the first-year GM and his first-year head coach don't make a couple more tweaks to the front seven before mid-July, the Bears will be fielding a defense of Smith, Gipson, and five question marks. At least the secondary is vastly improved.