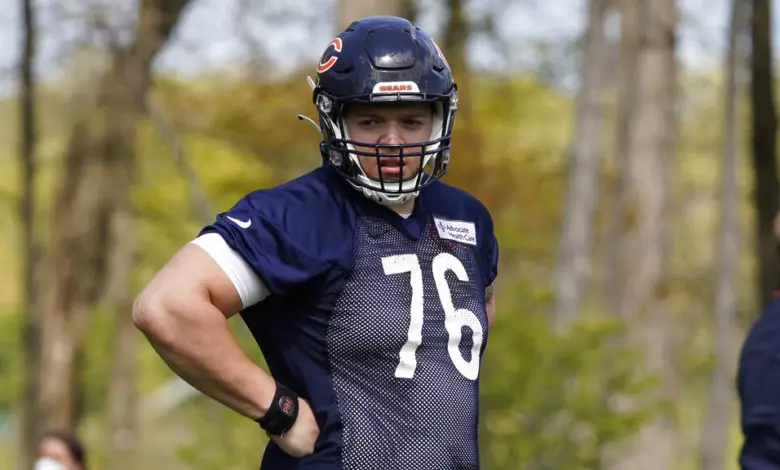 Teven Jenkins Poised for Monster Season
When a player is overly-hyped in the offseason, I tend to write that off as hyperbole more than anything, especially when it concerns a player from one of the Bears' weakest positional groups. As far as the offensive line is concerned, marginal improvements over last season should be counted as landslide victories. Call it PTSD, but most of my memories from 2021 involve Justin Fields struggling to get up off the turf after being bum-rushed by opposing defenses. Teven Jenkins may be the exception to my rule, however, and by all accounts, he's poised for a monster season.
When the Bears traded up to select Jenkins in the 2021 draft, most Bears fans, including me, thought Ryan Pace made the steal of the century. The versatile tackle was considered a building block for what would become Chicago's first great offensive line in about a decade. Most fans were caught off guard when reports of Jenkins' back injury surfaced, and when he missed most of his rookie season, he was called a wasted draft pick. It's not an unfair assumption. Back injuries regularly sideline former Cubs' first baseman Anthony Rizzo, who doesn't take nearly the punishment an offensive lineman does.
Here's what the NFL Draft Bible said about Jenkins at the time of his selection:
"Jenkins has an intriguing level of athletic traits to transition smoothly to what can be a difficult ascension to the next level. He boasts a powerfully well-put frame that is well proportioned throughout, hitting all the desired size thresholds. Jenkins keeps his pads square, locking into his power while also staying balanced. In the run game, he takes some great angles of attack. With suitable hand placement, he has the lower-body power to consistently dig and drive players out of the hole. He possesses active feet, routinely finishing opposing defenders on the ground. Jenkins is an easy mover to the second level and in space, showcasing to be a plus athlete for the position. He has some easy mirror ability as a pass protector."
Jenkins played just 161 snaps in five games during his disappointing rookie season, drew more than his fair share of penalties, and looked overmatched at left tackle every time he took the field. There was one positive, however, and that's that the rookie tackle did not allow a single sack. This year he's showcasing a new body and a new attitude. By doing Pilates and shunning carbs, including beer, Jenkins lost 20 pounds and seems a bit hungrier.
"It's about earning trust and earning [the coaches'] belief that I [still] deserve to be on this team," Jenkins said.
The second-year tackle insists that last year's health issues are far behind him, and he's ready to lead the Bears' offensive line with Lucas Patrick and Cody Whitehair. He should be expected to become a playmaker in Luke Getsy's offense. The increased Pilates work, while often grueling, has become a big part of his mental and physical transformation.
"You ever do a Pilates workout?" Jenkins said. "It is [torture]. Oh, my god. But it's good for you. So I'm happy to do it."
"Get in where you fit in," he added. "I'm trying to elevate everything about myself, mentally and physically."
Fitting in is the key to Jenkins' metamorphosis. He heard Ryan Poles loud and clear when the rookie GM he said he wanted his offensive lineman to be leaner, faster, and more violent. The star draft pick from a year ago has to prove himself to a new front office and coaching staff and he's confident big things are coming. Switching from left to right tackle means he's back to where he starred while at Oklahoma State.
"It is comfortable," Jenkins said. "It's nice. And I do look forward to getting reps at right tackle. … It's more about where can I be the best for the team. And what can I do and what certain position (for me) is going to elevate the whole offense."
If the offensive lineman's rookie season tried your patience, rest assured you're not alone. Jenkins is his own worst critic and knows that last season he was inconsistent, sloppy, and not in prime football shape. It didn't take an overhaul of the front office and coaching staff to remind him he might be looking at one last chance to redeem himself. That's not something that's often said of a high draft pick entering his second season, but Jenkins knows the hand he's been dealt.
"One thing I did learn is you're not going to win 100% of the snaps," he said. "It's about how consistent you can be. That's how good you can be. So that's what you're trying to strive for all through practices and all these reps you're getting. It's about how consistently good can you be."
If Jenkins can man right tackle, he, Patrick, Whitehair, and new left tackle Larry Borom should provide a lot better protection for Fields this year while opening holes for running backs David Montgomery and Khalil Herbert. If not, he'll be just another castaway as Poles and company transition the team from the mess Pace and Matt Nagy left behind.
As most have noted, nothing can truly be determined until the team pads up during training camp. That's when the coaches will know if Jenkins is fully healed, more disciplined, and still as strong as he was before the weight loss. If you're looking for one positive, Poles has been impressed with what he's seen so far, and not just with Jenkins.
"They're working hard," Poles said last week. "They're improving. They're taking coaching, so that is obviously a positive. If you are an O-line guy like I am, you know that we're not going to be able to tell much about these offensive linemen until we put pads on.
"So I love the work they're putting in. They're doing everything right. They're adapting to the new scheme. They're changing their bodies. Everything that they're supposed to. But listen, we all know up front when the pads come on, that's when we really see what's going on."
Jenkins is ready and champing at the bit.
"I'm working for that trust," he said. "That's ultimately what I want to have. Getting more of that trust that they have in me will make me feel more comfortable."