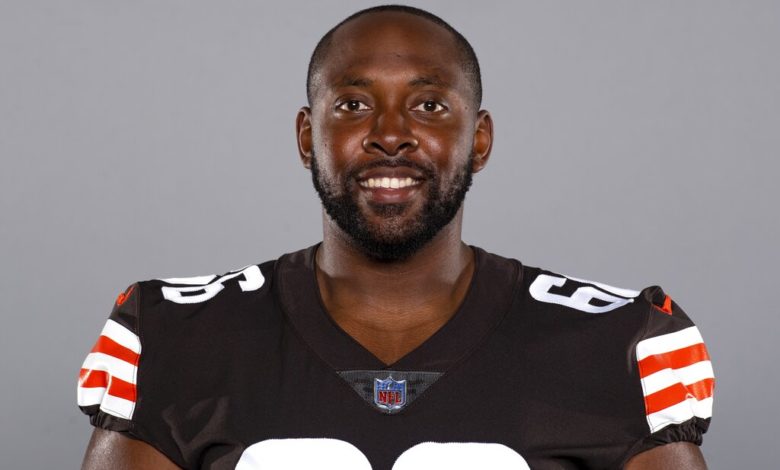 Poles Makes First Acquisition, Signs Offensive Lineman Willie Wright to Reserve/Futures Contract
New GM Ryan Poles said that he was going to attack every available market to reconstruct Chicago's offensive line, and yesterday he signed offensive lineman Willie Wright to a futures/reserve contract. It was the GM's first acquisition since being hired.
Eric Edholm of Yahoo Sports was the first to report Wright's signing.
Wright was originally an undrafted free agent of the Browns in 2019 and he spent the entire season on their practice squad. The 6'3″ 300-pound center spent one season with the Falcons though he has yet to see any NFL regular-season action. Atlanta flexed the 25-year-old from its practice squad for one game in 2020 though he did not play. He has been a free agent since the Falcons waived him last August.
Wright played tackle at Tulsa University and was a four-year starter. He has enormous legs, great size, and big hindquarters that provide powerful strength and pivot. He's an aggressive center who loves to drive and punish his opponents. Poles said he wants the Bears to "be more violent" and this signing represents a lottery ticket of sorts in that direction. The lineman has great ballast and takes up a lot of space in the middle of the line.
.@TulsaFootball OLine Coach @MikeBloesch has his #FiveStrong Unit ready to dominate this season! 🔥💪
–
Excellent rep by Senior Offensive Tackle Willie Wright @WuerffelTrophy
–#SoupBoneStrong #ReignCane #TrenchLife pic.twitter.com/IWMpEKdKzb

— Lineman Performance Association (@FiveStrongOLine) August 7, 2018
Wright is powerful, moves well laterally, and plays with a low center of gravity. If anything, he offers a glimpse of the type of lineman that Poles will target. He could be a diamond-in-the-rough of sorts because he has been a numbers game victim in two pro stops since leaving college. Sam Mustipher really struggled last season and was ranked as one of the worst starting offensive linemen in the league by Pro Football Focus, so Wright certainly has an opportunity to earn a spot on Chicago's roster.
Because the Bears need so much help on the line, this was a smart early move by Poles. Chicago is still constrained by the 53-man roster limit until March 16, even with just 26 players under contract for next season. Only players without an existing contract are eligible to be offered a futures deal. Until then, Wright does not count against the roster limit or the salary cap.
The same goes for players that were on Chicago's or any other team's practice squad. When the regular season ended, their contracts expired. Most teams sign their practice squad players to these reserve/future deals, ensuring they will be coming to training camp the next year. The deals are non-guaranteed, and usually for the league minimum salary.
Wright was a standout at Tulsa and could be a cheap replacement for Mustipher, who earned a reserves/futures contract from Ryan Pace in 2019 after going undrafted. At the time, the Bears were dancing between Cody Whitehair and James Daniels at center, depending on health. They knew Whitehair's best position was at left guard and drafted Daniels now plays right guard, and was one of the team's best linemen in 2021.
Here are the other 12 players the Bears have signed to Reserve/Future deals this offseason.
Offense
Isaiah Coulter, WR
Nsimba Webster, WR
Dieter Eiselen, OL
Tyrone Wheatley Jr., OL
Ryan Willis, QB
Defense
Auzoyah Alufohai, DL
LaCale London, DL
Michael Joseph, DB
Bo Pete Keyes, CB
Lamar Jackson, CB
Ledarius Mack, OLB
Charles Snowden, OLB