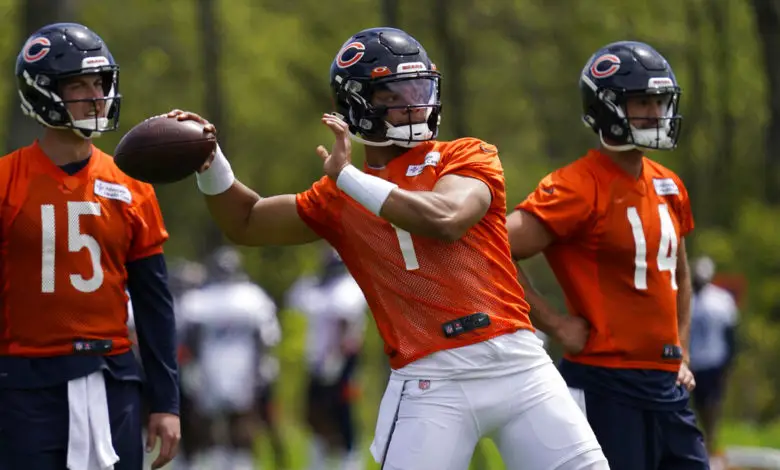 Justin Fields Struggles in OTAs Though Optimism Remains Strong
Despite his outstanding work ethic and though he's received the bulk of the quarterback reps, Justin Fields continued to struggle during last week's OTAs. Part of his poor performance could be that the Bears' secondary has improved so much. The second-year quarterback is also learning a new offense while trying to unwind a few of the bad habits he picked up last year. Though there are certainly reasons to be concerned, Fields is showing genuine improvement in his mechanics, and optimism remains strong that he will show marked improvement in 2022.
Secondary Triumphs or Offense Struggles?
One thing for certain is that Fields lacks big-name playmakers on the flanks. During one two-minute drill, Equanimeous St. Brown flashed his notoriously questionable hands as Fields' pass bounced off the lanky receiver and into the hands of DeAndre Houston-Carson. The defensive back was a big benefactor of the offense's miscues with two picks on the day. Jaylon Johnson also had a good day, and UDFA C.J. Avery (Louisville) nearly had an interception, too. Despite St. Brown's issues, Fields looks like he's still forcing the play. Not every deflection or interception was a result of poor wide receiver play, and it's clear that the sophomore quarterback still needs further development.
DeAndre Houston-Carson had an INT during two-min drill on a tipped pass. Justin Fields' pass went off the hands of Equanimeous St. Brown.

Moments before, a false start on LT Braxton Jones had sent the offense backwards on first-and-10 at the 40.

— Sean Hammond (@sean_hammond) June 8, 2022
This is a bit of a make-or-break season for Fields in some aspects. Ryan Poles and Matt Eberflus didn't draft him Just because he has been named QB1 doesn't mean his leash is long by any means. Poles was part of the staff that drafted Patrick Mahomes in Kansas City. It's entirely possible that the new front office might have higher than normal expectations when it comes to Fields. That means the 23-year-old may only have a couple of years to prove himself to the new hierarchy.
It's Not All Bad
Conversely, Fields has reportedly made some progress during the offseason practices. His footwork is said to be better, and it's been mentioned his release is cleaner and quicker. His chemistry with Cole Kmet has improved, too. Tight ends coach Clancy Barrone has worked hard to de-condition Kmet from some of the disorganizations of the previous regime.
"A lot of that growth process is having time on task with the same quarterback," Barrone said. "This is一 and is for a lot of people in this offense一 it's their fourth starting quarterback in 20-something weeks… That's also a major part, trying to get that chemistry between tight end and quarterback and that's really true for all of them, not just Cole."
Kmet and Fields have spent a lot of time working together since last season ended, and the tight end believes great things are coming for the pair.
"He's just been great in terms of being vocal to everybody and being demonstrative about what he wants from everybody," Kmet said. "It's been fun to be a part of and fun to watch and exciting to keep drawing on this going into training camp."
Unfortunately, most of the offense's work has been closed to the media. It's like a recurring nightmare from the Matt Nagy days when Bears fans heard the good news they couldn't necessarily see. That mystery can be misleading. Last year's great practices led to nothing but a lot of wretched play once each game day arrived.
The good news is the Ohio State product's development has clearly been the top priority of Eberflus and his staff. Eberflus was impressed with Fields' deep ball accuracy and insisted that will be a big part of Chicago's offense. He also lauded the quarterback's improved footwork.
"Luke [Getsy] and [quarterback coach] Andrew [Janocko] are doing a great job with the footwork and the timing," said the first-year head coach. "That, to me, jumps out. You can see it in the drill work. You can see them taking it from the drill work to the 11-on-11 reps. That's clearly getting better, so I'm excited about that."
Offensive coordinator Luke Getsy has mentioned the difficulty of his new offensive scheme and the time it takes to grasp. If the Bears want Fields to excel in the new system, reps can't be wasted. The Bears lost an OTA for allowing too much contact during one of the May practices, and that cost Fields some development time.
Despite the lost drills, Eberflus and his staff continue to focus intently on the offensive side of the football. Remember, Fields ran exclusively with the second team last summer, missing opportunities that were provided to both Andy Dalton and Nick Foles. Fields' lack of understanding of the 2021 offense was excruciating to watch when an injury to Dalton forced the rookie quarterback into a starting role in Week 3 against the Browns. Nagy had no idea as to how to play to Fields' strengths nor how to cover his deficiencies and the results were devastating.
still can't believe Matt Nagy wasn't thrown in prison at halftime for his game plan in Justin Fields' first start pic.twitter.com/6uhSM48eHx

— Warren Sharp (@SharpFootball) June 7, 2022
Cautious Optimism
It's not time to panic just yet. Fields will have some hiccups along the way, which comes with developing a young quarterback. Josh Allen didn't click in the Bills' offense overnight. His path to success is something the front office would like to mirror with Fields. At least there is no question as to his role this season. Fields is the starting quarterback and that won't change unless he is injured.
Poles summarized after the draft that in reality, Fields should be looked at as a first-round pick this year, and the organization will continue that rookie-like mindset. Fans should also acknowledge that he is still building chemistry with his offensive line, receivers, and tight ends. The entire offense is basically starting from scratch. It's okay to be worried that some tumultuous days may lie ahead, but it's also okay to have cautious optimism when it comes to Fields and his development. With a little over 90 days left to get the offense right, the second-year starter and his charges deserve a little patience from the fans and media alike.