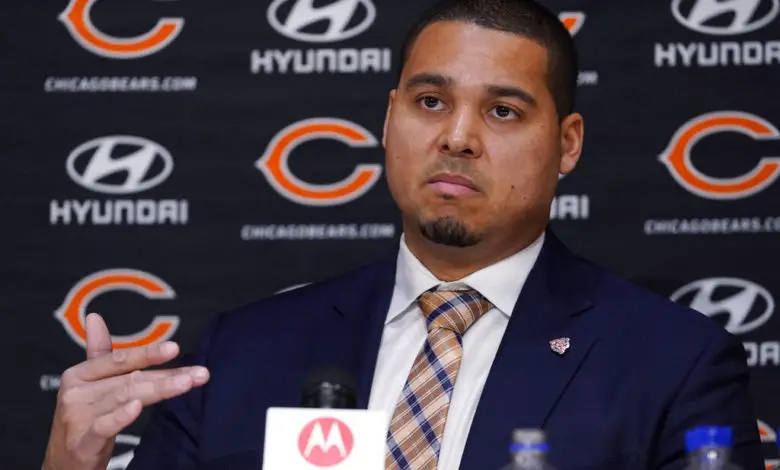 Temper Expectations Poles Will Be Making a Big Splash in Free Agency
Now that the 2021-22 NFL year has ended, and with the official start to the new season one month away, it's time to start thinking about how Ryan Poles will build his first Bears' roster. If Bears fans are hoping the newly-minted GM is going to make a big splash in free agency, you may want to temper your expectations. Sure the organization should have between $40 and $50 million of cap space once the market opens, but with just 26 players under contract for next season, Poles has a lot of holes to fill.
Ryan Poles needs to strike a delicate balance in rebuilding the #Bears' roster, writes @CEmma670 https://t.co/y0TqDmepVd pic.twitter.com/GHcCLdaehL

— 670 The Score (@670TheScore) February 8, 2022
Plus, that's just not his style. In case it slipped past you in all the excitement, Poles said as much when he first met with reporters after taking over for Ryan Pace.
"Be selective in free agency. [It's] really attacking that second and third wave of free agency, where you can get good value, and the beautiful thing is you get players that are highly motivated in that area. I think we could all agree if you get thrown $100 million, it takes a special human to show up in a physical game and put the work in to be great. So there's a ton of value there.
"We want to build through the draft and target second and third-tier free agents at a great value."
You can put rumors of a potential acquisition of Davante Adams to bed now, and you can probably cross off the top 12-20 names on your free agency board.
Poles almost sounds as if he's running a baseball team. He understands there's no point in targeting select players and then helping to drive up prices by entering into a bidding war. That could be bad news for wide receiver Allen Robinson if he wants to return to Chicago, and it's probably welcome news for safety Eddie Jackson. His big payday last year at this time probably helped pave the way for Pace's exit. Jackson was one of the team's lowest-graded players this year.
Besides, Poles believes the team has enough of a foundation in place to compete for a playoff spot as the team currently sits. He obviously has high regard for new head coach Matt Eberflus and all of the assistant coaches they've hired and believes that better tutelage will get the most out of the players he will retain.
"Absolutely I [do] think we can be competitive," Poles said at his introductory presser. "The beautiful thing about football is what we just saw with the Bengals. Everyone, once the Super Bowl is played goes back to 0-0 and has the ability to improve their roster, make changes, we all know it's fluid on a yearly basis so we're going to attack it. Our goal is always going to be in contention and win games."
We can also expect that the front office intends to strengthen the offensive line. He made a preemptive strike by signing center Willie Wright to a reserve/futures contract last weekend. Wright has a solid chance to compete for a roster spot, but expect bigger names and more familiar faces to come to town starting next month. Chicago has just five draft picks this year, and none in the first round, but it's widely expected Poles will try to get some line help with one of his top two selections if the right player is available.
"It's always going to be a point of emphasis," Poles said. "Your starting five rarely ends up being the five at the end of the season, so not only do you need really good starters, but you need depth as well. I've always felt that's the foundation. Establishing the run game, having protection, allows you to dictate the game. Especially here, having to go up to Lambeau in December, or games at home late in the season, you gotta be able to have that line to be successful, in my opinion. So it's definitely going to be an emphasis."
Might even see Ryan Poles adopt some of this strategy in Chicago. Investing late picks in players who at one time had a high draft grade.

— Matt Miller (@nfldraftscout) February 14, 2022
The addition of players like tackle Orlando Brown Jr. or Terron Armstead is nice to dream about, but at the salaries each will command, it's probably unrealistic that Poles will be able to afford either. Chicago likely needs a lot more than a bolstered line to help Justin Fields take his game to the next level. The Bears are far too thin at wide receiver and need secondary help, too. Those are premium skill positions that don't come cheap on the open market. Unless the team can acquire more draft picks this year, expect no stone to go unturned among this year's crop of undrafted free agents and cap casualties.
It seems almost impossible given a large number of needs that the Bears have any shot at making the playoffs next season, but Poles intends to erase as much as that doubt as possible.
"There's always talented players in every organization, and that's especially true here," Poles said. "I'm excited to have Justin and put him in a position to succeed and get players in the building who are going to help amplify his ability."
The new season officially starts on March 16. It's going to be interesting to see what Chicago's front office does to eventually get to its final 53 players.