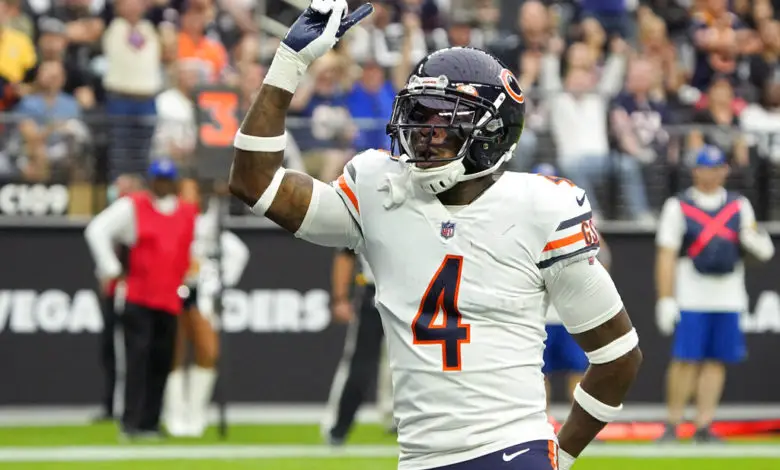 First & Long: Bears Need Secondary Help Next Season, SoFi Could Be Model for Arlington Heights Stadium, Rams Win Super Bowl LVI
The 2021-22 NFL season is officially over and the Rams are your new champions. That means that 32 teams, including Chicago, have a shot at going to Glendale, AZ for Super Bowl LVII next February. You can't compare the Bears to the Bengals but it is worth noting that Cincinnati was 4-11-1 last season, desperately needed help at wide receiver, and had an offensive line that was mediocre, at best.
What the Bengals had this year was an outstanding secondary, a great offensive gameplan, and a game-changing rookie wide receiver in Ja'Marr Chase. It's also worth noting that the Bears beat Cincinnati 20-17 in Week 2, thanks to a heroic effort by the defense, holding their opponent to 248 yards of offense while picking off Joe Burrow three times. That's where the Bears hold an edge over this year's Super Bowl runnerup. Their defense is much more stout.
Still, the defensive backfield needs a lot of help to make Chicago's defense elite. Cornerback Jaylon Johnson is one of the best in the league, but Eddie Jackson was pitiful, and injuries hurt the secondary a great deal, too. The Bears certainly need to find a No. 1 wide receiver in the draft or in free agency, and Ryan Poles is going to have to rebuild an offensive line that was ranked No. 22 overall by Pro Football Focus. Shoring up the secondary is also probably very high on the new GM's offseason to-do list.
Two free agents that played in Sunday's championship game could help the Bears. Darious Williams of the Rams would pair nicely with Johnson and give Chicago one of the best cornerback tandems in the league. Except for one 46-yard pass, he kept Chase wrapped up pretty well all game.
The Bengals may lose safety Jessie Bates III to free agency, too. The 24-year-old is recognized as one of the best free safeties in the game, an important position in the anticipated Tampa-2 defense head coach Matt Eberflus wants to play next season. He won't replace Jackson, but he'd make the secondary a lot stronger.
"Matt Eberflus came in with the mindset that we were going to be the number 1 hustling team. He calling everybody out. No matter who you are and that's what made him so great. He was going to hold everybody to the same standard."
– Colts LB Darius Leonard on @PatMcAfeeShow

— Daniel Greenberg (@ChiSportUpdates) February 12, 2022
Jackson is an enigma of sorts. Before this season he was considered a rising star, so much so that former GM Ryan Pace gave him a 4-year $58.4 million deal that included a $12 million signing bonus. $33 million of that contract is guaranteed, so Jackson will return, and it's a near-certainty he won't be loafing around the defensive backfield like he did last season. Eberflus will have none of it. The good news is that most analysts expect Jackson to bounce back in 2022. He has to because he probably can't play any worse than he did this season.
An improved secondary is by no means a guarantee that Chicago will follow the same path Cincinnati took this year. A lot of things went right for the Bengals, and two upsets of the Chiefs in the final week of the season and again in the divisional round of the postseason thrust that team into the national spotlight. They almost pulled it off against the Rams, too. For Bears fans, it's almost worth dreaming about.
Bears News & Notes
New offensive coordinator Luke Getsy is excited to work with Justin Fields, who still provides plenty of optimism for Bears fans.
The second-year quarterback is seen as a "natural leader" by his teammates.
It seems almost odd to say it, but the best outcome for the Bears might be keeping Nick Foles for one more year to serves as a backup to Fields.
Poles made his first offseason acquisition when he signed center Willie Wright to a reserve/futures contract this weekend. Wright has a real chance to make the team due to its weak offensive line and lack of depth at center.
Eberflus is going out of his way to make a connection with a number of past Bears greats.
Dick Butkus said that team founder George Halas is probably "rolling over in his grave" over the play of his beloved franchise this season.
The Hall of Fame linebacker also added that the offensive line did a poor job of protecting Fields. "You're letting [Fields] out, you're hanging him out to dry, in my estimation," Butkus said. "I got so pissed during the year. It's just guys [who] miss a block, then they're right there helping the quarterback up. Give me a break. I'd take my hand if I was him, and go 'Get out of here!' Then kick them in the ass."
A new stadium much like SoFi Stadium in Los Angeles could be in the works for the team's property in Arlington Heights.
There's a Flag…On the Play
There weren't many penalties called in Super Bowl LVI, but a high number of calls and non-calls were damning and definitely factored in the game's outcome.
Tee Higgins definitely got away with one. Grabbed Ramsey's facemask. pic.twitter.com/yg4yFxd9VY

— Ari Meirov (@MySportsUpdate) February 14, 2022
Northern Exposure
The Packers want Aaron Rodgers to return next season, and they're willing to pay him whatever it takes to make that happen.
Kevin O'Connell has yet to be officially named as the Vikings' new head coach, and the possible retirement of Rams head coach Sean McVay could cause O'Connell to rescind his commitment to Minnesota.
A Detroit Rams t-shirt was one of the more embarrassing side stories to this weekend's NFL events.
Super Bowl News & Notes
ESPN will pursue McVay if the Rams' head coach walks away after winning the Super Bowl.
McVay said before yesterday's game that spending more time with his family is his number one priority.
Rams star defensive tackle Aaron Donald is also considering retirement.
Three consecutive penalties incurred by the Bengals on the winning touchdown drive helped the Rams win the game.
Chiefs players savagely trolled Bengals defensive back Eli Apple after he gave up the winning touchdown.
An injury to star wide receiver Odell Beckham Jr. caused many NFL players to advocate against artificial turf on social media.
The Panthers were stunned last season when Matthew Stafford was traded to the Rams. They thought they had a deal to acquire the quarterback from the Lions locked up at the time.
The halftime show featuring Dr. Dre, Snoop Dogg, 50-Cent, Mary J. Blige, Eminem, and Kendrick Lamar arguably upstaged the game itself.
Eminem kneeled on stage during his halftime show performance, despite apparent objections from the NFL to the act that has been used as a form of protest against police brutality and racial inequality.
NFL News & Notes
The Colts are expected to trade or release QB Carson Wentz before his $15 million base salary becomes effective on March 19.
In the wake of a lawsuit filed by Brian Flores, NFL analyst and former head coach Tony Dungy has some thoughts on how the NFL can improve hiring practices.
Seahawks running back Adrian Peterson has been arrested in Los Angeles on suspicion of domestic violence.
Offensive coordinator Eric Bieniemy could be a casualty of Kansas City's failure to win the AFC championship. Chiefs' head coach Andy Reid will address any potential coaching changes this week.
Nick Buoniconti, Jim Kiick, and Jake Scott of the undefeated 1972 Dolphins were each found to have C.T.E., the brain disease linked to head hits. That makes six players from that team diagnosed with brain trauma.
Three Yards and a Cloud of Dust
The Bengals finished with a 14% pass block win rate, the worst by any team in any game this season.
Rams WR Cooper Kupp won the triple crown of receiving, was named Offensive Player of the Year, and earned Super Bowl MVP honors. Jerry Rice is the only other player in NFL history to hit that trifecta.
The NFL's next meaningful game will be played on September 11, 2022.
From the Podium
"Super impressed with [Fields], the man, the person. You can feel the determination, the will inside of him as he was communicating to me. He was super sharp with what they did at Ohio State. And then just again just the brief conversation that we were able to have together here the other day, the same exact thing just jumped back out at me again." – Getsy
"We've got to dive into what everybody does best, right? And it starts with the quarterback. This is a quarterback-driven offense. The things the quarterback does well, that's going to be the driver of who we are. And then we're going to marry that to what the other guys on the football field do well. That's the purpose of the offensive coordinator — to dive into what people do best and then build the offense around that." – Getsy