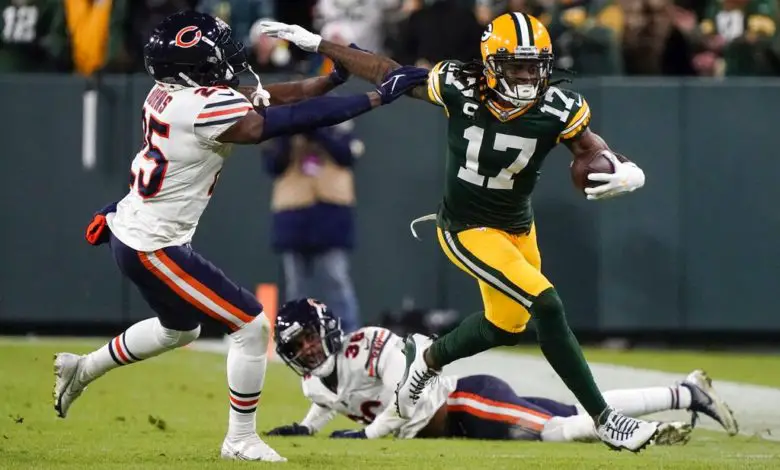 Time to Slam the Brakes on Davante Adams Rumors
I understand that football blogging is a very competitive space and that some writers will resort to almost any means to seek readers, but it's time to slam the brakes on the Davante Adams rumors. It's easy to take something slightly plausible, spin it ever-so-slightly, and turn it into a veritable (if totally unverified) rumor, and watch as it goes locally viral on social media. It's also not fair to fans whose passions lie with the Bears or Packers.
In this case, turning a few quotes by Adams about new offensive coordinator Luke Getsy from a few years ago into a possible free-agent acquisition is just a bit of a stretch. Yes Adams and Getsy like each other, speak highly of one another, and enjoyed their working relationship. They're probably friends off the field, too, which helps sell the supposition. But is it enough to bite on?
Davante Adams would obviously be great for the #Bears offense, but I don't think they'll spend huge on a FA this year.

They have 26 players under contract and many needs to fill. They'll sign some WRs, but Adams will likely be too expensive.

— Jacob Infante (@jacobinfante24) February 8, 2022
Though the Packers are in salary cap hell, they're not going to let Adams walk away for nothing. Ian Rappaport, one of the more respected football journalists covering the NFL, believes Green Bay GM Brian Gutenkunst will almost certainly place a franchise tag on the wide receiver's pending free agency. Gutenkunst may also try to extend Adams, and he can still negotiate a new deal with the tag in place.
Green Bay is in its current financial quagmire because Gutekunst pushed $50.9 million worth of 2021 cap charges to 2022 and beyond, including $29.2 million to the upcoming fiscal year, which starts March 16.
There's another option for the Packers, and that's to tag and then trade Adams. Before you get your hopes up, it's extremely unlikely Gutkunst would trade one of his best players to his team's biggest rival. So count the Bears out in that scenario. In fact, you could probably cross all 15 other NFC teams off your list, too. If Adams is traded, he'll likely end up with the Broncos or Raiders. I'd like to see him working with Patrick Mahomes and Andy Reid on the Chiefs, but Kansas City has its share of cap issues, too.
Even if Adams were set free, it's unlikely he'd end up in Chicago. Once new GM Ryan Poles has trimmed some of the fat from his roster, he'll have somewhere between $40 and $50 million in cap space. He'll also have a little more than half of a roster to replace. Adams wants to be the game's highest-paid receiver, which means he expects to top the $27.25 million the Cardinals are paying DeAndre Hopkins.
Believe it or not, Green Bay is better positioned to make that happen than the Bears. With 44 players currently under contract, Gutenkunst has far more options than Poles does. Players who fall into the extension or cut/trade categories include Aaron Rodgers, Za'Darius Smith, Preston Smith, Adrian Amos, Billy Turner, Jaire Alexander, Dean Lowry, Mason Crosby, and Randall Cobb, among a few others. David Bakhtiari and Kenny Clark could accept contract restructures. It's not that far-fetched that Rodgers and Adams could stay with the Packers for at least one more season.
Rodgers is really the key. He could demand a trade, but he's playing for a ring and if he believes Green Bay is primed to compete for an NFC championship next year he'll stick around. There's no doubt the Packers can make one more run at it with their dynamic duo. The Bears and Lions are rebuilding, and the Vikings may be forced to tear it all down, too. Rodgers and Adams could coast through the division toward a No.1 seed just like this year.
As for the Bears, making Adams the game's highest-paid receiver would be foolish. Sure Poles and new head coach Matt Eberflus needs to surround Justin Fields with offensive weapons, but he also needs to rebuild his offensive line. James Daniels is due for an extension and Jason Peters just turned 40 years old. Rookie Teven Jenkins struggled once he got his chance late in the season, allowing 11 pressures and being flagged seven times on 160 snaps. Center Sam Mustipher finished with an abysmal 51.8 grade from Pro Football Focus, who ranked Chicago's O-line No. 22 in the NFL.
The Bears have 25 unrestricted free agents as the roster currently stands. With so many positions to fill, don't expect Poles to shop for the free-agency elite unless he can get a stud offensive lineman at a bargain rate. As far as wide receivers, the new GM is likely to look to the draft and may have interest in Arizona free agent Christian Kirk. The 25-year-old caught 77 0f 101 targets for 982 yards and five scores this year and is considered a budding playmaker by many analysts. He's a little small, but he runs a 4.4 and he did have a 74.8% catch percentage, which would have easily led the Bears.