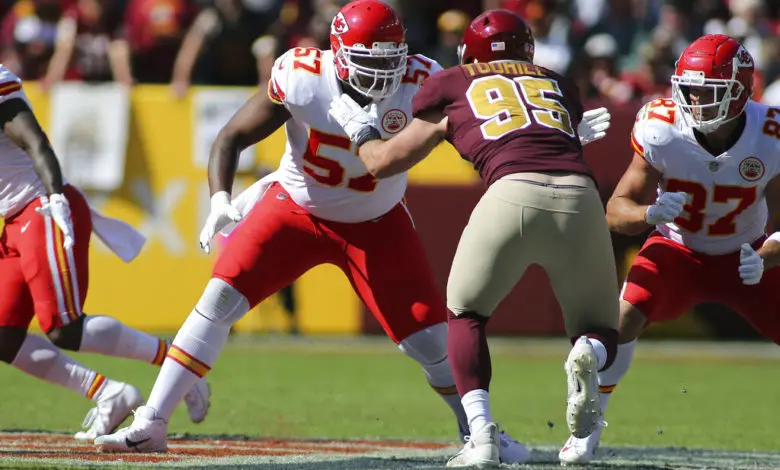 Poles Needs to Find at Least Two Elite Options in Free Agency, Could Target Brown Jr.
As the Bears roster currently sits, GM Ryan Poles and head coach Matt Ebefrlus have about 6-9 playmakers heading into next season, most of them on the defensive side. The Bears need to find at least two elite options in free agency and based on the team's desire to strengthen its line, Chiefs tackle Orlando Brown, Jr. could be a primary target.
Though he didn't mention any options by name, management consultant Bill Polian said as much in an interview with Waddle & Silvy of ESPN1000 today.
"There's a lot of work to be done," Polian said. "The general consensus is that the Bears have 6-9 blue-chippers on this team. That's not enough. You need 10-12 to be in the hunt. Ryan [Poles] has a task in front of him to add those kinds of players. There is no question about that. That means it's not going to happen overnight."
Poles will have to be aggressive in free agency and similarly attack the draft. He may have to look for ways to acquire more draft picks, even if it means trading one of his blue-chippers, such as Khalil Mack. Former GM Ryan Pace left just five picks for Poles to work with, but he did create about $40 million in cap space assuming Chicago retains Mack. The front office should be able to find 2-3 elite players on the open market starting in March. Accomplishing that will increase draft options for Poles come April.
In order of need, the Bears will target wide receivers, offensive linemen, defensive backs, and linebackers or edge rushers, especially since Eberflus is switching to a 4-3 Tampa-2 defense. They should probably try to acquire a veteran backup for Justin Fields, but Nick Foles is under contract for next season and he could be an option.
Let's look at the best available on the open market. With $40 million to spend, Poles could do some damage with one or two big moves.
The first name you should notice is Brown, Jr. Poles acquired him from the Ravens last year and the left tackle was selected to play in this year's Pro Bowl. He graded above 70.0 as a pass- and run-blocker while adjusting to a dropback passing attack and starting alongside an entirely new offensive line unit in Kansas City. Simply put he may be the most dependable tackle in the NFL right now. Since taking over as a starter in Week 7 of his rookie season in 2018, Brown has not missed a game, and he played over 1,100 snaps in each of the past two seasons. He'll likely command a five-year $105 million deal in free agency.
At wide receiver, you should immediately cross off Adam and Robinson. The former is looking for $30 million or more, and Robinson may have worn out his welcome in Chicago. Godwin is interesting, and though he is no WR1, new OC Luke Getsy could do for him what he did for Adams in Green Bay. The price tag is steep, however, and Poles could look to the draft. Godwin is projected to earn $17.5 million per season.
Jones would be a monster as an edge rusher in a 4-3 alignment. He attacks tackles with a full array of pass-rush moves, has been among the best at converting QB pressures to sacks, and has been considered elite for the last three seasons. He is not as effective against the run as he used to be,  which could slightly limit his earning potential. He's probably going to get a two-year deal at somewhere between $16-17 million per season.
Bates III is everything a coach covets in a defensive back. He proved he can be an elite center field safety with the range to get to the sideline and make plays all over the field. He is an ideal player in a Tampa-2 system because he's a big hitter, though he does struggle with one-on-one tackling. The Bengals will most likely slap a franchise tag on Bates, but if he's allowed to walk, he could be a viable backfield option for Poles and Eberflus.
At inside linebacker, I'm calling an audible as the main target. The best value in free agency could be De'Vondre Campbell of the Packers, who is projected to earn $12 million on a two-year contract. An outstanding tackler who excels against the run, Campbell would allow Eberflus to keep Mack, Robert Quinn, and Roquan Smith on the outside. That's the kind of defense that would terrorize every opponent it faces. Campbell is just waiting for the right opportunity to vault into the league's elite, and he could be the unsung hero in Chicago's 4-3 defense.
Alternative OL: Armstead is highly regarded, is an elite pass protector, always grades 75.0 or higher, and could be a bargain at a projected $19 million per year.
Alternative WR: JuJu Smith-Schuster. The 25-year-old profiles as a slot receiver but was drafted as a future WR1 to replace Antonio Brown in Pittsburgh. He should come relatively cheap on a one- or two-year deal. Brown is also a free agent, by the way. Hard pass.
Alternative Edge/Linebacker: Melvin Ingram III. He's on the wrong side of 30, but that didn't slow Quinn this year. Ingram may have the best technique of any of the available ends, he's still powerful, and though he may be limited to situational roles, he should come pretty cheaply. Best of all, he could keep Mack at linebacker.
Alternative Defensive Back: Steven Nelson. The undersized corner plays a lot bigger than he looks and can adapt to any defensive scheme. He's durable and would be a supreme compliment to CB1 Jaylon Johnson.
Alternative Linebacker: Hightower is an excellent downhill player who excels against the run. He's a bit of a slow starter, so Bears fans would need to exercise some patience. He's not that athletic and would have to be removed in obvious passing situations. At this point of his career, he's probably a situational rusher from the outside, and would force Smith to play the Mike.
Among the big splashes, it's doubtful the front office could afford more than one with the number of roster holes that need to be filled, especially with just five picks in the draft. If Poles truly intends to build from the lines out, Brown, Jr. should be the primary target. The Bears OL ranked No. 22 this season per Pro Football Focus.