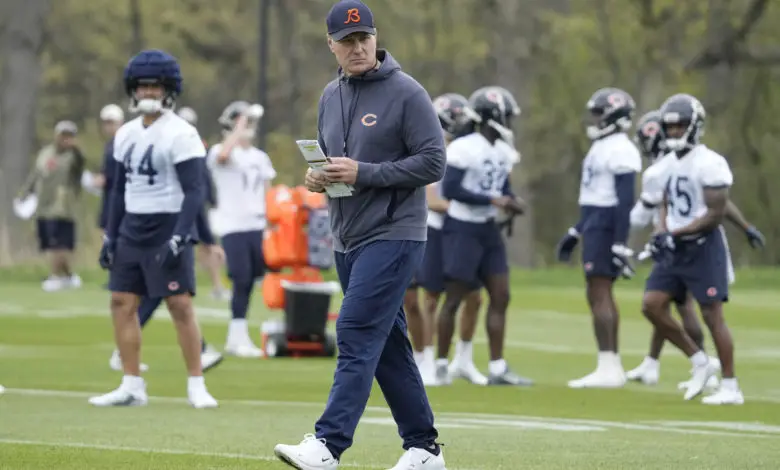 Ranking Bears 2023 Draft Picks
The 2023 NFL draft has come and gone, and the Bears have received very high marks for their draft grades. Sporting News and The Ringer gave the Bears an A. Next, NFL.com and Fox Sports gave the Bears an A- while USA Today, Athlon Sports, ESPN, CBS Sports, and I all handed the Bears a B+. The Bears can put most of these draft picks to work immediately, but each impact the team differently. This year's rookie class has diversity in skill sets, college experience, scheme fit, and so much more. Here's how I rank these players on their importance and immediate impact.
10. Travis Bell, DT Kennesaw State, R7P218
Bell is the first player ever to be drafted out of Kennesaw State and one of Ryan Poles' favorite picks. The more I watch him in front of the media, the more I like him. Unfortunately, being a nice guy doesn't help a team win football games, and the Bears should have better utilized the 218th pick. Poles added Andrew Billings to the team through free agency, then drafted two more defensive tackles in rounds two and three. Bell won't make the 53-man roster with Billings, Justin Jones, and two other draft picks ahead of him.
Here is Lance Zierlein's draft profile on Bell at NFL.com.
9. Kendall Williamson, Safety Stanford, R7P258
Williamson is a hard-hitting safety with the speed to get to the ball carrier quickly. The safety took snaps in the box at Stanford, limiting his opportunities to get interceptions. He could have gone earlier if he had better ball production, but Williamson ended his college career with one interception. Williamson has the potential to be a gunner on special teams, but the depth chart currently poses challenges. Elijah Hicks and especially AJ Thomas have shown flashes of talent that could prevent Williamson from getting a roster spot.
Here is Zierlein's draft profile on Williamson.
8. Noah Sewell, LB Oregon, R5P148
West Coast Area Scout for the Bears, Reese Hicks, called Sewell an intelligent player with good ball skills. I didn't necessarily see the ball skills, but I put Sewell here for a different reason. The Bears added two excellent linebackers, Tremaine Edmunds and TJ Edwards. Tie in Sewell's poor pass defense, and you have a two-down linebacker coming into an already improved group.  Sewell does have the physicality and gap play to make an immediate impact off the bench on running downs. If the Bears had to go linebacker here, Owen Pappoe has the speed I'm looking for.
Here is Zierlein's draft profile on Sewell.
7. Tyler Scott, WR Cincinnati, R4P133
Scott is a speedster, and I love that the Bears drafted him. I don't love what it means for the roster. If Scott can improve his route running, one or both of Darnell Mooney and Chase Claypool are unlikely to be extended. Until then, the immediate impact that Scott will make is limited. Minimally, the Bears have three wide receivers ahead of Scott on their depth chart. Equanimeous St. Brown and Dante Pettis getting contracts to come back make it even harder for Scott to grab snaps. Velus Jones also has speed and one more year in the league. His experience could also be impeding Scott's climb into the depth chart. Scott's dangerous enough with the ball in his hands that returning kicks and helping on special teams could be his way onto the Bears roster.
Here is Zierlein's draft profile on Scott.
6. Roschon Johnson, RB Texas, R4P115
Johnson is an excellent player with many skills that can help the Bears immediately. For one, he's a terrific pass blocker, a rarity for a back straight out of college. Second, Johnson's a big body that can bang and clang in between blockers, which will help the Bears who struggled near the goal line too often last year. After that, he doesn't solve many of the problems that the Bears have with Khalil Herbert. They both accelerate too slowly, neither has a swift cut, and both need more creativity than they show to get to the second level consistently. The Bears need to add speed, not a bigger, stronger, slower Herbert.
Here is Zierlein's draft profile on Johnson.
For comparison, here's what Zierlein wrote about Herbert.
5. Gervon Dexter, DT Florida, R2P53
Dexter is a good player, but so are the rest of these players. Dexter gets me the least excited when considering his fit or immediate impact. He's not a true penetrator and needs to be faster to get off the ball. When ranking my defensive tackles, I said Dexter didn't fit the mold of the three-technique the Bears needed. Dexter has the traits and athleticism that allow him to grow his game, and he could get better in the areas that the Bears need him to. If he never does, the Bears still got a great run defender and an excellent athlete.
Here is Zierlein's draft profile on Dexter.
4. Terell Smith, CB Minnesota, R5P165
Smith is a steal in the fifth round for Chicago. He brings size, strength, and speed into the secondary, keeping the depth chart competitive. The former track star has most of the physical traits that any team would be looking for. The Bears had too many injuries in their secondary last year to fully know what they have and Smith has shown steady improvement year over year. Smith also provides insurance if Kyler Gordon doesn't develop quickly enough, if the team has injuries, or if the first corner they selected doesn't pan out.
Here is Zierlein's draft profile on Smith.
3. Zacch Pickens, DT South Carolina, R3P64
Pickens is a penetrator that can get into the backfield with consistency. He's been high in my rankings since early on and will have an opportunity to compete for the starting three-technique position. Like Dexter, Pickens provides good versatility and can rotate in at the nose tackle position, but profiles better as a pass rusher out of the three-technique. The Bears were ranked 31st in run defense last year, and Pickens can help the defense get stops and TFLs.
Here is Zierlein's draft profile on Pickens.
2. Tyrique Stevenson, CB Miami, R2P56
Stevenson has a large body, speed, and a motor that never quits. He can help in the run game and is more than willing to deliver hits. Stevenson is best in press-man coverage but can also play off the line. He has the speed to make up when he falls behind and the length to get across an opponent's body. The DB consistently attacks the ball, disrupts the catch point, and strips after the catch. I already have him penciled in to start opposite Jaylon Johnson but if Gordon struggles at nickel, and Smith ascends, Stevenson can play in the nickel too.
Here is Zierlein's draft profile on Stevenson.
1. Darnell Wright, OT Tennessee, R1P10
The Bears got their number one guy, and he's my number one choice for immediate impact and importance. Wright is a mauler and fits an obvious need. He can anchor, drive, and has the hands to combat pass rushers effectively. Wright also fills a significant need because Larry Borom was serviceable at best, and the rookie has the technique to keep himself starting longer than Borom. Wright is the best right tackle prospect in this draft class and is still improving as a player. He will be an excellent player for years to come, and the Bears secured a fourth-round selection while still locking him down.
Here is Zierlein's draft profile on Wright.