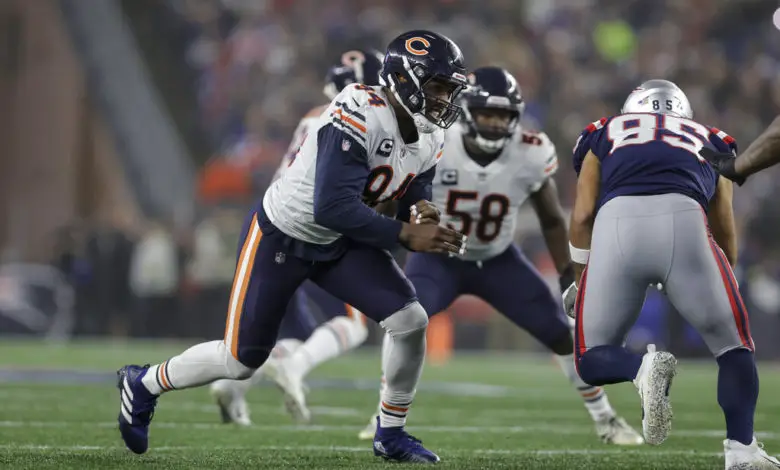 Let's Talk About the NFL Trade Deadline for a Moment
I hate to be the fart that cleared out the room after a great Bears win in New England, but Chicago's front office still has some big decisions to make. The NFL trade deadline is a week away, and rumors persist that one or all of Robert Quinn, Roquan Smith, David Montgomery, and Eddie Jackson could be traded on or before November 1. Despite Monday night's big win, the Bears are still considered sellers. But do they have to be?
David Montgomery just kept running and running and running #DaBears

📺: #CHIvsNE on ESPN
📱: Stream on NFL+ https://t.co/2HQeNdaFPc pic.twitter.com/x8NOrjXmcj

— NFL (@NFL) October 25, 2022
Let's look at the team's playoff chances first. The Bears are 3-4 but are last among all NFC teams with a similar record due to NFL tiebreaker rules.
The Bears have a victory over the No. 8 seed 49ers but trail them because of Chicago's loss to Green Bay in Week 2.
The No. 9 seed Packers own the tiebreaker for that head-to-head win.
The Buccaneers are 3-4 but currently lead the pathetic NFC South.
The Falcons are the 10th seed but have a better conference record than the Bears. The two teams will meet on November 20 in Atlanta.
The No. 11 Commanders have a head-to-head win over the Bears and a better conference record.
The Cardinals are also 3-4, have the 12th seed, and have a better conference record than Chicago.
The No. 13 Bears are 1-4 in conference play, and that could be their biggest detriment to getting into the postseason.
Chicago legitimately has to run the table in conference play, starting this week against the Cowboys. In addition to playing the Falcons in four weeks, the Bears will have to win two games against the Lions, and single games against the Eagles, Packers, and Vikings. Chicago would finish 8-4 in NFC play by doing so and would have at least 10 wins when playoff seeds are determined.
That's a big ask, to say the least. Most analysts projected the Bears to win 3-5 games this season.
With that in mind, it seems unlikely GM Ryan Poles will sit on his tradeable assets. His first move could be to trade Quinn. Some of the defensive star's logical landing spots are the teams fighting Chicago for a playoff berth. The Cowboys, Rams, Eagles, Giants, and Cardinals would all love to acquire Quinn. But the Chiefs might be Poles' likeliest suitor. It's worth noting that the veteran edge rusher has no guaranteed money left on his deal.
PFF has this as their number 2 hypothetical trade:

Robert Quinn to the Kansas City Chiefs for a 2023 4TH, 2023 7TH rounder.

Bears fans would you be happy about this deal? #DaBears #Bears #ChicagoBears

— Clay Harbor (@clayharbs82) October 25, 2022
Jackson is having a resurgent year and leads the Bears with three interceptions. In fact, the Bears have never lost when Jackson has picked off a pass. Like Quinn, Jackson has no guaranteed money left on his deal after 2022. A lot of teams need secondary help. Jackson would be a tough loss, particularly since he's done such a great job mentoring Jaquan Brisker.
Who do you like better, Montgomery or Khalil Herbert? If you are Poles, the money favors Herbert because he's not playing on an expiring contract. Montgomery is the heart and soul of Chicago's offense and has been for a few years. But, teams don't value running backs the way they used to. Modern offensive schemes allow teams to plug and play almost anybody, and the Bears have a damn good Plan B in Herbert. The Bears won't miss a beat with Herbert and rookie Trestan Ebner. Poles must decide if getting a 5th-round pick for Montgomery is worth moving him.
Chicago's best commodity is Smith. The All-Pro will also be designated with a franchise tag after this season. Teams will thusly have to overpay to convince Poles to trade his star linebacker. He's off to one of the best starts of his career despite missing most of camp. Pay no attention to his PFF grades, either. Smith is the Bears' defensive leader and the heart of Chicago's front seven.
The Bears are on the right path and proved that in last night's nationally televised win over the Patriots. But they still have a long way to go and need to continue to stockpile playmakers. Poles had a successful first draft, though returns are still in the early stages. It makes sense, therefore, that he accumulate more picks and stockpile for 2023.
Gutting the team of one or more of its best players will hurt in the short term. That said, the future of this team is Herbert, Brisker, Kyler Gordon, Justin Fields, Darnell Mooney, and Braxton Jones. Poles can build a defense around Smith and Chicago's young stars. He can also strengthen his offensive line and wide receiver group with extra 2023 selections. Poles is adept at trading down and still getting the players he wants. He proved that in April. The executive's goal is to "take back the NFC North and never give it back." That means selling some of today for a lot more tomorrow.