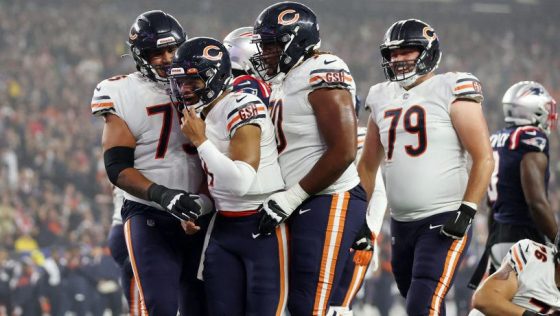 Chicago Bears Score and Recap (Week 7): Bears 33, Patriots 14 – Fields, Defense Demolish Patriots on Monday Night
The Bears attempted to spring an upset on the Patriots at a foggy Gillette Stadium Monday night. Not only did Chicago win the game they dominated late and won easily.
Justin Fields and the offense came out of the gate looking very good, picking up a field goal on their opening drive. After forcing punt from Mac Jones and the Patriots deep in their own territory, the Bears quarterback converted the short field into a touchdown with a 3-yard run.
Chicago's 10-0 lead did not last long as Bill Belichick replaced Jones with fan favorite Bailey Zappe who hit Jakobi Meyers with a 30-yard touchdown pass to cut the advantage to three. Then, Myles Bryant intercepted a deflected pass from Fields and Zappe hooked up with DeVante Parker on a 43-yard reception to set up the go-ahead touchdown.
Unlike previous weeks, the Bears did not fall apart after being hit with adversity. Khalil Herbert used his blazing speed to take a slip screen 25-yards to the house. New England fumbled a handoff late in the half and Cairo Santos kicked a field goal to put the road team up 20-14 at the break.
Matt Eberflus had his team ready to go starting the second half and the defense completely smothered the Patriots. The offense stayed efficient and Santos knocked in two more field goals in the third quarter.
A nice Dante Pettis punt return set up a David Montgomery touchdown and the Bears had a 19-point fourth quarter lead. For the first time in 2022, Chicago won the game in a 33-14 rout. (Box score)
Why the Bears Won
The defense was very good as it has been most of the season. The difference Monday was that the offense was able to pull its weight. Short passes and finally some called quarterback runs gave life to a moribund unit.
Key Moment
It was huge for Chicago to bounce back from the back-to-back Pats touchdowns with their own score. With how badly things have been going the last few weeks it would've been understandable to see them completely collapse. Instead, they put New England on their heels and they never recovered.
Stats That Matter
Justin Fields was not perfect but he played his best game of the season Monday. He threw for 179 yards with a touchdown but more importantly he made outstanding plays running the ball picking up 82 yards and keeping numerous drives alive despite continued breakdowns in pass protection.
As a team, the Bears ran for 243 yards and both Herbert and Montgomery looked very good.
The defense intercepted three passes with Roquan Smith, Kyler Gordon, and Jaquan Brisker doing the honors. Overall, they held a decent Patriots offense to just 260 total yards.
Bottom Line
What a difference 10 days makes. Last time out, the Bears had their most frustrating loss of the season against Washington. Justin Fields still does not have enough help around him but he was able to build on the positive things he has been doing the past few weeks and made things happen. Monday was when it finally came together and it was exciting to see. Now the question is: can they keep it going?
Next Up
Things don't get easier in Week 8 when the Bears travel to Dallas to take on the Cowboys on October 30, the 12pm CT start airs on Fox.