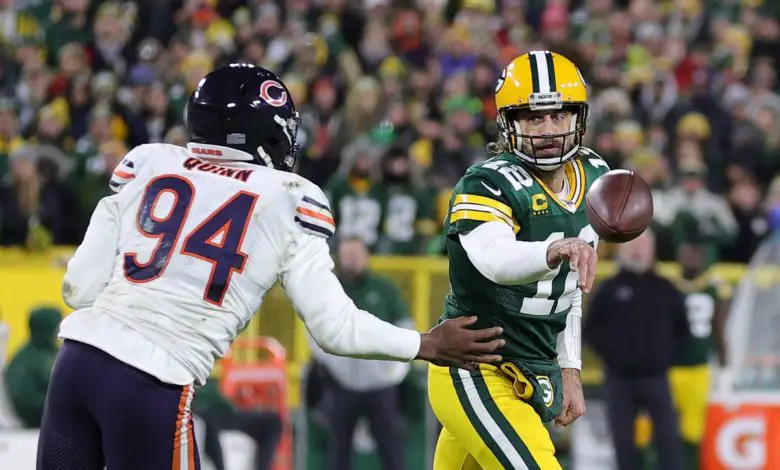 Chicago Bears Score and Recap (Week 2): Packers 27, Bears 10 – Packers, Jones Run Over Bears
The Bears were hoping to erase the last decade of struggles against Aaron Rodgers in Green Bay Sunday night. After a promising beginning, Chicago returned to their old form dropping another prime-time game to their hated rival.
After the Packers picked up a field goal on their opening possession Justin Fields led his team on impressive touchdown drive. David Montgomery tore off several big runs and Fields scrambled in for a 3 yard TD.
As it turned out, that 7-3 score was high water mark for Matt Eberflus' squad as Green Bay scored three consecutive touchdowns in the second quarter. First, Aaron Jones ran in a TD from 15 yards out to give his team the lead.
Rodgers then flipped a shovel pass to Jones for his second six points of the game. Allen Lazard pulled in another touchdown pass right before the half and the Bears were in a massive 24-7 hole.
An AJ Dillon fumble was converted into a Cairo Santos field goal in the third quarter to make it 24-10. The Bears drove down the field in the fourth quarter and add a 4th and one from the 1 yard line but a Justin Fields quarterback draw was stopped just inches from the goal line.
The Packers would tack on a field goal and seal the 27-10 victory. (Box score)
Why the Bears Lost
They had no answer for the Packers two-headed running attack of Aaron Jones and AJ Dillon. Also more of a commitment to the running game earlier might have made a difference.
Key Moment
Luke Getsy's decision to run a quarterback draw out of the shotgun on 4th and one at the goal line was certainly controversial. If the Bears had been able to cut the Packers lead to seven who knows what would've happened but that was not the case.
Stats That Matter
David Montgomery had a huge game running for 122 yards on just 15 carries. That is good for 8.1 yards an attempt, perhaps the coaching staff should consider giving him more touches.
Fields had 70 passing yards on only seven completions and ran for just 20 more.
Darnell Mooney and Cole Kmet werre absolutely invisible yet again Sunday combining for 4 yards.
Bottom Line
Aaron Rodgers is always going to put up points when he plays the Bears, it's just gonna happen. Honestly, it was not an outstanding effort from the MVP quarterback. Chicago may have been able to stay in the game if they had committed to the run earlier in the evening. Montgomery is currently the only dynamic weapon available to this team, the quicker they center their offense around him the better.
Next Up
The Bears return home to take on the winless Houston Texans Sunday, September 25 at 12pm CT on CBS.