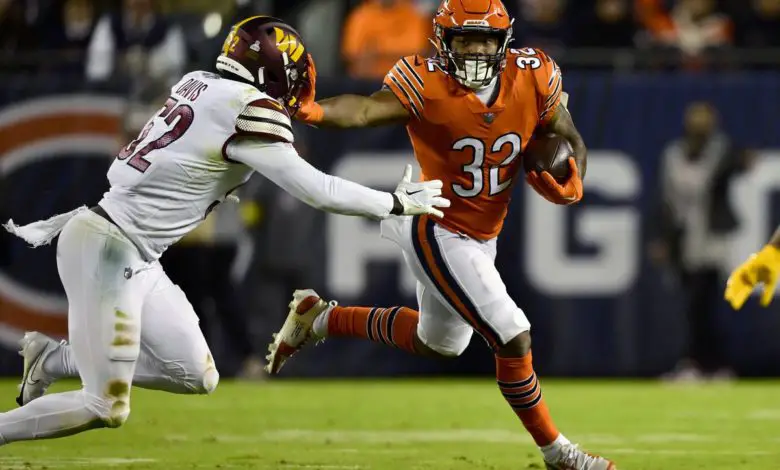 Chicago Bears Score and Recap (Week 6): Commanders 12, Bears 7 – Red Zone More Like Dead Zone for Bears in Tough Loss
The Bears welcomed Washington to Soldier Field for what technically could be described as an NFL game on Thursday night. Chicago had the better of the play in a very bad football game but key mistakes late cost them another win.
Justin Fields and the Bears offense was able to get into the red zone twice in the first quarter but both drives fizzled. First, Fields threw a pass off a defenders helmet that was then intercepted by defensive tackle Jonathan Allen in the end zone. Then, running back Khalil Herbert, who had a 64-yard run earlier in the drive, was stuffed on the goal line on 4th down.
Carson Wentz struggled yet was able to lead the Commanders to a field goal late in the first half. Chicago decided to skip the red zone in their first drive of the second half. Dante Pettis made a terrific over-the-shoulder catch on a 40-yard bomb by Fields to put the home team up 7-3.
Washington kicked another field goal at the start of the fourth quarter to cut the advantage to just one point. Then disaster struck for the Bears when rookie Velus Jones fumbled his second punt in three weeks giving the Commanders the ball inside the 20-yard line and RB Brian Robinson, returning from being shot in the off-season, went in to score the go-ahead touchdown.
Chicago's subsequent drive came up short at midfield as they turned it over on downs. Washington missed a field goal, however, and the Bears had one more chance to win. Fields had a terrific 40-yard run to get back into the red zone with one minute left in the game.
On 4th down, Darnell Mooney made a juggling catch but went down just inches short of the goal line giving the Commanders a 12-7 victory. (Box score)
Why the Bears Lost
They made three trips to the red zone and came away with no points at all. It is almost impossible to win when you do that.
Key Moment
Washington had a very difficult time moving the ball. Jones' fumble really gave the Commanders their only chance to score a touchdown and they took advantage.
Stats That Matter
Fields was inconsistent but showed real flashes yet again throwing for 190 yards and running for 88 more. He needs to improve his accuracy but it is hard when he's taking a beating behind a makeshift offensive line.
Herbert and David Montgomery both had big games and the Bears ran for 238 yards.
Washington had only 214 total yards of offense yet they were able to take home the victory.
Bottom Line
There is no sugar-coating this Bears loss. They absolutely should have won this game and they didn't because of more sloppy mistakes. Moving ahead, there aren't many more games as winnable as this one and things might be rough going forward. Hopefully, Fields will continue to improve on the good aspects of his game he showed Thursday.
Next Up
The Bears are inexplicably on national TV again, this time Monday Night Football next week October 24 against the New England Patriots at 7:15pm CT in Massachusetts.