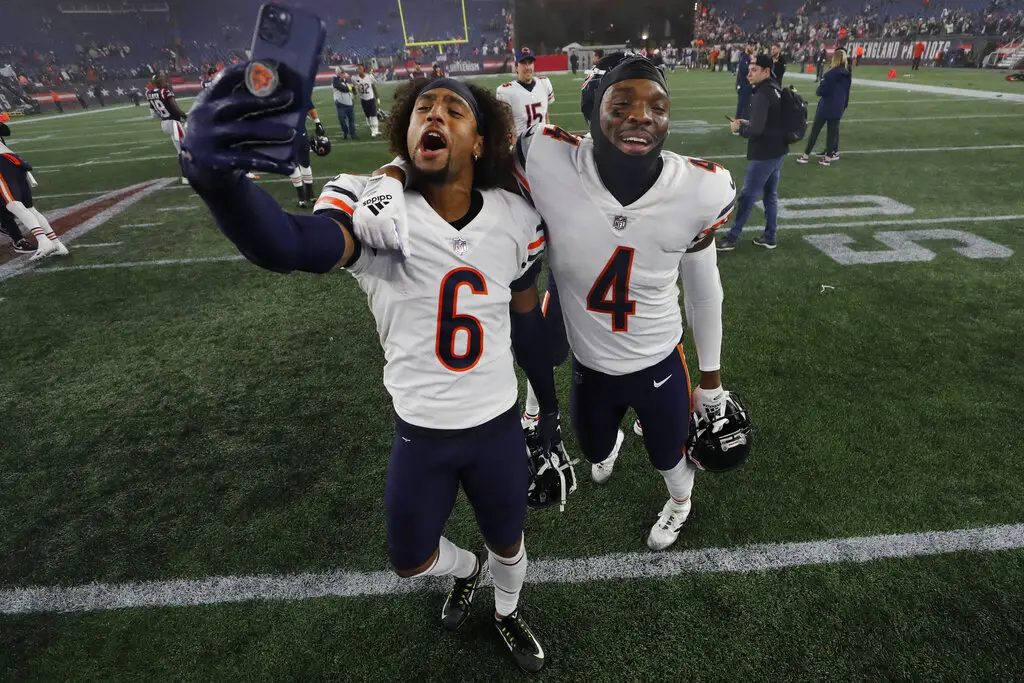 First & Long: Young Bears On Top of World After Upset Win, Poles Says Team Close to Contending
Young teams are generally inconsistent and take time to gel. But when a young team puts it all together for one game, my that's exhilarating. That's exactly what happened on Monday night when the Bears beat the Patriots 33-14. Take a look at the game's playmakers:
Rookie defensive backs Jaquan Brisker and Kyler Gordon had interceptions.
Rookie tackle Braxton Jones leveled a defender on a screen pass to Khalil Herbert that went for a 25-yard touchdown.
The Bears rushed for 243 yards against one of the league's best run defenses. Herbert gained 62 yards on 12 carries (5.1 YPC) and including kick returns, the second-year running back finished with 136 all-purpose yards.
Justin Fields had one of the best games of his career. The second-year quarterback threw for 179 yards and a touchdown and rushed for an additional 82 yards with a score.
Rookie edge rusher Dominique Robinson tipped a pass that ended up being an interception for Roquan Smith.
What a grab by @JaquanBrisker! 🤫

📺: #CHIvsNE on ESPN pic.twitter.com/5pvbjijn97

— Chicago Bears (@ChicagoBears) October 25, 2022
Intercepted by Kyler Gordon!

Another rookie coming up big for the Bears 👀 @kyler_gordon

📺: #CHIvsNE on ESPN
📱: Stream on NFL+ https://t.co/2HQeNdaFPc pic.twitter.com/85NWycSJxQ

— NFL (@NFL) October 25, 2022
Fields continues to show amazing moxie and resiliency. I can't imagine what he could do if he had a decent line and a couple of top receivers. But, as happy as we are about the awakening of Chicago's offense, it's time to give some props to head coach Matt Eberflus and defensive coordinator Alan Williams. The Bears' defense gets better each week, and last night was their best all-around effort of the season. Chicago held New England to 260 total yards and 12 first downs. A quarter of those yards came on two pass plays from Bailey Zappe to DeVante Parker and Jakobi Meyers. The Bears' defense held the Patriots to 70 yards rushing while taking away the effectiveness of Zappe's play-action ability.
The Bears head to Dallas to take on the Cowboys next week. Monday's strong effort gives the team something to build on, but there's still work to do. Chicago is a very young team, and the emotional highs and lows through the first seven games are a byproduct of that inexperience. Still, the win over the Patriots was more enjoyable than any game since 2018. Bear down, my friends.
Bears News & Notes
There's a Flag…On the Play
I've got nothing. I wonder what Tom Brady said to Mike Evans after this play?
Mike Evans with a really bad drop 🤦🏻‍♂️ https://t.co/mGnW7QAdg0

— NFL Stats (@NFL_Stats) October 23, 2022
Scout Team
Film Room
Watch the block by B. Jones (No. 70) to get Herbert into the end zone.
25 yds to the house 🧃

📺: #CHIvsNE on ESPN pic.twitter.com/00jqMXGw1u

— Chicago Bears (@ChicagoBears) October 25, 2022
Northern Exposure
Minnesota: Vikings OL Oli Udoh was arrested at a Miami nightclub for refusing to leave a woman's restroom. A security guard from the club told police that Udoh was talking to a woman who was in line to use the women's bathroom when he "attempted to make entry" into the restroom. Udoh then allegedly "continued actively and physically resisting officers and all verbal commands that were given to him," according to the police report.
Green Bay: Aaron Rodgers looks mortal, the Packers are very beatable, and fans think the team should be sellers at the trade deadline. As Ron Burgundy might say, "That escalated quickly."
Detroit: Remember when the Lions were the darlings of the offseason and everybody's Cinderella pick for 2022? Well, they're 1-5, and now former Detroit players are starting to criticize head coach Dan Campbell.
NFL News & Notes
The NFL is reviewing a video that appears to show two officials in uniform asking Evans for an autograph in the tunnel after Sunday's game against the Panthers, a source confirmed to ESPN.
The Colts have benched quarterback Matt Ryan, and have also indicated that Sam Ehlinger will start for the rest of the season. Indianapolis also announced that Nick Foles will serve as Ehlinger's primary backup. If it looks like a tanking and smells like a tanking…
Scouts believe that Ryan's arm is "shot" and that "it definitely looks like he has to work harder to get the ball where he wants it to go." The veteran joined the Colts in a trade from the Falcons in March. Ryan is under contract through the end of 2023 and is due to make $21.7m in base salary next season.
Despite bringing in three straight former Pro Bowl quarterbacks in three seasons, this era for Indianapolis has turned out quite ugly. Carson Wentz was the starter last season, and Philip Rivers was there in 2020.
The Jaguars have traded running back James Robinson to the Jets for a conditional draft pick. He'll replace injured rookie Breece Hall, who had 681 yards from scrimmage in six games.
Chargers cornerback J.C. Jackson has a ruptured patella tendon and will miss the rest of the season. Also, wide receiver Mike Williams injured his ankle and will likely miss several weeks.
The early success of quarterback Geno Smith in Seattle is one of the league's best stories so far this season.
Three Yards and a Cloud of Dust
Patriots linebacker Matt Judon had 2.5 sacks Monday night and leads the NFL with 8.5 on the season.
Brady has a losing record through the first 7 games of a season for the first time since 2002.
The Lions scored 140 points in their first four games and have scored six in their last two.
From the Podium
"We're learning players better, on both sides of the ball, and learning their strengths and playing to their strengths." – Eberflus
"Fields reminds me a bit of Daniel Jones." – Obama
"I know Justin has been a big topic with his development. And we're encouraged [by] the progress that is there. I know it's not in the statistics and on the paper all the time, but he is getting better in a lot of different areas. As a whole, we've got to continue to play better around him as well to allow him to keep playing well and get his confidence going to execute at a high level." – Ryan Poles
"For the age of our team, there have been a lot of games where we're knocking on the door to win games. The next step is learning how to finish. And you all know this from watching on Sundays. There are teams where, once they learn how to find a way to win, there are teams that know how to come back from deficits. There are characteristics of [winning] teams. Finishing is one of those things. We really need to take that next step. But we're on the doorstep." – Poles
Running Out the Clock
The Bears are on top of the NFL world right now, at least for another day or two.