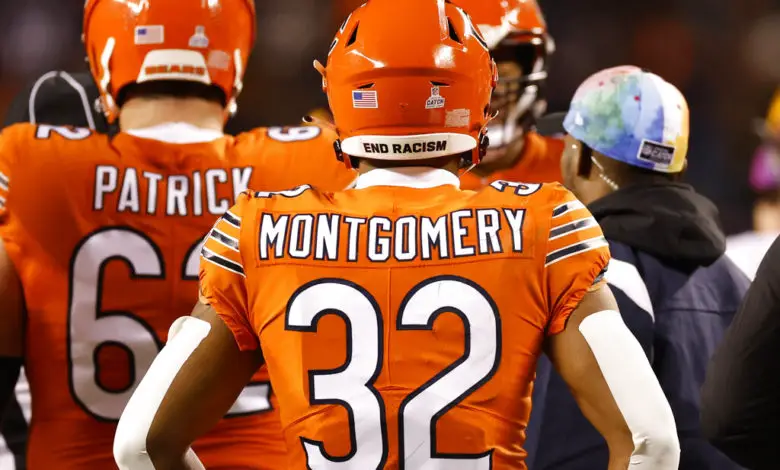 Trade Deadline an Opportunity for Bears to Build for 2023
There's a good chance that Robert Quinn, Roquan Smith, and David Montgomery won't be part of Chicago's next playoff roster. However, each could play a big part in pushing the Bears closer to competing for an NFC North title. Smith and Montgomery are on expiring contracts, and Quinn is an aging veteran who deserves a chance to play for a contending team this season.
Each of those players is among Bears fans' favorites, and all offer elite skillsets that might be more valuable elsewhere than here in Chicago. If GM Ryan Poles is willing to sell at the deadline, those three represent his best and biggest trade chips. You could make a case to build a defense around Quinn and/or Smith, and an offense around Montgomery, but Poles has already shown us that he wants to get younger. He can add to his stable of 2023 draft picks with a couple of deft moves.
Quinn is likely to draw the most attention from playoff-caliber teams. He's still attractive after racking up 18.5 sacks and 34 pressures in 2021, though he hasn't been nearly as dominant this year. The biggest obstacle will be his contract. Poles might have to eat some or all of the $12.8 million in base salary owed to Quinn this year. The Chiefs seem like the obvious fit for the veteran defensive end. Kansas City just freed up an extra $3.5 million in wriggle room by restructuring the contract of tight end Travis Kelce. Quinn could draw interest from the Rams, Cowboys, Eagles, and Giants, too.
Good pass rushers are hot commodities, and Poles should have little trouble finding a suitor for Quinn. At 32, the veteran edge rusher is a little long in the tooth, but he's forced 30 fumbles in his last 10 seasons. Quinn won't recoup what the Broncos got for Von Miller last year, but he could yield a 3rd or 4th round pick.
Last night's #Bears loss wasn't fun, but this run by David Montgomery sure was.

The decisiveness. The agility. The explosiveness. That's an elite run by Monty, who only continues to get better. pic.twitter.com/Fw6d1KpYXF

— Jacob Infante (@jacobinfante24) September 13, 2021
The Rams and Broncos are looking for help at running back and should be interested in Montgomery. You can add the Bills to that list, too, because the fourth-year veteran is a skilled pass-catcher. The Bears appear ready to hand the reigns to Khalil Herbert, possibly as soon as Monday night. He's averaging 6.4 yards per carry and makes Montgomery expendable.  Trestan Ebner was drafted to give Chicago the same one-two punch that the Packers have in Aaron Jones and AJ Dillon. The Bears aren't counting on Montgomery after this season so a trade makes a lot of sense. He'll be a free agent, which lowers his return value. But Poles might be able to get a 4th or 5th-round pick for the veteran running back.
Smith leads the Bears in tackles this season and has the best pro pedigree among Chicago's trade chips. He's an All-Pro talent but wants to be the highest-paid linebacker in the league. He plays like it at times. In Chicago's Week 3 win over the Texans, Smith had 16 tackles and a key, late-game interception. He's registered eight or more tackles in each game this season. The Chargers desperately need help on defense, especially when it comes to stopping the run. Khalil Mack has fallen off after a hot start. Pairing Smith with Mack might just be the boost San Diego's offense needs.
That said, there's not much of a demand for linebackers right now. The Ravens and Eagles might kick the tires on Smith, but the Chargers seem like the optimal trade partner. Smith could draw interest from the Rams and Saints, too.
Dante Pettis is another guy to keep an eye on as the deadline approaches. He's probably not in Chicago's plan beyond this season and would provide depth to teams with shallow receiver rooms. Guard Teven Jenkins is another player to watch if only because of the turmoil at the start of camp. Another member of the offensive line Riley Reiff, could provide veteran help and depth for almost all of this year's postseason contenders.
Poles also has the option of strengthening the team at the deadline by being a buyer. The Bears were within one score of winning three of their four losses. However, conventional wisdom dictates that Poles is probably more interested in acquiring assets for next year and beyond. His short history with the team affirms that type of path toward roster building.