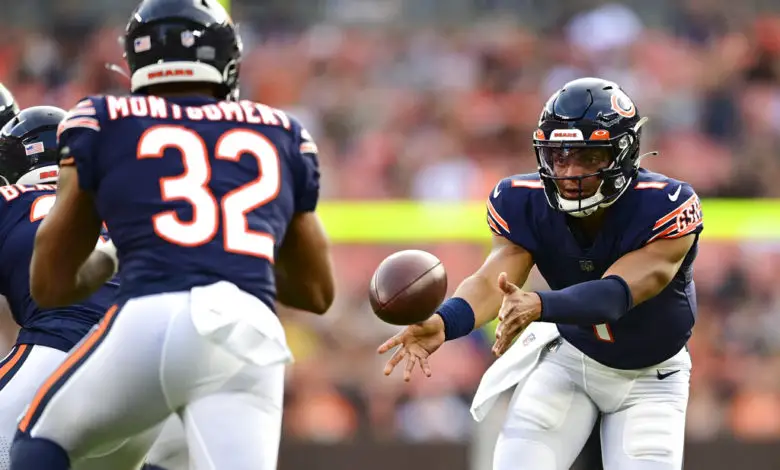 Getting to Bears Final 53-Man: Running Backs and Tight Ends
The Bears have a little less than 24 hours until Matt Eberflus and Ryan Poles have to take the roster from 80 players down to 53 and today I'll break down the running backs and tight ends. If you are unaware, the NFL requires teams to set their rosters by 3:00 pm on August 30. Chicago has the sixth position on the waiver wire and could add some players, too. That will put some players on the bubble who may have thought they had locked up a spot on this year's roster.  
The running backs room has changed quite a bit from last year. The Bears will utilize a fullback for the first time in years. That type of roster construction puts a lower ceiling on the number of halfbacks Chicago will carry. Gone are the days that someone like Ryan Nall captures a roster spot as a preseason standout. 
The tight-end room has one returning player in Cole Kmet. The front office parted ways with Jimmy Graham, Jesper Horsted, and J.P. Holtz since last season ended. Poles wanted the position to provide more versatility so he brought in players who can catch and block. That flexibility allows OC Luke Getsy to camouflage intentions in much the same that a dual-threat quarterback like Justin Fields does. 
THE RUNNING BACKS 
David Montgomery has been a solid starter for three seasons and he'll get the bulk of carries this year, too. Montgomery is a tough runner who finds success breaking tackles to get to the second level of an opponent's defense. He's adept as a receiver, and he blocks well, too.
This play was called back due to a hold on Ryan Griffin, but it was nice to see Khari Blasingame leading the way for David Montgomery by design. pic.twitter.com/DVTULcBlzm

— Patrick K. Flowers (@PatrickKFlowers) August 28, 2022
Montgomery also has a 1,000-yard rushing season under his belt and with more opportunities to carry the ball this season, he's a threat to set a personal yardage record. That said, he has missed a little time due to injuries. The fourth-year running back hasn't played a full season since his rookie year. Montgomery is also playing for a new contract. In his negotiations with Roquan Smith, Poles showed a willingness to stand his ground, something Montgomery and his teammates are now keenly aware of.  It's safe to say the rookie GM will handle future negotiations in the same way. He may also choose not to negotiate at all with Montgomery, who will be a free agent at season's end.
Khalil Herbert will be Chicago's number two running back this season. Herbert was a solid replacement in 2021 while Montgomery was injured. In four starts, he rushed for 344 yards with one touchdown. Herbert doesn't pass protect as well as Montgomery, but much like his mentor, he's an angry runner.
As a pass-catcher, Herbert has been a bit disappointing and he'll have to improve to earn a bigger role this season. Last year he had 14 receptions for 96 yards. Getsy loves to deploy his backs as receivers, and Eberflus has indicated he needs his running backs to be able to block efficiently enough to turn screen passes into bigger gains. The coaches are looking for improvement in both areas with regard to the second-year running back.
The Bears drafted Trestan Ebner in the sixth round because Poles loves his quickness. The rookie is agile with a solid burst and above-average change of direction. Ebner was also drafted because he has the potential to be invaluable on special teams. The coaching staff envisions a multifaceted role for Ebner in which he shares kick return responsibilities with Velus Jones, Jr.
That said, the rookie should remain in the mix to be a backup running back, if not this year, then possibly in the 2023-24 season. Ebner's combination of speed and elusiveness makes him a nice change-of-pace back, and he excels as a receiver. f there is a knock against Ebner, it's that he needs to work on his blocking techniques to succeed at the pro level. He'll need to improve to take snaps away from Herbert.
The Bears want to deploy a fullback this season so Poles signed Khari Blasingame as a free agent. Blasingame spent the last two years blocking for Derrick Henry in Tennessee. The former Titan will shoulder a slightly heavier load in Chicago. He'll also be asked to work more in passing sets, too, because he's been successful on 83.3% of his targets in his three-year career. The caveat is that he's been a target just 12 times in the 32 NFL games he's played.
Eberflus and Getsy like Blasingame's skillsets, so the fullback will be counted on in short-yardage situations and in some passing formations. Kyle Juszczyk of the 49ers has been historically deployed in a similar manner and annually garners 25-35 targets.
Though Darrynton Evans and De'Montre Tuggle have been exceptional this summer, neither are likely to make the final cut. Again, it's a numbers game with the addition of Blasingame. Tuggle has struggled with protecting the football and was never really considered a candidate to make the final roster. Evans entered camp with a legitimate shot to be a number three but Ebner was just too good, and keeping the rookie instead of the veteran frees up about a million dollars in cap space.
TIGHT ENDS 
At tight end, Kmet is Chicago's clear-cut number one. The Notre Dame alum is a solid blocker and is improving his routes. It's not quantifiable, but his chemistry with Fields continues to grow, too. The second-year quarterback targeted Kmet six times in the victories over the Browns and Seahawks and five went for catches, including his TD against Cleveland. The third-year end stands to benefit a great deal in Getsy's offense.  
Cole Kmet has 1 more TD than he had all of last season. You love to see it

— Joe Beldner (@JoeBeldner) August 28, 2022
Ryan Griffin and James O'Shaughnessy will serve as backups. Griffin is a nine-year veteran who provides experience and vision. At 6-foot-6, 255 pounds, he's also a big body with exceptional hands.
O'Shaughnessy is of a similar mold. He has the hands to be a receiving threat, but O'Shaughnessy will probably be used solely in blocking situations. The veteran has 112 career receptions in seven seasons with the Chiefs and Jaguars. The Bears will probably keep three tight ends so O'Shaughnessy should make the roster unless someone better pops up on the waiver wire.
HOW THE ROSTER IS SHAPING UP 
The 2022-23 season could be one of transition for Chicago's running backs. Poles hasn't even approached Montgomery about an extension and might be a little leery of the Iowa State product's injury history. Expect Herbert and Ebner to get long looks this year, especially if the Bears struggle to win football games.
As far as the tight-end group, Kmet needs to finally reach his potential. The coaching staff believes the starter is on the verge of a breakout campaign, and his rookie deal only runs through next season. The Bears will have plenty of draft and free agency options if the front office decides to go in another direction.
More importantly, the Bears are counting on depth and versatility at both positions. Kmet and Montgomery are better than average at their positions, but neither are elite. Perhaps Getsy can get each to find a higher gear, and if so, Chicago's offense will be leaps and bounds better than it was the last three seasons. Expect Eberflus to carry four running backs, including Blasingame, and three tight ends.
Previous in this series: