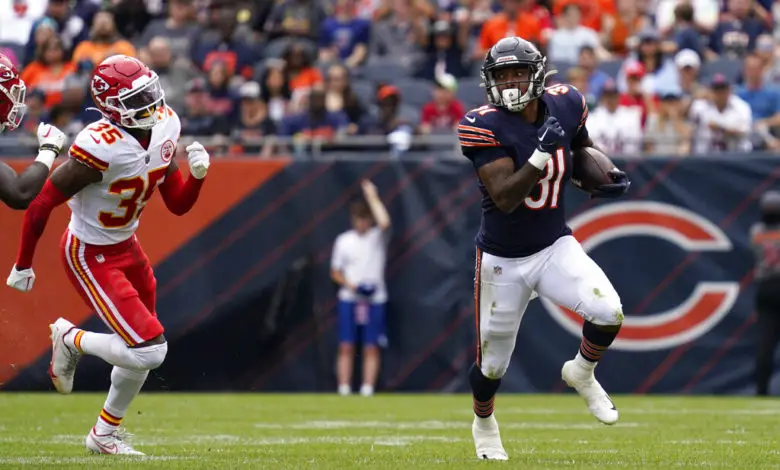 Ebner Could Supplant Herbert as Bears' Backup Running Back
Rookie running back Trestan Ebner stunned observers in his first NFL action on Saturday. He was effective in the return game and the run game and finished strong whenever he had the ball. It was a great start to his NFL career and he's currently listed third on the team's depth chart. Ebner should have a nice, bright future in Chicago. In fact, he could supplant Khalil Herbert as the Bears' backup running back.
Ebner, who played five seasons at Baylor, came as a surprise to most when Ryan Poles drafted him 203rd overall in the 6th round. It's becoming apparent what Poles was thinking about at the time with the pick. On Saturday, Ebner was able to put together a very solid performance. He led the team with 31 yards on 6 carries (5.2 YPC) and hauled in his lone target for 12 yards, scoring the first Bears touchdown. Offensive coordinator Luke Getsy was surely pleased.
"The poise and the it's-not-too-big-for-him showed up," Getsy said. "Obviously, he had the impressive kick return and then a couple of those runs. I just loved the way he finished those runs. That was more than anything.
"He's got to clean up his reads; he bounced the one and it paid off, and the next one he was just anticipating the same thing happening and the linebacker beat him to it. If he had kept it nice and tight inside… that's where the youth came in."
Ebner wasn't perfect, by any means. His pass blocking needs to get better, and his reads need to get tighter. Ebner's short at 5-foot-11 and his lack of experience will make him a work in progress. He'll need to be better at reading and picking up blitzes, and navigating his lanes. It might not be his time to climb the depth chart, but he's certainly talented enough.
Herbert had three targets on Saturday, and despite getting his hands on the ball each time, he couldn't haul in any of them. He also has a  similar running style as David Montgomery, which doesn't give the Bears much of a change of pace. Ebner would give opposing defenses new and different looks. The Bears need to be creative, surprise their opponents, and overachieve, just as the 2018 Bears did. Ebner can help Getsy achieve those goals.
That's not to say Herbert isn't a good runner. In fact, just the opposite. Despite his struggles on Saturday, he obviously has a genuine future with this team. In fact, it wouldn't be surprising if he's not the one that Ebner displaces. With Montgomery entering the final year of his contract, and Poles already struggling to get Roquan Smith his extension, it may become challenging for the front office to re-sign Montgomery.
Getsy comes from the Packers where the offense ran a two-back attack. AJ Dillon is a big body that can break tackles. That fits the mold for Montgomery and Herbert. Though the two Bears have some elusiveness, neither matches the ability of Aaron Jones as closely as Ebner does. If Getsy is planning to mimic what worked in Green Bay, then there's no need to have a one-two-punch combo with similar skillsets.
Whether Montgomery re-signs or not, and whether Herbert bounces back or not, Ebner's stock is rising. Advancing to number two on the depth chart, whether on paper or just in snaps, makes a lot of sense if he can continue to impress. Look for Ebner to start getting reps with the second-team offense in the next two games. He should also start to see more pass-blocking drills to prepare him for a Tarik Cohen-style gadget role without compromising pass protection like Cohen often did. How he reacts to these opportunities will decide his future in Chicago, and whether he rises to number two this year, or plays the waiting game this season.