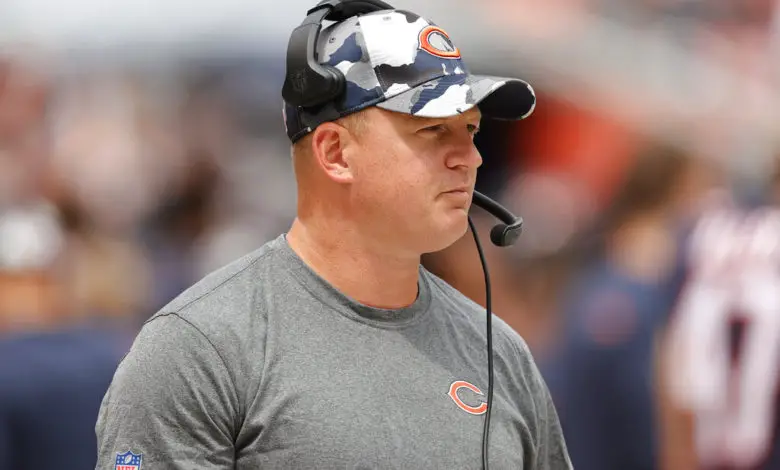 First & Long: Staff Believes Bears on Right Path, Montgomery Could Return Sunday, Vikings Struggling Despite 3-1 Record
The saying goes that the Bears' performance on Sundays will dictate the mood of their fans for the week leading up to the next game. If that's the case, we're probably still a little stressed, sad, and disgusted with the 20-12 loss to the Giants. In fact, there have been few positives from Halas Hall this week. I suppose the coaching staff feels our pain.
Of course, Chicago's losses are the city's bartenders' gains. We tend to commit our sorrows to shots and suds when the Bears lose winnable games. That's especially true when the beloved goes 0-for-3 in the red zone with seemingly little interest in trying to score a touchdown. The Bears practically gave away 12 points on Sunday. Head coach Matt Eberflus believes he is steering the team in the right direction despite its offensive woes.
"We certainly have to improve on that," Eberflus said. "It's about scoring. This league is about scoring touchdowns and defensively we're doing OK right now. But offensively, we need to improve that percentage. But again, the practices just have to translate. It's been good red-zone practices. We've got good schemes down there. It just has to translate to the game now."
I think the definition of "good schemes" is open for debate. Eberflus runs the offense the way Woody Hayes did at Ohio State in the 1970s. If the goal is to win games 6-3 or 10-7, he's spot on. And it isn't just the fans who are disappointed in Chicago's personnel, its offensive scheme, and the play-calling. Josh Shrock of NBC Sports Chicago openly wondered if the Bears made the right decisions in hiring Eberflus and GM Ryan Poles.
"To be fair to Eberflus, he isn't exactly coaching with a full deck," Shrock wrote. "The Bears have holes all over their roster. But the run defense is very concerning, and the Bears' up-and-down tackling performances point to either a lack of buy-in to the H.I.T.S principle, poor coaching, or both.
"The Bears haven't given up a touchdown in the second half this season. That's good. It shows that Eberflus and his defensive staff can adjust on the fly. But some of Eberflus' decisions have been curious, and his apparent lack of trust in Justin Fields is an issue."
The dark cloud hanging over the room is that the Bears never expected to be a winning team this year, while the overexuberant fan base wants to see better effort from a roster that is still trying to get its NFL feet wet. The Bears are one of the youngest teams in the league. More than 60% of their players are in their first or second years. With new offensive and defensive game plans, even the veterans are struggling to adjust.
Fields takes a lot of the flak, but defensive stars Roquan Smith, Robert Quinn, Nicholas Morrow, and Trevis Gipson have had some poor games, too. Angelo Blackson actually hurts the team when he's on the field, and the Bears are starting three rookies on defense every Sunday. As losses mount, some of the veterans could be traded or cut, meaning Chicago could get even younger before the season ends.
Fans who believe that Poles is scouring the trade market for a veteran receiver are delusional. The first-year GM won't be giving away any draft picks for a minor upgrade at a position that still needs a complete overhaul. It looks like N'keal Harry will return for Sunday's game, and trust me, that's going to be the team's only addition to its receiver room.
In the meantime, fans need to go back to the basics when following this year's squad. That means hoping for progress from Fields and all of the team's first-year players. The growing pains have been obvious and will continue and Chicago's second-half schedule is a little foreboding, too. The 2-2 start is nice despite all the problems. The losses aren't as bad as they seem, and believe it or not, the Bears could be 4-0 if a few plays had gone their way in their two losses.
But even if they were undefeated, Chicago still wouldn't look or feel like a winning football team. Poles, Eberflus, and Getsy consider this year a discovery process. At best, they'll get an incomplete and a pass on the 2022-23 season. That said, all bets are off after this year's Super Bowl winner is crowned. The front office and coaches need to prove to the team's fanbase that the organization is moving in a forward direction.
"We're taking the NFC North and we're never giving it back," Poles said at his introductory presser. At some point, he'll have to prove it.
Bears News & Notes
There's a Flag…On the Play
New hope for the punchless Bears.
The Colts became the second team in the Super Bowl era to win a game in which they scored 0 touchdowns, threw multiple interceptions, and sacked at least 6 times.

They join the 1973 Browns who beat the Giants in Week 13, 12-10. pic.twitter.com/g0wim38M6T

— ESPN Stats & Info (@ESPNStatsInfo) October 7, 2022
Scout Team
Film Room
There is one player who could lead the Bears to a win on Sunday.
Most REC during a player's 1st 2 career seasons in Chicago #Bears history:
1. 2020-21 Darnell Mooney (142)
2. 2017-18 Tarik Cohen (124)
3. 2008-09 Matt Forte (120)
4. 1961-62 Mike Ditka (114)
5. 2012-13 Alshon Jeffrey (113)pic.twitter.com/vckOar81fC

— Pro Sports Outlook (@PSO_Sports) October 3, 2022
Northern Exposure
NFL News & Notes
Broncos QB Russell Wilson had a pitiful game on Thursday, and NFL Twitter was happy to remind him how much he's getting paid.
Odell Bechkam Jr. will visit four teams who have inquired about signing the free-agent wide receiver. The Rams are on his short list along with the Giants, Saints, and Buccaneers.
Vin Miller believes Beckham Jr. will eventually sign with the Bills. In fact, the two are best friends off the field, so he may know more about the free agent's intentions than anybody else.
Buccaneers quarterback Tom Brady was asked about NFL parity due to the high number of 2-2 teams. "I think there's a lot of bad football from what I watch," Brady told the media. "I watch a lot of bad football. Poor quality of football. That's what I see."  Tampa Bay is also 2-2.
May MLB commissioner Rob Manfred has an idea or two for NFL chief Roger Goodell about the league's growing number of overtime games.
"Pink Smoke Guy" Alex Taylor – an animal rights activist –  filed a police report for what his attorney termed a "blatant assault" by Rams players Bobby Wagner and Takkarist McKinley.
Taylor stormed the field during Monday night's Rams-49ers game.
Ex-NFL running back Le'Veon Bell will make his professional boxing debut against ex-MMA star Uriah Hill.
Ray Ruschel is a backup defensive lineman for North Dakota State College of Science. He's 49 years old.
Three Yards and a Cloud of Dust
According to NextGen Stats, Fields has the longest air distance throw in the NFL this season at 59 yards.
Thursday night's game between the Colts and Broncos was the first in which each team took multiple sacks, threw multiple interceptions, had multiple fumbles, and failed to score a TD since a Giants-Bills game on October 18, 1987. By the way, that game was played with replacement players.
The Colts are averaging 13.8 PPG this season, couldn't beat the winless Texans, and are somehow 2-2-1.
From the Podium
"I don't think [Justin's] had a rough month. I think he's gotten better each week. I think he's growing tremendously. And you know, it's not easy. We're playing good football teams, and it's not easy to become the level of quarterback that he wants to become, and I know that he can. The important thing is that we stay focused, keep our eyes on that progress or on that process and we make sure we get better each and every week and I believe that we're in that phase." – Getsy
"We gotta take the completions when they're there. I think he passed up a couple you know cheap completions [and] that gets you into that second-and-3, second-and-4, which makes the gold zone a lot easier to go score. We gotta improve on that. We gotta go get those little cheap completions and then we just gotta execute in the run game better too." – Getsy
Running out the Clock
I still believe the Bears are on the right path forward despite a number of stumbling blocks. I also believe they will lose to the Vikings on Sunday.