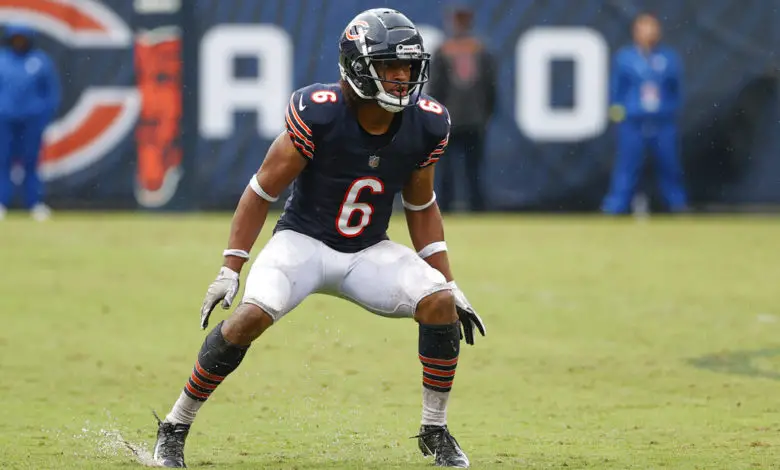 Bears Must Let Kyler Gordon Take His Licks
Most of the Bears rookies have struggled after a strong start in the Week 1 win over the 49ers. Jaquan Brisker is possibly the lone exception, but he's also been burned occasionally for being in the wrong place at the wrong time. Braxton Jones has faced some adversity after some early season success, and Velus Jones Jr. muffed the one punt he attempted to return. That said, Kyler Gordon is having the worst season among his fellow first-year players.
Opposing quarterbacks have a 140.2 passer rating when targeting Gordon, and the rookie cornerback has allowed 20 completions with two touchdowns on 27 targets, according to Pro Football Focus. He's also allowing 16.8 yards per reception, which explains Chicago's dismal 42.31% defensive third-down efficiency. In a normal season, those numbers would get Gordon benched. But this is not a normal season. The Bears have little depth at the corner, and with Jaylon Johnson hurt, have no choice but to play Gordon.
Receiving yards this season:

Justin Jefferson 393
Bears 471 pic.twitter.com/Q91eUAzDEt

— NFL on CBS 🏈 (@NFLonCBS) October 6, 2022
That means exposing the rookie to Vikings' all-world receiver Justin Jefferson this Sunday. The numbers suggest Jefferson will eat Gordon alive, and if anything, guarantee that Kirk Cousins will target Jefferson often. Gordon is a liability on defense right now, and if he continues playing poorly, Sunday's game will get out of hand pretty quickly. The NFL is a trial by fire for nearly all rookies, but Gordon's struggles are amplified because Chicago's offense lacks a big-play capability of its own.
"He's solid," Matt Eberflus said before last Sunday's loss to the Giants. "He's building upon his experiences, and that's the biggest thing that he can do."
After Justin Fields, the development of Gordon and Brisker is prominent among Chicago's 2022-23 goals. The Bears don't need either to be a star this season. However, it is fair to wonder if Gordon's struggles will hurt his confidence as this season wears on, and even worse, bleed into next year.
That's why Eberflus has worked individually with Gordon to help him develop into the star the Bears project him to become. It seems he and his staff intend to play the long game with the rookie from Washington. The same could be said about Brisker, the two Joneses, and edge rusher Dominique Robinson. You can include Fields, too, since he's essentially a rookie due to Chicago's new offense.
Gordon knows he is struggling and has been forthright when critiquing his own play.
"The more I see, the more I grow and the more it just goes into the files in my head," he said. "I keep remembering certain instances and I'm growing from it."
If that comment sounds a little non-intuitive, that's because it's the same thing that Eberflus and defensive coordinator Alan Williams have been saying since August.
"You always have to look at that, especially when you're working with a rookie, but he's shown that he can do it," Eberflus said. "His techniques are good. [We're pleased] in terms of [Gordon] knowing his assignments. Sometimes guys have up games and down games, and for him, it's just about the fundamentals of the game. Understanding the speed of the game, [and knowing] what works for him during the course of a game and how to cover guys, how to set force, how to tackle, how to do the basics and rudiments of the game at this level.
"And I think a lot of times, it is a step up for the rookies, playing in the pro game. It takes some time. But he's certainly talented enough…mentally tough enough to get that done. He wants to improve."
Kyler Gordon in week 4:

• 26 coverage snaps
• 3 targets
• 1 reception allowed (9 yards)

The Bears rookie CB wasn't letting much past him against the Giants 🔒 pic.twitter.com/Zz1BeBMZh4

— NFL Rookie Watch (@NFLRookieWatxh) October 3, 2022
Gordon will continue to play. That's the short version of the head coach's analysis. And, the rookie will take his lumps while learning from his mistakes. And, he's going to improve.
Rookies who start tend to increase their production by roughly 75% going into their sophomore year, and they generally hold their level from there. Progress is never linear, but it's fair to say Gordon should get better with each game. Don't look for it on Sunday, though. Jefferson has 28 catches for 393 yards and two scores through four games. Bryan Perez of Bears Talk suggested sitting Gordon on Sunday.
"The Chicago Bears will face the Minnesota Vikings in Week 5 in a game that will be the secondary's toughest test to date," Perez wrote. "It's scary to think of Gordon matching up with Justin Jefferson one-on-one. That won't end well for the Bears with how Gordon is playing right now.
"Maybe he needs to sit for a week. Come off the bench. Play as a reserve. It's not like he's a first-round pick who warrants the longest of leashes. Gordon, for as talented as he might be, isn't playing like an early-round draft selection. He shouldn't be treated like one right now."
Except Eberflus really has no other options. I suppose Kindle Vildor is an option but Jefferson will chew him up, too. Might as well let the rookie take his licks. Experience is the best teaching aid the NFL offers.