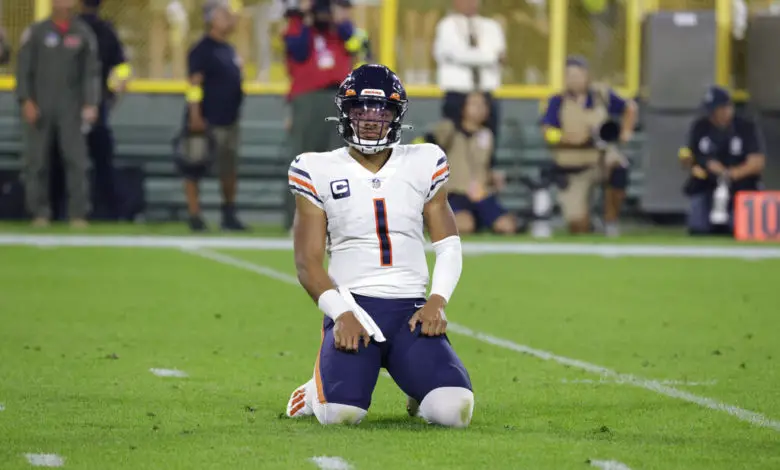 Is Justin Fields Suffering from Bears-itis?
Is there such a thing as Bears-itis, and does it really affect every starter that lines up in the Navy, Orange & White behind center? Rodger Sherman of The Ringer posits just such a question in an article about Justin Fields. I urge you all to read the full article, but here are some of the pertinent bullet points:
Four games into his second NFL season, Fields is the worst passer in the NFL.
He is ranked 37th out of 37 players in The Ringer's QB Rankings, 31st out of 32 in ESPN's QBR, 32nd out of 32 in Football Outsiders' DYAR, and 44th out of 45 players on Pro Football Focus.
According to the NFL's Next Gen Stats, Fields has the worst completion percentage over expectation of any passer with at least 50 attempts, as he completes 13.1 percent fewer passes than he should.
A chart by PFF's Timo Riske shows that Fields only targets receivers on 61 percent of dropbacks, miles below the league average of 82 percent. Under pressure, this drops to 34 percent; he is nearly as likely to scramble or be sacked than attempt a legitimate pass attempt.
The Bears have just 390 passing yards through four games; Tua Tagovailoa had 469 in one game last month against the Ravens.
Indeed, opposing teams are daring the Bears to pass the ball, and Chicago's offense is failing miserably. According to TruMedia, Bears' opponents play eight defenders in the box on 35.2 percent of plays. That's the second-highest rate in the league. In last Sunday's loss to the Giants, New York stacked the box with nine defenders at times. On one play, the Giants kept just one defender in the flat. What play did Luke Getsy call? An off-tackle run by Khalil Herbert. He was stopped for no gain.
Chicago is known as the city where quarterbacks come to die. Boomer Esiason said as much earlier this season. Fields was supposed to be different but that hasn't been the case. Are the Bears just cursed when it comes to starting quarterbacks?
Head coach Matt Eberflus has never developed a quarterback and Getsy gets more credit for Aaron Rodgers than he deserves. After all, Rodgers was slighting it up for 15 years before Getsy arrived in Green Bay. Matt Nagy and Bill Lazor were not the answers last season. In fact, Josh Shrock at NBC Sports Chicago wonders if Eberflus and GM Ryan Poles were the right choices considering Fields' existing body of work. Yes, we are only four games into the season…but still. Fields has regressed substantially from his rookie season.
Again Getsy dials up a good play. Mesh concept and Kmet does get open. But what is Justin Fields supposed to do when 3/5th of his OL gets beat? The problem is the OL and unfortunately we might just have to live with that this year pic.twitter.com/lxqsfw6ksl

— Chicago Football Connection (@CFCBears) October 4, 2022
We all know the Bears have a subpar roster with glaring weaknesses at wide receiver and on the offensive line. Chicago is dead last in the NFL at spending on wide receivers. Their offensive line is ranked No. 31 of 32 teams. Sam Mustipher has been abysmal, Braxton Jones has struggled as every rookie will, and now Cody Whitehair is injured.
I'll just keep twiddling my thumbs waiting for that Cole Kmet "breakout" everyone was talking about

— Matt Eurich (@MattEurich) October 2, 2022
Cole Kmet has not been the answer at tight end. He's caught five of eight targets for a grand total of 56 yards with two terrible drops. He's forgotten how to move toward the football when necessary. Chicago's rushing attack was among the league's best entering Week 4, but the Giants contained Herbert for much of the game. Expect opposing defenses to follow suit going forward.
That means Fields has to step up or step down. It's one thing to say the Bears aren't playing to win games this season. But if the goal was the development of their starting quarterback, Getsy and Eberflus make Lazor and Nagy look like geniuses. Per Sherman, "every part of the passing offense is a mess, from the coaching to the receiving to the blocking to Fields. It's a recipe in which every ingredient is rancid." Hence, the term Bears-itis.
The list of quarterbacks who have failed in Chicago is too long to post. Rather, count Sid Luckman and Jim McMahon among the team's historical legends because of their success in leading their teams to championships. Statistically speaking, Jay Cutler has been the most productive signal-caller in team history. Heck, Mitchell Trubisky, who Nagy ran out of town last year, is fourth overall on that list.
That said, there is still a lot of time for Fields to turn things around. He's got 14 career starts under his belt so he's still a work in progress. The fact that he's regressing so badly does not bode well for the former Ohio State star. One mock has already predicted Poles will draft Alabama quarterback Bryce Young in the first round next April. Poles, Eberflus, and Getsy said they would build an offense based on Fields' strengths, but so far they've shown little interest in fulfilling that promise. Even worse, nothing indicates that there's a plan in place to put Fields on a forward path.