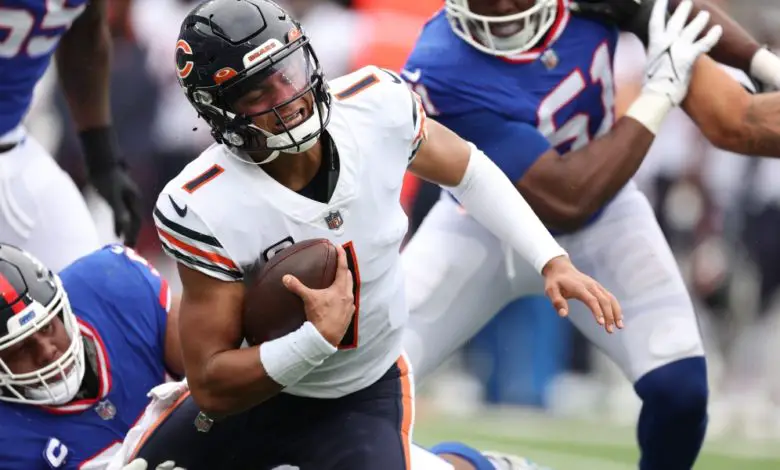 Chicago Bears Score and Recap (Week 4): Giants 20, Bears 12 – Chicago Fails to Reach Endzone in Loss
It was a battle of two surprising teams as the Bears took on the New York Giants at MetLife Stadium Sunday. Chicago really scuffled to score yet again and went down to a frustrating defeat on the road.
Justin Fields completed an 18-yard pass in scrambled for 18 more to set up a field goal for a new kicker Michael Badgley and the Bears were up 3-0. The Giants answered immediately with a touchdown drive ending on a 21-yard run from quarterback Daniel Jones.
Darnell Mooney finally made a big play, catching 56 yard bomb from Fields which set up another Badgley field goal. Chicago made a key mistake when their young quarterback fumbled and New York recovered. Saquon Barkley ran wild on the ensuing drive and Jones scrambled in for his second touchdown of the game.
A fumbled punt by Richie James set up the Bears for another field goal before the half. A couple more long completions for Justin Fields got his team into the red zone to start the second half but they stalled once again and kicked a fourth field goal to make it 14-12.
The Bears offense completely ground to a halt after that and they did not score for the rest of the game. The Giants added a couple of their own field goals to go up 20-12 deep into the fourth quarter. Chicago's best chance to come back went up in smoke when rookie punt returner Velus Jones Jr. muffed a kick just before the two-minute warning. (Box score)
Why the Bears Lost
The Bears settled for field goals while New York was able to get into the end zone and that was the difference in the game.
Key Moment
Chicago probably would not have done anything with the final drive of the game, still, they had no chance after the fumbled punt by Jones.
Stats That Matter
It was an improvement for Justin Fields with 174 yards passing and 52 rushing. He was able to connect on a couple throws early but things really stopped working in the second half.
The offensive line certainly did not help matters by allowing six sacks to a Giants team that had three total coming into Sunday.
It was a tougher day than last week for Khalil Herbert with 77 rushing yards and 24 receiving.
Mooney finally made an impact with 94 receiving yards after being almost invisible in the first three games.
Bottom Line
Sunday's game was one Chicago had a chance to win against an opponent that despite their record is not very good. The problem is Luke Getsy's offense just is not consistent enough to score touchdowns on a regular basis. The season could start to get away from them if the offense doesn't improve drastically.
Next Up
The Bears travel to Minnesota to play the Vikings Sunday, October 9 at 12pm CT on FOX.