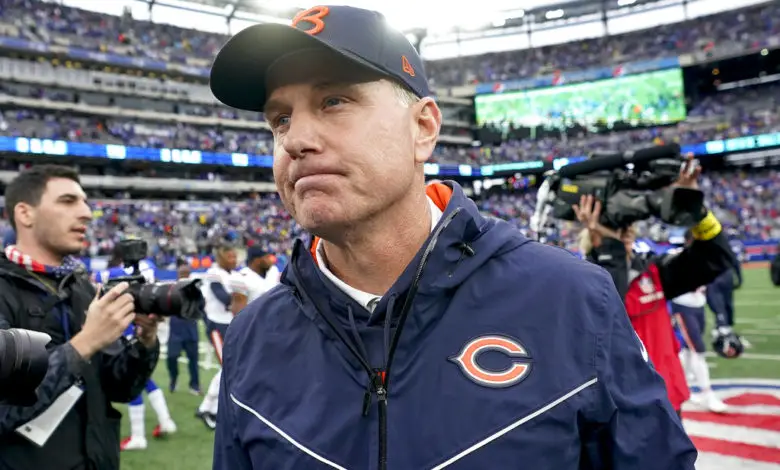 Blame Front Office, Coaches for Loss to Giants
The Bears lost 20-12 to the Giants on Sunday, failing to get a touchdown on three trips to the red zone, and seemingly settling for field goals instead. Justin Fields was sacked six times, was hit hard and often and turned the ball over once. He's now gone 36 consecutive possessions since throwing his last touchdown pass. But this loss belongs solely to the front office and coaching staff.
It's tough watching Fields get the crap beat out of him week after week. The meatheads will tell you that he has plenty of time in the pocket and is getting killed because he makes poor decisions and takes too long to decide what he wants to do. I'm not absolving the starting quarterback, either. Per ProFootball-Reference, Fields has about 2.8 seconds of pocket time per straight drop back and, per NextGen Stats, about 3.12 seconds on all passing plays. Those stats are a little misleading because the second-year quarterback is elusive enough to temporarily stave off a sack and buy extra time in many instances.
Fields still makes too many mistakes and doesn't recognize when his receivers are wide open. He's too quick to run, but he gets beat up pretty badly week after week so it's hard to blame him, especially when the pocket immediately collapses. In the video below, the second-year starter left the pocket way too early.
Justin Fields had Darnell Mooney wide open for a TD pic.twitter.com/hUQFp5SU23

— Bobby Skinner (@BobbySkinner_) October 2, 2022
But Fields has now been sacked 16 times in four games, and far too often by pass rushers who go completely unblocked. Chicago's receivers consistently fail to get separation, and when defenses stack the box, the Bears' offense grinds to a halt. The Giants had 10 in the box on a critical third down late in the game. Khalil Herbert was stopped for no gain and the Bears had to punt the ball away. Fields should have audibled away from the run, but he did not. At the very least, he should have called a timeout to discuss it with the coaches.
Last week Herbert rushed for a career-high 157 yards on 20 carries. New York held him to 77 yards on Sunday. It's safe to assume that opposing defenses will plan similarly going forward. Chicago has to get their passing game untracked.
That the Bears lack the personnel to field a competitive offense falls on the shoulders of GM Ryan Poles. He wanted to pursue players with known shortcomings who were hungry to prove they belong in the NFL. The list of new additions includes failed prospects and veterans alike. When combined as a unit, the lack of all-around talent is amplified. That was obvious when Dante Pettis whiffed on a ball he should have caught because his hands weren't properly positioned. Velus Jones Jr. muffed a punt because he forgot to tuck in his elbows. Cody Whitehair and Braxton Jones failed to pounce on a fumble by Fields.
Chicago's ineptitude is difficult to stomach at times. Combining that lack of talent with a paucity of desire is downright sickening. When you add an absence of fundamentals, it's actually horrifying.
The Chicago Bears in one scene, ladies and gentleman. #DaBears pic.twitter.com/eGBH2Jffdk

— Patrick K. Flowers (@PatrickKFlowers) October 2, 2022
The coaching staff shouldn't be forgiven, either. Giants quarterback Daniel Jones ran bootleg after bootleg and the Bears' defense had no answer, nor did they adjust their scheme to stop him. The defensive line played flat all afternoon and bit on play action every time. Jones entered the game with 13 sacks through three games. Jaquan Brisker sacked him once in the fourth quarter and that was it.
Brisker, Justin Jones, Roquan Smith, and Eddie Jackson had solid games for the defense. Robert Quinn had just one tackle and Dominique Robinson had two, as did Trevis Gipson. Nicholas Morrow has yet to show up this season, and he's been outplayed by Joe Thomas in the last two games. The Giants rushed for 262 yards on Sunday, breaking several tackles while constantly getting into Chicago's secondary. Saquon Barkley had 146 yards on 31 carries and caught two passes for 16 more. Daniels ran for two touchdowns on naked bootlegs. That's unacceptable, especially when the head coach is defensive-minded.
Eberflus and OC Luke Getsy struggled badly on offense in the red zone. The Bears were 0-for-3 inside the 20 and seemed content to settle for field goals all game. There was even an instance on third-and-6 where Getsy dialed up an underneath tight end screen at the Giants' 14-yard line that went for a loss. Most NFL coordinators start each game with a set plan in mind. Getsy's weekly game plan always seems to be an unfinished work in progress. I don't think he struggles in the film room, so maybe it's just a matter of not trusting his players or not recognizing tendencies quickly enough.
The Giants were committed to stopping the run on Sunday and forced Getsy to beat them through the air. Other than a nifty 56-yard bomb to Darnell Mooney, and a screen to Herbert that accounted for 24 yards, Chicago's passing attack failed once again. Not a single objective NFL analyst could argue that the Bears' passing game is capable of beating anybody. Again, that's personnel. You can blame Fields, but he has nobody to throw to, and nobody is blocking for him.
That Bears fans are excited because Mooney made four catches for 94 yards on Sunday – four – tells you all you need to know about the state of Chicago's passing game. The Bears lost the turnover and time of possession battles and did a poorer job of protecting their quarterback. The play calling inside the 20 was horrendous and the Bears' ground game was subpar. That's why they lost. But that's not even the worst of it.
Jones was forced to the sidelines with an ankle injury in the 3rd quarter. Tyrod Taylor was called upon to maintain the Giants' lead for the extent of the final frame. Taylor (concussion) left the game with about eight minutes to play in the fourth, and a limping Jones re-entered. The Giants quarterback was essentially used as a decoy while continuing that drive, lining up at receiver as the Giants employed a Wildcat offense. Chicago was basically playing 11-on-10 and couldn't prevent New York from adding three points to their lead while burning the clock late in the game.
When Eberflus identifies players who loafed during Sunday's loss, give the first two to him and Getsy. And then give one to Poles, who should spend the next week auditioning any offensive lineman that can block an NFL pass rusher.