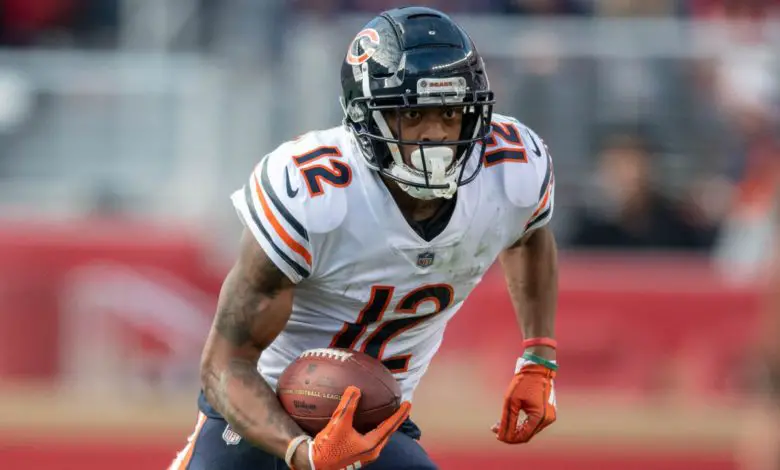 First & Long: Robinson Scratched From Today's Game, Ravens Ripe for Upset With Jackson Out
After going nearly two weeks since playing a game, the Bears are back at this week with two games, today at home against the Ravens, and then Thursday for a Thanksgiving Day tilt in Detroit with the Lions. Justin Fields has had two weeks to prepare for this afternoon's contest, and he will have to face Baltimore without No. 1 receiver Allen Robinson, who has been scratched from today's game. Teven Jenkins, who started practicing this week after offseason back surgery, and Chicago has two weeks left to roster him or declare the offensive lineman out for the season.
Even worse for the Bears, OLB Khalil Mack was placed on injured reserve earlier this week, so he's out for the season. Defensive Tackle Akiem Hicks has been ruled out today, as has S Eddie Jackson. Darnell Mooney, who has been battling nagging injuries all season, has been removed from the team's final injury report. The good news is that S Deon Bush will return to the team today and will likely see significant action.
The Ravens injury report reads like an O.R. schedule for a M*A*S*H unit and includes heralded QB Lamar Jackson, who has been ruled out today. Backup Tyler Huntley will get the start. Baltimore has a whopping 17 players on the list, including wide receivers Marquise Brown and Rashod Bateman. The Ravens need a win today as they are clinging to a half-game lead over the Steelers.
Ravens' QB Lamar Jackson officially is inactive today vs. the Chicago Bears, per source. Tyler Huntley starts.

— Adam Schefter (@AdamSchefter) November 21, 2021
Chicago is coming off a game against Pittsburgh in which they nearly pulled off a late upset. The Monday night affair was a coming-out party for Fields, and he should continue to show improvement against a porous and shockingly bad Ravens defense. The Ravens defense has allowed 31 points and 283.3 yards passing per game this season, so the rookie QB could have a field day today, pun intended.
The 6-3 Ravens enter today's game as 5.5 favorites, though that should drop quickly with their starting quarterback sidelined, and most pundits predict a high-scoring affair. Take note of Chicago's effort this afternoon. With Mack and Hicks out, and with Robinson questionable; Matt Nagy's team will take the field without three veteran leaders. With the Bears entering play today with just a 4% chance of making the playoffs, Nagy knows his job is on the line. Anything less than a solid team effort could be the final dagger in his tenure with the team.
I wouldn't bet even a dollar on it but based on last week's performance, Fields' continued development, and a depleted Baltimore roster, Chicago could pull off an upset today.
Bears News & Notes
There's a Flag… On the Play
Carlos Dunlap is unlikely to get a shoe deal after this.
The NFL fined #Seahawks DE Carlos Dunlap $10,300 for throwing a shoe during last week's loss to the #Packers.

— Tom Pelissero (@TomPelissero) November 20, 2021
Northern Exposure
Aaron Rodgers has a very painful toe injury, one that is expected to affect him the rest of the season, though he's probable for today's game against the Vikings.
Minnesota will try to strike early and often against Green Bay today. The Packers have been outscored by 28 points in the first quarter this season and only the Raiders (minus-31), Jaguars (minus-33), and Jets (minus-47) have been worse.
Tim Boyle will start for the 0-8-1 Lions today, and he is the 6th QB in the Super Bowl era (since 1966) to make his 1st career start for a winless team at least 9 games into a season. Jared Goff has been ruled out.
NFL News & Notes
Carron L. Phillips of Deadspin believes that the NFL's taunting rule is blatantly racist.
Rex Ryan has done a complete 180, and now he and Jets coach Robert Saleh have mended fences.
Tom Brady sent a nice care package to two female kickers at a Santa Fe, NM high school to show his support and provide encouragement.
At least three NCAA quarterbacks project as first-round draft picks in 2022: Matt Corral (Ole Miss), Kenny Pickett (Pittsburgh), and Malik Willis (Liberty).
Three Yards and a Cloud of Dust
Huntley will be making his 1st career start. He has appeared in 4 games previously, throwing 16 passes and rushing 13 times.

The last two QBs to make their 1st NFL start while playing with the Ravens

were Jackson and Joe Flacco, and each was victorious.
No team can see a bigger swing in their playoff percentages today than the Saints. Their odds will swing +/- 32% depending on the outcome of their game against the Eagles
Power Sweep
A moment of silence for Walter Payton, please and thank you.
44 years ago today, @WalterPayton high-steps the flu & rushed for an #NFL record 275 yards vs. the #Vikings. He could have stayed in the bed w/ a 103 temp but he couldn't pass up being present for his blessing. #Bears 🐐 pic.twitter.com/DmhiEjn2PG

— Jarrett Payton (@paytonsun) November 20, 2021
From the Podium
"That's the one thing that I feel like heading into this year, and it's a good thing because of some of the injuries we've had, I feel like Ryan [Pace] and the personnel side has done a great job of creating depth for us and that is one position at wide receiver that if we run into something where we need some depth we've got it and we'll see." – Nagy
"[Rodney Adams] has speed. He's got consistent hands. He's learning the offense and he's growing fast at that pace like he's understanding the conversions and what we do. And he cares. He cares. And he's a great teammate." – Nagy