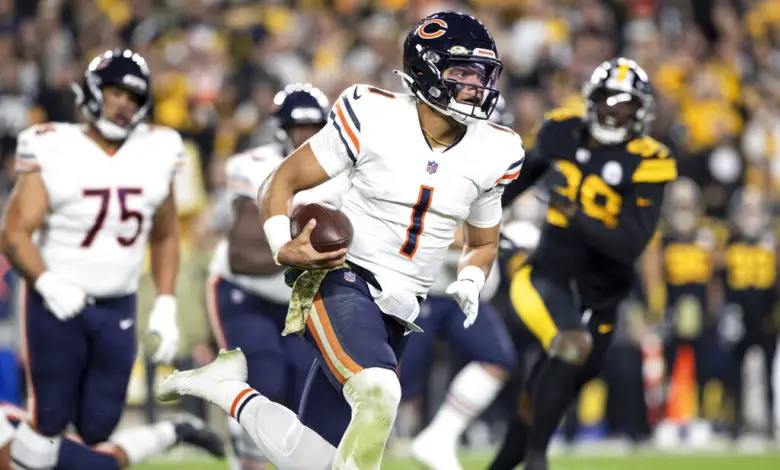 Chicago Bears Score and Recap (Week 9): Steelers 29, Bears 27 – Bears Frenzied Comeback Falls Just Short in Pittsburgh
The Bears looked as if they were headed for another uninspired defeat in Pittsburgh on Monday night. Then seemingly out of nowhere, they launched an epic comeback effort led by quarterback Justin Fields. Chicago briefly took a fourth quarter lead before ultimately losing on a last second Steeler field goal.
Pittsburgh took an early lead on a Ben Roethlisberger touchdown pass in the first quarter. After fields was intercepted by Cameron Heyward the Steelers scored again to make it 14-0. The Bears offense struggled, but they did kick a field goal late in the half.
Another Rothlisberger touchdown pass put the home team ahead 20-6 and seemed to be lights out for the Bears. It was at that point that Justin Fields and the offense started clicking. A long pass to Jimmy Graham set up a Darnell Mooney running touchdown to cut the lead to seven.
After a Pittsburgh field goal increased the lead to 10, a special teams miscue got the Bears right back into the game. Punt returner Ray-Ray McCloud fumbled his return and it was scooped up by DeAndre Houston-Carson for a 54-yard touchdown.
Fields got the chance for a two minute drive down by six to try and score the winning touchdown. The young quarterback was magic on the drive completing a 39-yard pass to Allen Robinson on a third down. That set up the go-ahead touchdown on a beautiful 16-yard pass to Mooney in the corner to go up 27-26.
Unfortunately, Chicago's defense could not maintain the advantage in the final minute. Big Ben and crew drove into field goal range and took a 29-27 lead on a kick from Chris Boswell. The Bears attempted to get the lead back but a desperation 65 yard Cairo Santos field goal came up short as time expired. (Box score)
Why the Bears Lost
The defense could not hold onto the lead in the final minute of the game. It was a gutsy effort all around and questionable officiating also was a factor in the outcome on Monday.
Key Moment
It appeared Jimmy Graham had scored a touchdown in the third quarter on a short pass from Justin Fields. The score was nullified by a penalty for an illegal low block on the Bears, who were forced to settle for three. Replays indicated the block attempt was missed and did not appear to be a penalty. It was one of many borderline calls that went against the road team.
Stats That Matter
This game was a huge step forward for Fields who threw for 291 yards and ran for 45 more.
Cole Kmet had a huge night with six catches for 87 yards.
David Montgomery looked good with 63 yards on 13 carries as he returned from his knee injury.
Bottom Line
Justin Fields is really starting to find his footing on the football field. This game was a huge step forward for the young quarterback. It would've been better had they won of course, but it's still big. As for the season, playoff hopes are starting to fade away and attention should turn to the development of the franchise quarterback. For Matt Nagy that might mean being prepared to coach elsewhere in 2022.
Next Up
The Bears have their bye in Week 10 and return on November 21 against the Ravens at Soldier Field.