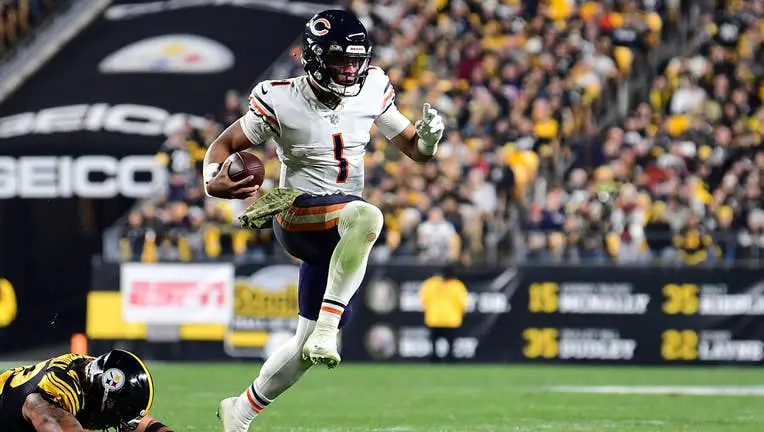 First & Long: Fields Flashes Franchise Potential, Penalties Negate Great Game, Rodgers Fine 'Laughable'
Bears fans have been waiting for a franchise quarterback since Sid Luckman retired in 1950, and last night, Justin Fields showed them what one looks like in real life. The rookie's second-half performance left many of us staring at our televisions in abject disbelief as Fields led his team on two quick scoring drives to put the Bears up 27-26 late in the 4th quarter. Unfortunately, Chicago's defense, as it had all game, couldn't help itself from self-destructing, leading to a heartbreaking 29-27 loss.
The marvel of Fields' performance last night is he bailed out a team that was doing everything possible to lose. Poor first-half play calling, too many penalties (deserved or not), and miscues at critical times were just too much for the first-year signal-caller to overcome. Still, Fields couldn't have picked a better time or setting to show NFL fans across the country why Ryan Pace jumped up to the No. 11 spot in this year's draft to pick the Ohio State product.
Let's start with the first half. It appeared coach Matt Nagy took over the play-calling with Chicago's first possession, and Fields, who worked so well outside the pocket last week, suddenly was back to being a pocket passer. Two three-and-outs to start the game put the Bears in an early hole and by the time the first half ended, Chicago had generated just 127 yards of total offense and was trailing Pittsburgh 14-3.
As we learned last week, Fields thrives when working off-platform, and nearly identical touchdown passes in last week's game against the 49ers and last night's game against the Steelers proved that point.
Look at this throw and catch. I see you Justin Fields. #Bears pic.twitter.com/LVhN3nQ4an

— Jarrett Payton (@paytonsun) October 31, 2021
Watching this on repeat all week pic.twitter.com/DVPVuWd85h

— Matt Eurich (@MattEurich) November 9, 2021
Perhaps Nagy is slow to embrace the gunslinger mentality of the NFL's new breed of quarterback, but those types of throws are precisely what attracted Pace to Fields in the first place. You could name just a handful of passers who thrived while working outside the pocket in the past: Fran Tarkenton, Randall Cunningham, and Brett Favre. Once Fields was allowed to ad-lib a bit, the Bears suddenly looked like a team that could move down the field with precision and speed against any defense.
"Building and formulating a game plan for [Fields], not necessarily knowing exactly what was gonna be his strengths heading into that game, we feel a lot different now," Nagy said. "We feel better as to the types of plays we're putting in that fit him, fit our offense. Trying to find that match and that balance."
Though there's nothing wrong with being a dropback passer, Fields is not programmed to play strictly that way. The new breed of signal-callers, such as Patrick Mahomes, Baker Mayfield, Kyler Murray, and Fields work in much the same way Aaron Rodgers and Russell Wilson did when each burst on the scene, relying on guile, instincts, arm strength, and athleticism. The more successful ones exhibit unprecedented field vision, too. These are guys who learned their craft playing in spread offenses passing 50 times a game.
That said, for Fields to become a complete quarterback, he's going to have to connect regularly while working inside the tackles. The best quarterbacks – franchise quarterbacks – are both fast and accurate no matter where they are positioned when they release the football. In fact, being able to successfully perform in a traditional manner will open up greater opportunities while running the spread and mixing in a little run-pass option.
Perhaps Nagy can be a little too formulaic at times, enough so to stifle Fields' creativity. At the same time, it would be nice to see the rookie exercise just a bit more patience while waiting for his receivers to get open. When Fields is rushed, he tends to overthrow the ball, and in those instances, it's just a matter of holding onto the ball for a split-second longer. We saw glimpses of a budding star and a true team leader last night. Despite the loss, Chicago's fourth straight, all anybody can talk about is Fields. It's been a long time coming.
Bears News & Notes
There's a Flag… On the Play
Unbelievably, there is still a subsection of Bears fans who would rather have Mitchell Trubisky leading the team.
1. Justin Fields…
– Went into a hostile stadium
– In prime time
– Against one of the best defenses in the NFL

And compiled 336 total yards and a TD pass to give his team the lead with under 2 minutes to play.

Bad quarterbacks don't do that. #Bears pic.twitter.com/24dJm7FHmi

— Erik Lambert (@ErikLambert1) November 9, 2021
Northern Exposure
The NFL has levied fines against the Packers, Rodgers, and WR Allen Lazard for COVID-19 protocol violations. Rodgers and Lazard were fined $14,650 apiece, and the team was fined $300,000, NFL Vice President of Communications Brian McCarthy said.
Aaron Rodgers fined $14,650 for violation of Covid protocols.

Based on his $22.4 million salary, that's the equivalent of fining the average American $33.80.

— Darren Rovell (@darrenrovell) November 10, 2021
Minnesota running back Dalvin Cook allegedly abused a former girlfriend, causing a concussion, during an altercation at his home last year, the Star Tribune of Minneapolis reported, citing a lawsuit filed Tuesday. Cook's agent said the woman broke into the running back's residence, assaulted him, and is trying to extort money from the Vikings star.
The Lions may put in a waiver claim on a recently-released star wide receiver, but it's not Odell Beckham Jr.
NFL News & Notes
Beckham Jr. has cleared waivers and is now free to sign with any team.
There were nine teams with enough cap space to claim Beckham Jr. and his restructured $7.25 million contract off waivers, but none of them submitted a claim.
Jordan Schultz reported earlier Tuesday that the Packers were Beckham Jr.'s preferred destination should he become a free agent.
Former NHL star Mike Fisher supports Rodgers in his stance about COVID-19 vaccines.
Ravens running back Le'Veon Bell is a big fan of Baltimore's team culture.
Saints quarterback Jameis Winston made a grand and hilarious entrance on crutches at a recent Devoted Dreamers event.
Carson Wentz has a food truck called Thy Kingdom Crumb and is using it to help those in need of a meal.
Though Steelers running back Najee Harris did not sleep on the floor while he was a student at Alabama, ESPN announcer Steve Levy insisted he did.
Three Yards and a Cloud of Dust
After Monday night's win, Steelers head coach Mike Tomlin has now beaten every NFL team except the Saints.
After Sunday's game, Jaguars' edge rusher Josh Allen has now recorded a sack, an interception, and has recovered a fumble against Bills quarterback Josh Allen.
Cooper Kupp is the first player since the NFL-AFL merger in 1970 to total at least 900 receiving yards with 10 TDs in the first eight games of the season.
From the Podium
"The last two weeks [Fields'] decision-making and timing have been really really good. He's taking shots downfield, which is great. We're not hitting on all of them, but when you still take those downfield they can't sit on ya all the time. But then you get to these moments, these critical parts of the game that you've seen in back-to-back weeks now that he's making plays. I think what you're seeing and feeling is a guy who's getting more and more confident, not just by every game but by every play. The game is getting a little slower for him on defense. He's seeing things." – Nagy