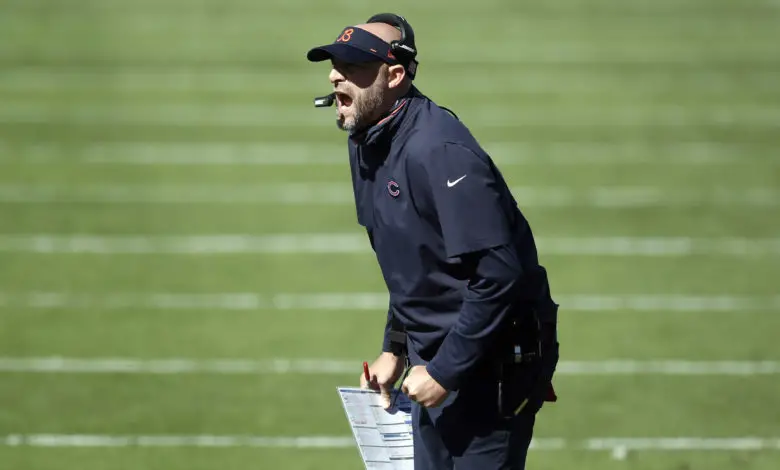 Bears Have 4% Chance of Making Playoffs
If Matt Nagy needs his team to finish as a top-seven team in the NFC  in order to get a contract extension at the end of the year, he and his troops have their work cut out for them. Per fivethirtyeight.com, Chicago has just a 4% chance of making the playoffs. In fact, the Bears currently sit as the No. 15 seed in a 16-team conference. Their chances of catching the 8-2 Packers are even slimmer, as the website lists the Bears as 500-1 shots to win the division (0.2%).
That means any combination of three wins by the Packers or three losses by the Bears eliminates Chicago from contention for the NFC North title. From a high-level view, the Bears are only 2.5 games behind the No. 7 seed Carolina Panthers, but they'd have to pass eight teams climbing that same ladder, which seems like an almost impossible task with eight games left in the season.
Darnell Mooney doesn't think things are a lost cause, however. The second-year wide receiver would like to see the Bears run the table. Whether he actually believes that is possible or not is a whole other matter.
WR Darnell Mooney on the #Bears' goals: "11-6 sounds really really good."

— Patrick Finley (@patrickfinley) November 15, 2021
Chicago's schedule certainly doesn't favor winning out. They still have two games against the improving Vikings (currently 4-5), one game on the road at Green Bay, and they resume their schedule this Sunday against the Ravens (6-3) after their bye week. That's followed by a Thanksgiving Day game against the Lions (0-8-1) in Detroit on short rest before the Bears host the Cardinals (8-2) on December 5. The Lions game is no gimme, so running the table represents the longest of shots. The Monsters of the Midway could just as easily lose all those games.
That brings us back to the most talked about topic in Chicago sports: Will the Bears retain Nagy after this season?
In the coach's favor is a dramatically improving culture, though that should be solely attributed to the progress Justin Fields has made as a player, teammate, and leader. Working against him are long droughts of offensive ineptitude, undisciplined play, and a defense that fails to show up when the team needs it the most. Those are all coaching issues and don't provide any support for retaining Nagy.
Another thing working against Nagy is the future of the Packers. Green Bay will probably lose offensive weapons Aaron Rodgers and Davante Adams after this season so there is a clear path to wresting control of the division from Chicago's bitter rivals north of the Cheddar Curtain. Is the current staff capable of leading the team to NFC North superiority –something Fields promised is coming soon – or, does that represent the perfect time to bring in a fresh staff with new ideas and a plan to elevate the rookie QB to elite status?
If you watched Chiefs QB Patrick Mahomes in last night's win over the Raiders, it's easy to envision Fields as someone who could one day be that dominant. That's an admittedly aggressive comparison, but no one should doubt Fields' ability, desire, and work ethic to at least be in the same conversation among the game's current franchise quarterbacks. Mahomes threw for 400 yards and five TDs last night in a nationally televised game. You don't have to squint too hard to see Fields doing the same thing, provided he has the right coaches calling the shots, and the right weapons to attack his opponents without mercy.
The few that still cling to the notion of retaining Nagy will counter the argument that the next hire might not be any better. Could he be any worse? I suppose with Ted Phillips leading the interview process of the next hire a possibility exists that the next head coach could be competently akin to Marc Trestman or John Fox. Nobody wants to see that happen, but if the Bears refuse (again) to consider an available candidate with sustained success throughout his career, there are some very hot coordinators to keep their eyes on, including former Bears cornerback Leslie Frazier.
As weird as it is to comprehend, the #Bears are still in actually this playoff race.

That 7th seed in the NFC is wide open, and it's likely a sub-.500 team will take that spot. If they can somehow pull off an upset win or two, Chicago could sneak in.

— Jacob Infante (@jacobinfante24) November 14, 2021
GM Ryan Pace will probably want a more offensive-minded head coach to work with Fields and talented young offensive weapons David Montgomery, Cole Kmet, Khalil Herbert, and Mooney. Heck, it's no guarantee Pace will keep his job, but that's a discussion for another time. For now, Nagy's future is hanging on a wing and a prayer., or more succinctly, Fields and scant 4% chance of making the playoffs  The 3-6 Bears are unlikely to get there, so unless they truly go down fighting in the manner of a Rocky Balboa title fight, Nagy will probably have to watch the development of Fields from the cheap seats.