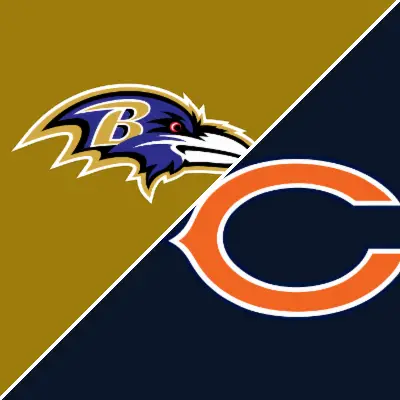 Chicago Bears vs Baltimore Ravens – Week 11 Game Preview: Overview, Keys to Game, Insights
The Chicago Bears (3-6) had the bye week to think about their heartbreaking loss to the Pittsburgh Steelers on Monday Night Football. Justin Fields overcame questionable officiating to lead what appeared to be a game-winning touchdown drive. Unfortunately, Chicago's defense was unable to hold on in the final minute and fell 29-27 on a Chris Boswell field goal.
The growth of the rookie quarterback is taking more prominence as the Bears playoff hopes continue to diminish. Head coach Matt Nagy is in a position where he likely needs to make the postseason to keep his job. At this point, his team would probably need to go 7-1 to make the Wild Card.
That tall task seems even more difficult as the Baltimore Ravens (6-3) head to Soldier Field this weekend. Star quarterback Lamar Jackson is having another huge year with 2447 yards passing, 639 rushing yards, and 16 touchdowns through nine games. As a team, they average 414 yards per game, good for second in the NFL.
It has been a struggle for the Ravens usually very good defense in 2021. They're in the bottom half of the league in total yards allowed and scoring defense. A loss to the Dolphins and a near defeat by the winless Lions indicates the team is vulnerable to an upset.
The Bears continue to struggle with injuries and the status of Khalil Mack and Akiem Hicks is still up in the air for Sunday. Their return to the lineup would make a big difference in the defense. It's not a good sign for their availability that Chicago just signed veteran Bruce Irvin to try and bolster the weakened defensive line.
Hopefully, Fields can continue to grow at the quarterback position and maybe his team can get lucky and pull off a victory. It would be a nice surprise going into the holidays.
Where to Watch/Listen
Sunday, November 21 at 12:00pm CT on CBS, WBBM Radio (English), and WRTO Radio (Spanish)
Keys to Victory 
Here are my keys to Sunday's game. If these things happen, the Bears should have a shot to win.
Contain Jackson. The whole Baltimore offense is built around Lamar Jackson. The Bears need to keep him in the pocket and try to make him beat them with his arm. While he is a very good passer, it is Jackson's legs that make him truly dynamic.
Stop Andrews and Hollywood. Dynamic receiver Marquise Brown and big tight end Mark Andrews are by far the biggest weapons for Jackson. Stopping them should derail the Ravens pass attack.
Fields needs to go to the air more. Baltimore's injury ravaged secondary is the worst in the NFL. The Bears young quarterback needs to exploit this if they are going to win. Now would be a great time for Allen Robinson to have a big game and keep an eye on tight end Cole Kmet.
Win the turnover battle. Both these teams have struggled with turnovers so far in 2021. Whichever team comes out ahead on Sunday has an excellent chance to win.
Don't Tell Me the Odds
The Vegas oddsmakers have the Ravens installed as 4.5 point favorites on Sunday. An over/under of 44.5 indicates bettors expect a relatively low-scoring game.
My Prediction
I think the Bears offense has a big game on Sunday and stays right there with Baltimore. The problem for Chicago is their beat up defense, which will falter late and allow the Ravens to win 31-28.
Official Bears Preview
Here are Bears analysts Jeff Joniak and Tom Thayer with their preview of the Bears' upcoming Week 11 matchup.