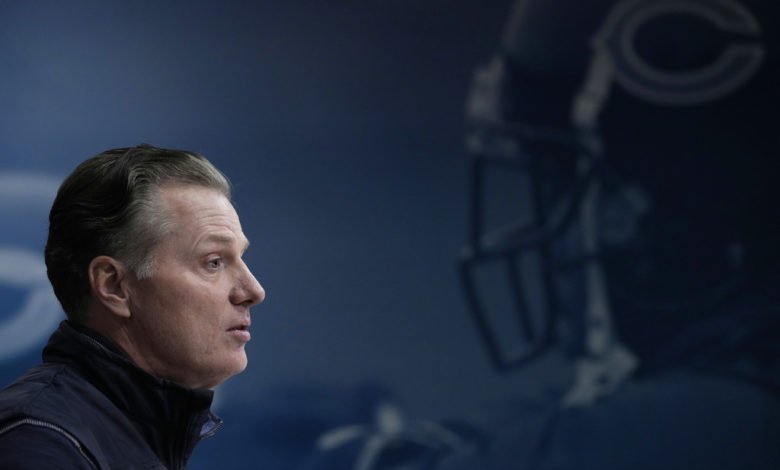 First & Long: Pack Good First Test for Retooled Bears, Poles Still Shopping, Jets Get Extra Home Game This Season
The schedule is out and nothing matters but the Packers.
When Ryan Poles was hired he threw down the gauntlet, saying "We're taking the NFC North, and we're never giving it back." That quote was aimed directly at Aaron Rodgers and Green Bay. Rodgers is gone, but that sentiment hasn't changed. The Vikings won the division last year, and the Lions are much better, but the road still goes through Green Bay, at least for Bears fans.
Justin Fields said something similar before last season started.
I want a Super Bowl," Fields said, per Daniel Greenberg. "That's all I care about, and I want to beat the Green Bay Packers."
Most Bears fans rank those benchmarks similarly. In fact, the former probably can't happen without the latter. Chicago has definitely closed the gap on Green Bay and on Minnesota and Detroit as well. In fact, nine wins might be all that is needed to win the division, and all four teams are capable of playing .500 or slightly better as rosters are currently constructed. It's a little too early to get too excited, though. Players are still two months and change from practicing in full pads.
The Bears draw the Packers in Week 1, so we'll know immediately how good or bad each team is. We haven't had enough time to properly gauge head coach Matt Eberflus, but he does excel when he has time to prepare for an opponent. The Bears beat the 49ers in their season opener last year, destroyed the Patriots on 10 days rest, and nearly beat the Eagles following their bye week. Eberflus has nearly three months to prepare for the Packers. It's almost unfair.
Bears News & Notes
There's a Flag…On the Play
This year's schedule-release video was much better than last year's.
The Bear 🤝 Da Bears

(@ChicagoBears)pic.twitter.com/Ww1sSG6Y0M

— ESPN (@espn) May 12, 2023
Scout Team
The schedule has been released and the Bears will open and close their season against the Packers, who no longer have Rodgers. Will Jordan Love own Chicago the way his predecessor did, or is retribution in the air?
Love looks every bit the part of a franchise quarterback at 6-foot-4 and 225 pounds. He is an "athletic passer with a strong arm who displays bigtime NFL potential," according to Tony Pauline of Pro Football Network. Love also flashes the ability to precisely place passes into receivers' hands and keep the ball away from defenders.
However, he's slow to set up in the pocket and does not react well to pressure. Love makes poor choices and also puts the ball up for grabs on occasion. His passes can be all over the place at times, and defenders in zone coverage should have ample opportunities to pick him off.
I'm giving the Bears two wins vs. Green Bay this season. That hasn't happened since 2007 when Chicago handed the Packers two of their three losses on the season. In fact, it's only happened three times since 1990. Payback is a bitch.
Film Room
Fields to D.J. Moore is already giving me chills.
Get ready for Justin Fields ➡️ D.J. Moore 🐻

(via @ChicagoBears)pic.twitter.com/NqqbfN6Knx

— PFF (@PFF) May 7, 2023
Northern Exposure
NFL News & Notes
The NFL has changed its scheduling adjustment policy, and they've added Monday nights in the second half of the season as potential flex games.
Defensive end Shane Ray, who has been out of football since 2018, will attempt a comeback with the Bills this season.
The Dolphins have signed former first-round pick Isaiah Wynn to a one-year deal. Wynn formerly played for the Patriots.
Buccaneers coach Todd Bowles received his degree this weekend from Mount Saint Mary 37 years after leaving school for the NFL.
QB Carson Wentz is a free agent and has told interested teams he's willing to play as a backup.
Browns safety Juan Thornhill put the rest of the NFL on notice after Cleveland acquired Za'Darius Smith from the Vikings.
The Jets get to play 10 games in their home stadium this year because they play the Giants, who share the same stadium, as visitors. Nothing like giving Rodgers any advantage possible.
Three Yards and a Cloud of Dust
There are 64 days until training camps open, and 116 days until the 2023 NFL season opener.
The Falcons are the only NFC team playing an international game this season. The Jaguars will play two overseas games this season, one vs. the Bills in Tottenham, and one vs. the Falcons in London. Luckily they are overseas on back-to-back weeks.
Only Justin Jefferson and Ja'Marr Chase had more receiving yards in the last five minutes of the 4th quarter last season than Pat Freiermuth (174 yards).
Two-Minute Drill
Moms are awesome. Especially if your son is one Peyton Manning. I have a feeling he was a bit of a prankster as a child.
Mothers are awesome.

Happy Mother's Day 💐 pic.twitter.com/rpzCKG8byG

— NFL Stats (@NFL_Stats) May 14, 2023
From the Podium
"I started talking about what it's like to be a rookie in an offensive line room. And how that's probably the biggest obstacle in any room, in any building is the offensive line room as a rookie. You have more duties than anything. And just the way that [Darnell Wright] handled that conversation and how he has respect for the position and the guys that he's trying to emulate… I think it was really cool to see that." – Luke Getsy
"Coming in, I didn't play too much slot when I was in college. I was more of an outside receiver. Just to broaden my game, being able to play inside, and outside so defenses don't get a bead on me. If somebody goes down I'm able to step in and I know what I'm doing. So, just learn how to become an overall complete football player to be able to play all positions. That's definitely something that's a challenge that I want to take on, and I'm having fun doing it." – Tyler Scott
"I say over this past year … kickoff was pretty fun. That was my first time on kickoff, like, ever. So just [to] kind of go down there and just kind of tackle somebody I felt like was different. From playing running back and knowing how to pass protect, I can kind of manipulate kick returns and people trying to block me while I'm running down." – Roschon Johnson