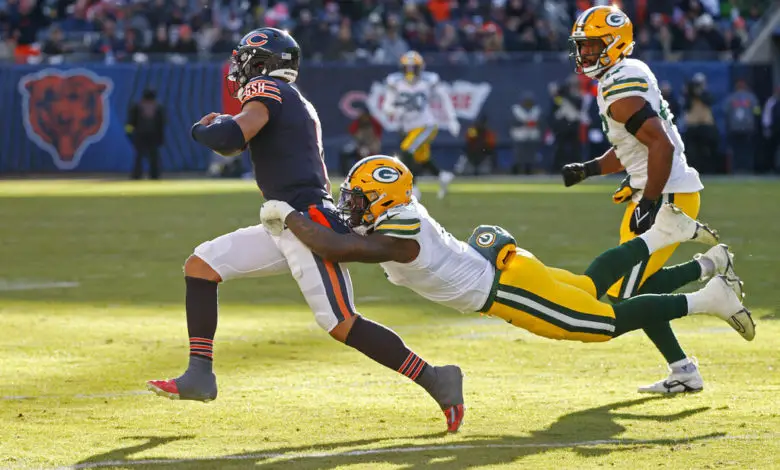 Early Projections Indicate Bears Will Be Much Better This Year
Mike Clay of ESPN dropped his 2023 NFL Projection Guide, and it's a fun look at the upcoming season. Chicago's roster is still not quite complete, but Clay indicated the Bears will be much improved this season. The schedule has been released, and Bears fans are hyped even more than usual. Let's get into it, shall we?
Week 1 Green Bay @ Chicago

Justin Fields had 25 TDs/15 gms w/ the worst WR/OL group, maybe ever.

GB better pray that an improved WR/OL doesnt help JF1.
Meanwhile Jordan Love will likely have to match his career total in TDs in 1 game, day 1 in Chicago.

Lets see what happens. pic.twitter.com/X8EHZ6TXJE

— Max Markham (@MaxMarkhamNFL) May 11, 2023
Clay gives the Bears a 46% chance to win 8 eight games. There's no standard deviation, and based on his game-to-game probabilities, Chicago will improve as the season goes on. Those eight wins include a series split with the Packers and Lions, and close losses to the Broncos, Vikings, and Saints. That means the Bears could add up to five wins due to luck, opponents' injuries, or plain old attrition. All of their wins are by the slightest of margins, too, so things could also go south.
The Vikings (8.8 wins), Lions (7.9) Bears (7.8), and Packers (7.7) are the projected NFC North standings without rounding, if you're handicapping. That would be the tightest race in decades, by the way.
Justin Fields is going to be Chicago's best offensive weapon again. Clay's projections have Fields throwing for 3,191 yards with 22 touchdowns and 12 interceptions. The third-year quarterback is expected to rush for 909 yards and an additional six scores. In Clay's introduction, he bases individual performances on a 16-game season, which means a healthy Fields would do about 5.9% better across the board if he doesn't miss a game. One would think the Bears would win more than eight games with those projections.
The Bears will not have a single 1,000-yard receiver per Clay's projections. D.J. Moore is expected to catch 64 of 112 targets for 929 yards and seven scores. That's a lot of missed balls. That said, Moore's completion rate has dropped from 67.1% as a rookie in 2019 to 53.4% last year. Moore has never had quarterback stability. He's also never played with a franchise quarterback. Sam Darnold, Baker Mayfield, Taylor Heinicke, Kyle Allen, Will Grier, Teddy Bridgewater, and P.J. Walker all threw the ball to Moore during his Carolina tenure.
Chase Claypool is expected to have a better year than Darnell Mooney, though not by much. Both are playing in the final years of their contracts, and one would hope for better production. Clay expects Claypool to catch 51 of 87 targets for 674 yards and four TDs. Mooney is projected to haul in 49 of 78 attempts for 613 yards and five scores.
Cole Kmet is also expected to show a little regression in 2023. The tight end has seven touchdowns in '22, but Clay has Kmet scoring four times this year. He is expected to catch 54 of 78 targets by Fields for 574 yards. Robert Tonyan and Chase Allen project to a combined 162 receiving yards with two TDs.
Clay doesn't see any of the running backs outrushing Fields. Khalil Herbert is expected to be RB1 with 686 yards on 145 carries with six TDs. D'Onta Foreman (540 yards, four scores), Roschon Johnson (263,2), and Travis Homer (106, 1) follow. Trestan Ebner is not listed anywhere statistically.
Braxton Jones (LT), Nate Davis (LG), Cody Whitehair (C), Teven Jenkins (RG), and Darnell Wright (RT) will anchor Chicago's offensive line, per Clay.
The Bears show only marginal improvement, however, on the defensive side of the ball. Chicago allowed 463 points (27.24 PPG) last year. The Bears are expected to allow 25.18 PPG this year.
Trevis Gipson and Rasheem Green will lead the team in sacks, and T.J. Edwards will have the most tackles. Jack Sanborn projects to just 16 tackles and zero sacks, which seems awfully low. He had 64 tackles in five starts last season, and he sacked the opposing QB twice. Rasheem Green, really? Poles better find a bona fide edge rusher, am I right?
Eddie Jackson will once again lead the team in interceptions. Rookie Tyrique Stevenson is expected to have a better year than veterans Kindle Vildor and Jaylon Johnson. Clay also predicts significant regression for Jaquan Brisker and Kyler Gordon.
The Panthers are projected to win seven games, placing them 21st in the league. The Bears are ranked No. 19, and that provides a high-level view of the 2024 draft order. The Bears would pick 12th and 14th next April if Clay is correct.