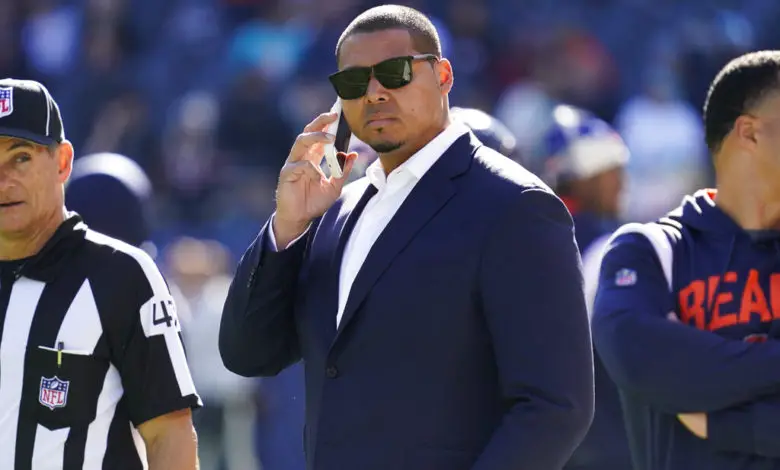 What Will Ryan Poles Do With Excess Cap Space?
The Bears have $35.7 million in available cap space and could really use an edge rusher and some offensive line depth. But, before you start counting on a reunion with Leonard Floyd, GM Ryan Poles has probably earmarked a big chunk of that money for extensions for Cole Kmet and Jaylon Johnson.
Floyd, Jadeveon Clowney, Frank Clark, Justin Houston, and Yannick Ngakoue are still searching for 2023 homes. All of those players are very talented, but each may be asking for more money than any of the 32 NFL teams are willing to pay. Floyd is probably looking to be paid in the upper tier of edge rushers, and I doubt Poles will make that kind of investment considering the current state of the roster. Poles should instead seek long-term solutions in the draft next year.
Poles has done well to abstain from the frenetic pace of free agency. He takes a measured approach and seeks value in positions that are less cost-competitive among his front office peers. His flexibility and insistence in signing scheme-fit players are admirable. Poles also seeks foundational players who won't hamstring his budget in future years. That said, he also understands that Rome can't be built in a day, as the saying goes. The second-year GM is on record as stating that he doesn't have the assets to plug every hole this offseason.
"I want to stair-step this thing to the top and then stay up there as long as absolutely possible," Poles said before the draft. "I always go back to making sound decisions. And sometimes when you don't make sound [acquisition] decisions, in the short term it can look really good. But then it's what happens after [that]…We want to make decisions that can last a long time so we can stay at the top. We don't want to peak and then have the drop-off after."
"With free agency, we stuck to our plan," he added. "And that's really to marry a fit for what we're trying to do here – our culture, our scheme – with value. And I thought we did a good job and that led to some really good additions."
Poles also said that he would never operate outside the borders of reason in free agency. He targets players of value but sticks to reasonable price points. That way, he can maintain flexibility going forward. Keeping all that in mind, it's tough to envision the front office making a last-second splurge to find an edge rusher. That's more consistent with the way Ryan Pace ran the team prior to Poles.
The GM's hands were tied in free agency last year because of the moves Pace made. Poles decided to eat a ton of dead money rather than splurge in order to straighten out Chicago's salary cap. This year has been a different story, but much work remains. Tremaine Edmunds and T.J. Edwards give the Bears one of the best linebacking corps in the NFL. D.J. Moore gives Justin Fields a true WR1. Nate Davis is a sneaky good signing at guard. Poles had a very good draft, too. Darnell Wright, Tyrique Stevenson, Roschon Johnson, and Tyler Scott should all see significant action this year. Gervon Dexter and Zacch Pickens will get plenty of snaps, too.
Adding Moore is huge for Fields. The 26-year-old receiver has the second most targets between 10 and 19 yards in the NFL from 2019-22. That's an area of the field where Fields thrives, completing 66.7 percent of his passes in that range.
"This league shows you good teams have guys who make big plays in big moments," Poles said. "If that's finishing a game off in the fourth quarter or if that's getting things kicked off in the beginning. DJ has those traits."
The Bears should be more competitive in 2023, but they need another full offseason to get the depth chart to the level of teams that compete annually for the playoffs. Still, the roster looks vastly deeper today than it did after the final game of last season. In fact, only 13 players from the team that Poles inherited remain on the current roster.
The NFC North is also a little weaker now that the Packers have traded Aaron Rodgers to the Jets. The Lions had a questionable draft, and the Vikings had a poor one according to most accounts. Chicago could be on the verge of being the division's best team. It probably won't happen this year, but you can make a strong case that the Bears are pinning their hopes on a long competitive window that will open in 2024. That's significant because that's when Fields and the Bears will likely begin extension talks.