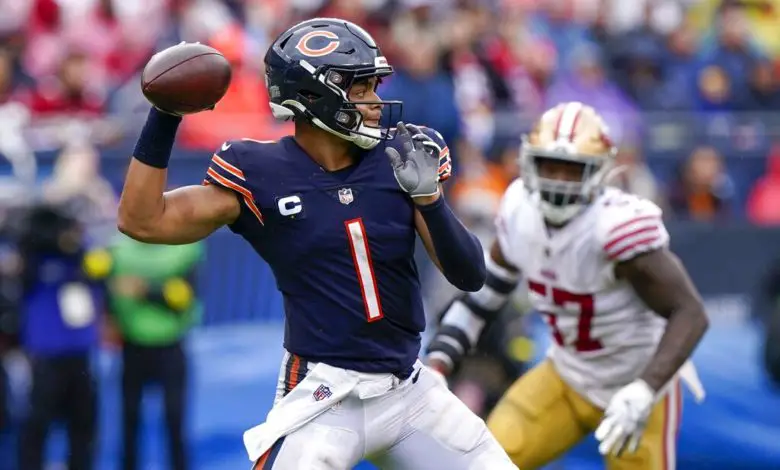 Can Justin Fields Win MVP?
There has been a lot of talk lately about Justin Fields and his potential to be an MVP candidate. He's yet to break 2,500 yards passing, and Fields has a career quarterback ranking of 79. Despite that, Dan Orlovsky thinks Fields will be in the MVP discussion this year, and Jordan Schultz says he'll win the award within the next three years. I'm a fan of the thought process, and I hope it's possible, but can Fields stack up against the production of former MVPs? Fortunately, Fields has Ryan Poles putting together a team to help him take the necessary steps forward.
Before the draft, Poles made the much-anticipated trade of the first overall pick in the 2023 draft. The Bears earned more draft capital, but possibly more important; they added wide receiver D.J. Moore. He's had eight starting quarterbacks through five seasons, and Moore caught 5201 of their 17,609 yards through the air, nearly 30 percent. The former Panther has had five seasons of 700 yards or more. Of those, he eclipsed 1,000 yards on three occasions. Last year, Cole Kmet led the Bears with 544 receiving yards. Moore is a clear upgrade and Chicago's first true number-one receiver since Allen Robinson left.
Poles also brought in Robert Tonyan and re-signed Equanimeous St. Brown, two veterans familiar with Luke Getsy and his scheme.  Tonyan scored 17 touchdowns through 18 career starts with the Packers and should be an excellent backup for Kmet. Poles also re-signed Dante Pettis, who has a year of experience in this scheme and chemistry with Fields. The Bears strengthened their offense in other key areas, too.
Poles continued to help Fields by adding multiple players through the draft that could help the quarterback to stay upright. Fields has been sacked 91 times in just 25 career starts, so Chicago added a right tackle and a pass-protecting running back. Darnell Wright was drafted tenth overall and had a phenomenal year at Tenessee, anchoring the right side. Roschon Johnson, the Bears' first pick of the fourth round, has starting potential and knows how to protect his quarterback. After getting Fields more protection, the Bears added one more weapon in a fourth-round field stretcher, Tyler Scott. The Bears added many players to ensure Fields could be successful. Fields has what it takes to be a winner, let alone an MVP. The QB1 has just five career wins, however, and needs to improve his passing if he's going to compete as a potential MVP.
.@justnfields improvement hasn't gone unnoticed 👀 pic.twitter.com/mCLpd2hXEQ

— NFL (@NFL) May 9, 2023
To his credit, Fields did get one MVP vote last year. I suppose that means he's technically in the discussion already, but how does Fields earn that hardware? How does Fields stack up against former MVPs? He's not that close, that's for sure. He must take a significant step forward in the passing game and convert more in the red zone. Last year's MVP, Patrick Mahomes, threw for 5250 yards and 41 touchdowns. Every winner since 2016 had at least 4000 yards passing except for Lamar Jackson. The Bears have never had a 4,000-yard passer.
That might be Fields' blueprint to an MVP; to follow Jackson's path of being competent as a passer while remaining elite as a runner. Jackson is the only unanimous MVP winner in the last decade, and he had 3,127 passing yards plus 1.206 rushing yards. Jackson also had 43 total touchdowns. Fields showed he could run last year with a plethora of highlights on his way to 1,143 rushing yards. However, he still needs to show more in the passing game to make me believe he can surpass 3000 yards.
The next big hurdle for Fields is winning ballgames. Going back to 1988, only one quarterback has won MVP without being first in their division and winning at least 11 games, Hall of Fame quarterback Peyton Manning. The Bears are coming off back-to-back losing seasons. Chicago might have a winning season this year, but anything more than nine or 10 wins seems unlikely.
Fields certainly has a challenging task ahead of him if MVP is his goal. Fortunately for Bears fans, Fields is more focused on winning games and taking the Bears as far as he can. He has the arm strength to get the ball downfield and the accuracy to convert first downs and scores. He must start working the underneath receivers, however, to open up the deep shots and keep drives alive. If he can start putting it all together, I agree with Schultz; Fields could be an MVP in the next three years.