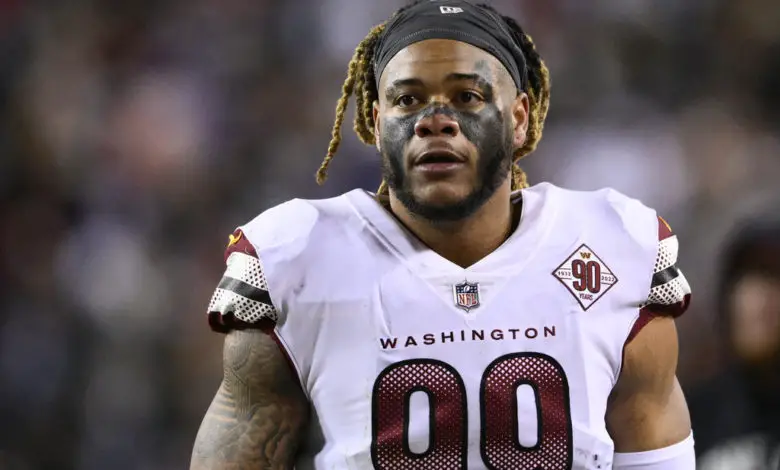 The NFL Draft is complete and the Bears have filled most of their needs, but still need an edge rusher and offensive line depth. GM Ryan Poles has $35.7 million in cap space, and though some of that is earmarked for draft picks, he has enough in his war chest to seek pass rushing options. Aaron Rodgers has left the NFC North, and things are starting to tighten up a bit. The division could be won by the slimmest of margins. Poles is aware and could seek to close the gap with a new addition.
The GM could elect to seek help via free agency and there are plenty of options. Yannick Ngakoue, Leonard Floyd, Frank Clark, Justin Houston, and Jadeveon Clowney are still available. Poles could also seek a trade. Chase Young and Montez Sweat are the hot names to watch.
Leonard Floyd with the WWE move on Amendola 😮pic.twitter.com/ltVo68mw1W

— NFL Stats (@NFL_Stats) October 14, 2018
"We'll see, we'll see," Poles said on 670 The Score's Bernstein & Holmes Show. "We're working on it. We don't stop working and looking at different avenues to bring players in. There are some options, potentially trade options. There are also some guys on the street still that could potentially come in and help us. Something could happen sooner rather than later."
The Bears, Jaguars, and Vikings have been linked to Ngakoue previously, but you won't find a legitimate source. Ngakoue is familiar with Matt Eberflus and the Cover-2 defense so he at least makes sense. Bears fans would love to see Floyd return, and I'm one of them. Floyd wants a top-of-the-market payday, however, so a reunion seems unlikely. The name I'd keep my eye on is Young.
Poles clings to his budget like boomers cling to their pearls. He prefers short-term options in free agency that leave him with maneuverability and flexibility. The second-year Bears executive won't hamstring his future to fill a need today. Floyd and Clowney aren't probable options. Ngakoue, Houston, and Clark are more likely to sign shorter deals.
Young is interesting because the Commanders refused to pick up his fifth-year option. He won't cost much in the way of future assets and gives Chicago a one-year rental. The Bears have two first-round picks next year and EDGE will be at the top of the team's list. Alabama's Dallas Turner is someone to watch. You'll hear his name a lot over the next year.
We're talking about this season, however. Some reports mentioned that Poles spoke with Washington GM Martin Mayhew in the days leading up to the draft. The talks most likely centered on swapping draft picks, but one can assume Young's name came up. The edge rusher comes with some baggage, however, including the lack of faith from his current GM.
He was limited to only nine games in 2021 before sustaining a knee injury. Young missed 22 games after blowing out his ACL and managed 1.5 sacks in limited play. The Commanders are now asking the 2020 Defensive Rookie of the Year to prove himself this year. But a trade might be a better option. Besides the uncertainty of his recovery and salary cap considerations, Mayhew must weigh the cost of re-signing Young vs. losing him in free agency. Poles doesn't have that concern. He needs a one-year fix and nothing more. Young could be worth an additional win or two, and that might be enough to take the NFC North.
Houston is 34 years old and makes a lot of sense, too. He's not seeking a multi-year deal because one isn't likely available. He had nine sacks last year despite his age and excelled while playing for Eberflus in Indianapolis. Houston had 19 sacks in 32 games playing for 'Flus in 2019-20.
Ngakoue is seeking a two- or three-year deal, but the juice might be worth the squeeze. He would give Chicago another veteran presence on the line to go with Justin Jones. Over his seven seasons, the 28-year-old Ngakoue has never finished with fewer than eight sacks. Signing the 2017 Pro Bowler would also make Trevis Gipson a pass-rushing specialist, where he excelled in 2022. Ngakoue just might cost a little more than Poles wants to spend. The pass-rusher earned $26 million over two years on his most recent contract.
Chase Young started in pass coverage then capitalized on a sack and celebrated in style 😎 @youngchase907 @WashingtonNFL

📺 #WASvsSF on FOX pic.twitter.com/P2n2smwZ0o

— The Checkdown (@thecheckdown) December 13, 2020
That brings us back to Young. He's a low-risk, high-reward option, a former No. 2 overall pick, and he shouldn't cost Poles too much. He'll also play with a heavy chip on his shoulder, something the GM loves. Acquiring Young would probably cost the Bears a 2024 fourth-round pick or a three and a four. The Bears have two first-round selections next year. They've also got two second-round picks in '25, so Poles has the necessary assets to make a trade.