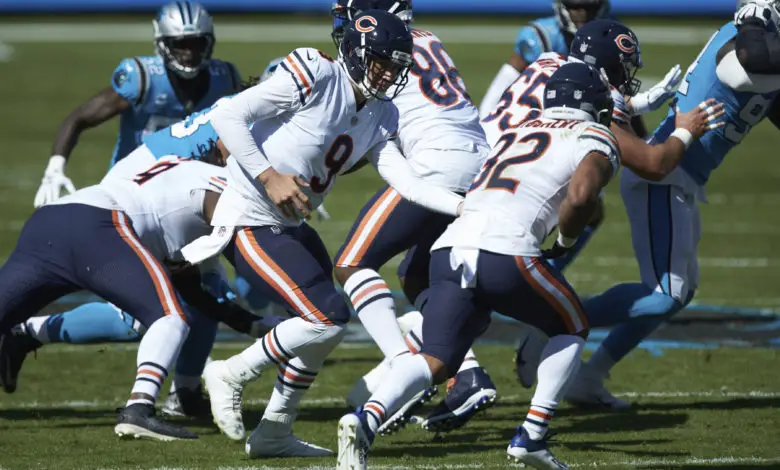 First & Long: Nagy Will Need Faith in Run Game to Beat Rams, Bears D Playing at Elite Level, Brady Explains Foles Snub
The 5-1 Bears have done well mimicking the "winning ugly" platform that earned the 1983 White Sox the AL Central title and a berth in the ALCS. Still, they're going to need more than a gimmicky catch phrase to beat the Rams (4-2) this weekend and prove naysayers and national prognosticators wrong when they say Chicago's luck is bound to run out.
That the game will be played in front of a national television audience additionally serves to put head coach Matt Nagy squarely in the headlights, so to speak. Though he remains optimistic about his team's chances going forward, Nagy has been questioned throughout the season for a number of things, including the removal of Mitch Trubisky as the starting quarterback in favor of Nick Foles; poor clock management; and lack of faith in his running game.
Those issues will be more important come Monday night, and will probably be heavily scrutinized by an MNF crew that occasionally has an anti-Bears bias. Chicago's defense should be able to keep the game close and it's entirely possible the Rams are a little overrated themselves. All four of their victories have come against the NFC East, which the Eagles lead thanks to a pathetic 2-4-1 record. That's right, they're one of only two teams in the division with more than one win as Week 7 begins.
Zoom in on the football. 🧐 pic.twitter.com/hMM4X6W4PX

— Chicago Bears (@ChicagoBears) October 19, 2020
So which team is doing a better job of grifting the rest of the league?
The Rams defense will enter the game ranked fifth in points allowed and fourth in yards allowed. Defensive Tackle Aaron Donald leads the NFL in sacks with 7.5 and he pairs nicely with former Bear Leonard Floyd, who has two sacks and six QB hits of his own. If ever there is a time for Nagy to find some semblance of faith in his running game, Monday night is it. The Bears will need to run the ball successfully to keep pressure off of Foles.
Chicago will also need to jump on Los Angeles early. If the Rams grab an early lead, Donald and company will surely be licking their chops while they feast on Foles. If the Bears can push ahead, I believe their defense will carry Chicago to a win.
Moving the Chains
The Rams beat the Bears 17-7 last season. Chicago won their 2018 matchup 15-6.
The Bears are off to their best start since 2012. That team won seven of its first eight games before finishing 10-6.
Since the start of the 2019 season, the Bears are 11-3 in games decided by seven points or fewer. They have the most such wins of any NFL team during that span.
Foles is 3-0 in his career against the Rams with a 69.23% completion percentage and an 85.4 passer rating in those games.
In Foles' three starts, he has been under center only 25% of the time. The Bears have run out of those formations 60% of the time. Lining up in the shotgun obviously plays to Foles' strengths, but could be hurting the Bears' running game.
The Bears rank 28th overall in rushing and are among the worst in the NFL in yards per play, per run, and per pass.
Chicago's defense looks elite to the naked eye and statistics bear that out. They're fifth in passing yards per play (6.14 yards); seventh in total yards per game (337.2); second in third-down efficiency (31.82% conversion rate), and first in red-zone defense (36.36% touchdown rate).
Los Angeles is 20th in the league in red-zone efficiency.
In two career games against the Bears, Rams QB Jared Goff has a miniscule 33.3 rating and has thrown five interceptions without a single touchdown pass.
Goff has passed for 10 touchdowns with four interceptions and ranks 11th in the NFL with a 101.4 passer rating through six games.
Chicago has won 12 of their last 17 MNF games, tied with the Saints for most victories since 2010 in the league's weekly marquee matchup.
Fumblerooski
Tom Brady is one of the more respectful players in the league, except when it comes to Foles, apparently.
Nothing but respect 🤝 pic.twitter.com/mzgjsHDzE4

— Tampa Bay Buccaneers (@Buccaneers) October 18, 2020
Bears News & Notes
Backfield in Motion
Sometimes you have to trade from strength to improve your weaknesses, but letting Ryan Pace trade away more draft picks? C'mon man!
Cam Robinson? Alex Mack? There are some intriguing possibilities if #DaBears want to improve their offensive line before the trade deadline.https://t.co/EEKMTL8850

— Hub Arkush (@Hub_Arkush) October 22, 2020
At the Podium
"We don't feel like we're a great defense yet. We feel like we're nowhere near it." – Bilal Nichols
"I think Nick Foles is a hell of a player and a Super Bowl champ and I don't know one reason or another why I wouldn't do that. Sometimes I've run off of the field, sometimes I haven't. Sometimes if I have a personal relationship like I have with Drew [Brees] and Justin [Herbert] and Aaron [Rodgers] over the years… I don't know. I don't think it's anything in particular but I have great admiration for Nick and I think that he's a hell of a player. They're off to a great start." – Tom Brady
"You know it's happened a few times. Someday Tom [Brady] and I will have a great conversation about it and probably laugh about it. It is what it is. I think he's a tremendous player." – Nick Foles
Halftime Entertainment
Hello Goodbye by the Beatles – If you watched last night's debate, you absolutely get this.