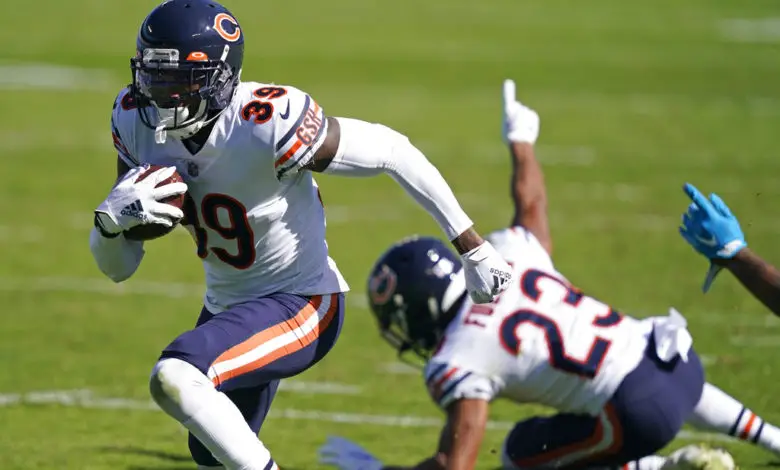 The Chicago Bears are First Place in NFC North, Here's How They Stay There
The Chicago Bears are hard to predict. Coming off of a 13-3 2018 campaign, many were predicting a similarly successful season last year. They ended with a disappointing 8-8 record, falling short of the playoffs and leaving fans scratching their collective head.
Fast forward to 2020 and we're finally seeing the defense we all thought the Bears had after signing Khalil Mack and drafting Roquan Smith. Yes, there are some notable offensive struggles but, despite that, the Bears keep winning.
Following the Bears' win over Carolina on Sunday, the Green Bay Packers got exposed and lost badly to the Tampa Bay Buccaneers. As such, the Bears now find themselves in sole possession of first place in the NFC North with a 5-1 record. Granted, the Packers also have only one loss but they've played one fewer game and this have a lower winning percentage (.800 compared to .833).
According to FiveThirtyEight, the Bears have 85% odds of making the playoffs and a 48% chance to win the NFC North. Whether they can make good on those odds and stay in first place will likely be answered over the next three weeks, when they play the Los Angeles Rams (4-2), New Orleans Saints (3-2), and Tennessee Titans (5-0) in consecutive games beginning on Monday night. Things get a little easier after that since, excluding the Packers, the Bears' remaining schedule comes against five teams that have accumulated only five total wins.
There are still a lot of scenarios that can play out over the rest of the 2020 season, though it sounds like both Matt Nagy and Ryan Pace have secured their jobs one way or the other. Even if that seems premature, avoiding any lame duck conjecture at least removes a few distractions. If the Bears can win two of the next three games and split with the Packers, expect them to maintain the inside track toward an NFC North title.