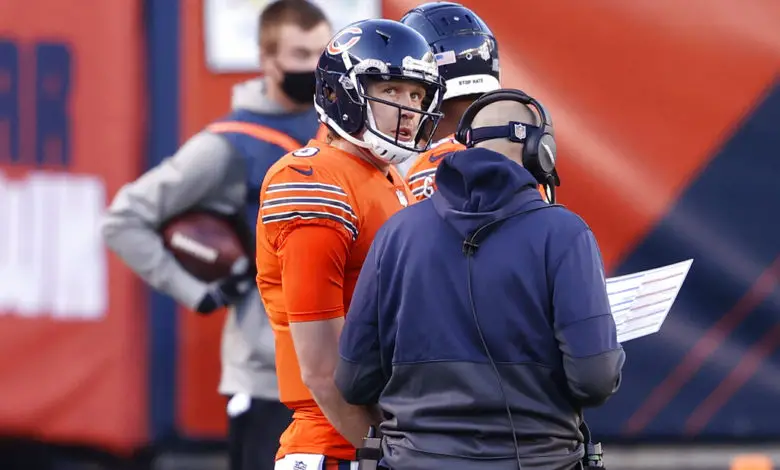 Nick Foles, Matt Nagy Optimistic About Future Because They're 5-1
The Chicago Bears are 5-1. That alone should give reason to be optimistic for even the most pessimistic fans. Of course, that's before we start talking about how the Bears got there. You do that and those naysayers get a little more ammo with which to fire.
In his postgame interview, Nick Foles said he'd rather win ugly than lose pretty. Foles went on to say he was excited about winning as a team, admitting that the Bears still have plenty of room to improve.
Matt Nagy echoed those positive sentiments. He also acknowledged that the offense needs work but resisted the urge to dwell on the negatives, instead choosing to emphasize the positives.
"It's hard to explain the feeling we have in this locker room, the 5-1 [record] for this team right now," Nagy said. "That's hard to do."
It hasn't been pretty, particularly on the offensive side of the ball. But that defense, though. Whoa baby, that defense. If winning ugly was an art form, the Bears would be turning out Picasso prints at an incredible pace. It's a good thing, too, because they've needed every bit of help to keep their limited scoring from sinking them.
The Bears rank 16th in total passing yards (1,438), but they have the fourth-highest number of passing attempts (238). Only two teams in the top 10 in passing attempts have a winning record, the Bears and Tampa Bay. All the others — the Bengals, Falcons, Jaguars, Eagles, Cowboys, Washington, Jets, and 49ers — are teams you'd rather not be compared to.
The rushing attack isn't much better, with the Bears' 3.9 yards per carry average sitting 24th in the NFL. Even more concerning, they only have two rushing touchdowns all year. That's tied with the hapless Jets for dead last in the league and doesn't appear to be in any danger of improving.
But back to that defense.
The Bears rank first in completion percentage allowed (57.1%) and seventh in overall yards allowed per game (337.2). They're also sixth in points per game allowed (19.3). The rub is that they rank near the bottom in points scored per game (21.3), leaving them as the only team averaging under 25 PPG with a winning record.
The upside to this all is that the Bears get an extra day to prepare and work out the offensive kinks with their next game coming on Monday night against the Rams. Of course, they had 10 days to get ready for the Panthers and it sure seemed like all those knots that were tied up tightly around the offense were still there come game day.
But hey, the Bears are 5-1. Let's focus on that and hope that Nagy and Foles can set the offense straight soon. Otherwise we'll be talking about how they can still leverage all that room for improvement.