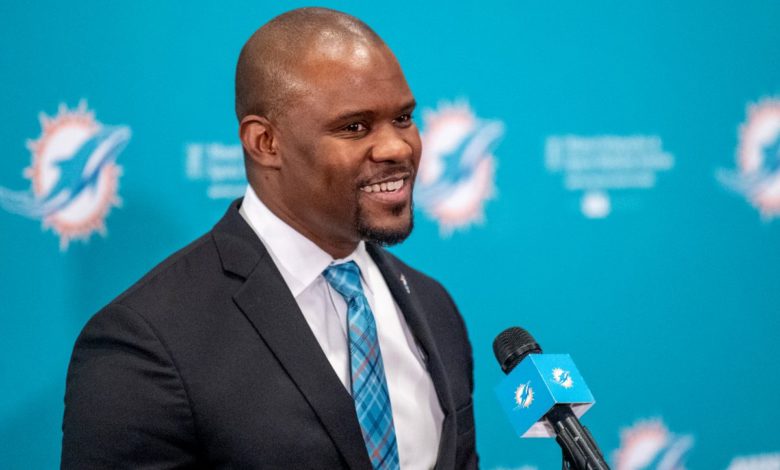 First & Long: Bears Reportedly Smitten With Brian Flores, Fields Trade Highly Unlikely, More Interviews On Tap This Week
The Bears are reportedly "very smitten" with former Dolphins coach Brian Flores. Whether the feeling is mutual is up for debate. Chicago has cast a wide net in its search to replace Matt Nagy, one that goes at least 10 deep, not counting the candidates who have yet to be interviewed. It's surprising that Leslie Frazier hasn't been among the hot names, but that may change after he interviews with George McCaskey, Ted Phillips, and Bill Polian on Friday.
The rumor is that Flores wants to work with an elite quarterback, and has his eyes on Deshaun Watson. That doesn't automatically disqualify the Bears, however. Flores could be enthusiastic about working with the relatively unproven Justin Fields, or, the Chicago opening may have caught his eye if McCaskey is willing to sign off on trading his rookie QB, possibly for a chance to acquire Watson. That idea is not as far-fetched as one might think.
Per Mike Sando of The Athletic, Fields may be available in trade (subscription-based content).
"From a roster construction standpoint, Chicago is a very desirable location if you ask me, including the fact that you could possibly trade (Justin) Fields," said an unnamed coach quoted in Sando's column.
Wait. What?
There is no chance in hell the #Bears are trading Justin Fields this offseason.

Stop it.

— Jacob Infante (@jacobinfante24) January 19, 2022
The idea that McCaskey would sign off on trading Fields less than one year after moving up in the draft to acquire him seems preposterous. McCaskey even said so after firing Nagy and Ryan Pace.
"Well, I'm just a fan," McCaskey said at last week's presser. "I'm not a football evaluator. As a fan, what I see is a dynamic player [in Fields] with a lot of potential, a lot of ability, a lot of heart, and a strong work ethic. We will be very interested to hear from both general manager and head coach candidates what their plan is to get the most out of the quarterback position for us."
Based on that comment, it's much more likely the organization will look to fill their openings with people who believe Fields can become an elite quarterback. The backlash that would follow trading Fields and acquiring Watson just to appease Flores might not provide the feel-good moment the McCaskeys need. From a PR standpoint, that's a real tough sell given Watson's troubled past.
The Giants have indicated they have a strong interest in Flores, and if he truly wants to work with Watson, Houston would be the obvious choice. The Texans need a head coach, and they need someone who is capable of instilling confidence in the team's fanbase that he and Watson can succeed together regardless of the quarterback's off-field issues. It might take some convincing by Flores, however. Houston GM Nick Caserio said he remains "open-minded" about either retaining or cutting ties with Watson
Coincidentally, the Bears are interested in Reggie McKenzie to fill their general manager opening. McKenzie currently works for the Dolphins, and it seems unlikely he'd be interested in reuniting with Miami's recently-fired head coach here in Chicago. The whole thing is starting to sound like a soap opera, and we should expect nothing less considering McCaskey and Phillips are quarterbacking the search, pun intended.
The smart play might be to hire Joe Schoen to replace Pace and then bring in Frazier or Brian Daboll to coach. A deep playoff run by the Bills might throw a wrench in that plan, depending on how soon the Bears want to get started with a new GM/head coach combo in place. Then again, all three have garnered enough demand that only Flores may be hired before this year's Super Bowl, which probably puts Houston in the catbird seat. Still, it wouldn't be a shock if McCaskey and Phillips waited until all of the other NFL openings have been filled, giving them a leg up in negotiations with the remaining available candidates.
There are eight head coaching and four GM openings right now. It will be interesting to see who is hired for each before the Bears announce their choices.
Bears News & Notes
There's a Flag…On the Play
Do we really need expanded playoffs?
The Steelers lost by 21, the Patriots lost by 30 & the Cardinals lost by 23 during the opening weekend of the playoffs.

It's the 2nd instance in NFL postseason history of three teams losing by a margin of 20 or more during the opening round of the playoffs, & first since 1982 pic.twitter.com/vGolxKdQ3c

— ESPN Stats & Info (@ESPNStatsInfo) January 18, 2022
Northern Exposure
The Packers may already have an advantage heading into their Sunday night contest with the 49ers, and it's not playing at Lambeau Field in subzero temperatures. San Francisco quarterback Jimmy Garappolo is dealing with a slightly strained throwing shoulder.
If you're wondering which way the Lions may be leaning heading into this April's draft, they finished 27th overall in sack rate this season.
According to reports, the Vikings are very interested in Rams defensive coordinator Raheem Morris to replace head coach Mike Zimmer.
NFL News & Notes
Houston's asking price for Watson remains astronomically high.
Drew Pearson called Cowboys quarterback Dak Prescott a "$40 million disappointment."
Through Mike Tomlin was visibly upset over the retirement of Ben Roethlisberger, he said yesterday he is not looking for a Big Ben clone to lead his team next season.
The Broncos interviewed offensive coordinator Kellen Moore for their head coach opening.
Denver may look to acquire Vikings quarterback Kirk Cousins. One publication lists Cousins as the team's top offseason target.
Buccaneers QB Tom Brady is older than each of the remaining NFC head coaches.
Rumors have surfaced that the Raiders may trade signal-caller Derek Carr and that the Colts could be a team of interest.
Until the Raiders announce their intentions with interim head coach Rich Bisaccia, he may generate interest from the seven other teams that have existing openings.
CBS Sports believes the Las Vegas franchise will convince Jim Harbaugh to leave the University of Michigan and coach the Raiders in 2022.
Mixed messages have emerged recently regarding Harbaugh's future.
Mock Around the Clock
Sports Illustrated's first mock draft is very heavy on defensive selections at the top of Round 1.
CBS Sports is predicting the Eagles will select defensive players with all three of their first-round picks.
Pro Football Focus predicts four quarterbacks will go in this year's first round.
As of now, the Jets would prefer to trade down from the No. 10 overall pick. New York also has the No, 4 pick of the first round.
Three Yards and a Cloud of Dust
The Packers were the least penalized team in the NFL this year. They're also the favorite to win the NFC championship.
With 1,571 receiving yards on the season including the playoffs, Ja'Marr Chase of the Bengals broke a 62-year-old record for rookie wide receivers. Bill Groman (1,510) has held the record since 1960.
The Cowboys committed 14 penalties on Sunday, tied for second-most ever in a playoff game.
From the Podium 
"For me, it's all about the games that we have and that's how I approached last week leading up to our New England game, just making sure I stayed locked in on what we had to get done against that particular team. I'm not the type of person that can divide my mind and switch gears, so I had to stay locked in, and then after the game, I started looking at some things, that was when I got home, it was about 1 o'clock in the morning." – Frazier, on why he postponed his interview with the Bears.