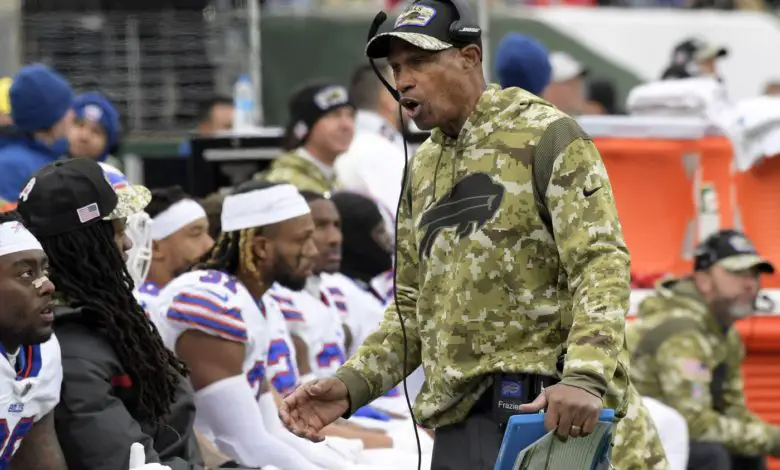 Leslie Frazier Gets Little Love From Bears Fans
George McCaskey, Ted Phillips, and Bill Polian are leaving no stone unturned in their search for a new head coach, but Leslie Frazier gets little love from Bears fans, and that's a shame. Aside from being an integral part of Chicago's most beloved football team ever, Frazier is well respected by players and peers throughout the league. In fact, of all the interviewees passing through Halas Hall this week and next, the former Bears' cornerback might just be the best leader of all of them.
His résumé as an assistant coach and coordinator speaks for itself. The 62-year-old currently runs the Bills' defense, which led the NFL in total yardage allowed during the regular season (272.8 per game). Buffalo also tied for third with 30 takeaways, finishing in the top 10 of that category for the fifth consecutive season. The Bills finished first in points allowed this season, and Frazier led them to a second-place finish in the same category two seasons ago.
Last week, Frazier's defense held the Patriots to 17 points and 305 total yards in their Wild Card tilt, with much of that production coming with the Bills coasting thanks to a 30-point lead.
The knock against Frazier is the time he spent as head coach of the Vikings. Starting as an interim coach at the end of the 2010 season, he went 21-32-1 with just one winning season and one playoff appearance. His quarterbacks during those three-and-a-half seasons were Christian Ponder and Matt Cassel. His lone first-team all-pros during his tenure with Minnesota were defensive lineman Jared Allen (2011), running back Adrian Peterson (2012), center John Sullivan (2012), and return specialist Cordarrelle Patterson (2013). To say he didn't have much to work with is a huge understatement, yet he still won 21 games.
He's also considered a little too laid back for some Bears fans who believe the team needs a fiery person in the mold of Mike Ditka on the sidelines. Some say it would be "an uninspiring choice" if Frazier is chosen to become the 17th head coach in Chicago's storied NFL history. That's a bit of a weak argument as personalities matter little in the success or failure of head coaches league-wide, historically speaking.
A member of the 1985 defense gets to see if he's a good fit to return to Chicago later this week.https://t.co/2lr0F2Z1mI

— Bears Talk (@NBCSBears) January 18, 2022
Frazier is also familiar with the Bears' organization and its executive leadership. He started all 16 games during Chicago's 1985 championship season and intercepted six passes, returning one for a touchdown. He also had a huge pick in the NFC Championship game against the Rams. The cornerback's career ended when he tore his ACL in Super Bowl XX. Frazier earned a second ring when the Colts beat the Bears 29-17 in Super Bowl XLI. He was an assistant to Tony Dungy that season.
Casual fans refuse to give Frazier a pass for his time with the Vikings, and that's too bad. When it comes to experience and leadership he should be among the fan favorites of the current candidates. Add his previous experience as a Bears player and his work as a defensive coordinator since 2003, and Frazier should be a slam dunk pick.
No one should question his work ethic, either. Originally expected to interview with the Bears last Sunday, Frazier asked to reschedule so he could focus on Buffalo's game plan for their game against the Chiefs this weekend. He'll sit down with Polian, McCaskey, and Phillips via videoconference on Friday instead.
"For me, it's all about the games that we have and that's how I approached last week leading up to our New England game, just making sure I stayed locked in on what we had to get done against that particular team," Frazier said Monday. "I'm not the type of person that can divide my mind and switch gears, so I had to stay locked in and then after the game I started looking at some things, that was when I got home, it was about 1 o'clock in the morning.
"So I went through some things at that point and just did the best that I could. But I couldn't neglect what I had to do in preparation for our ball game. It won't be any different this week. I have to really stay locked in on what we have to get done. It's hard to look at another team for me personally and stay focused on what I have to get done. So, for me, it's all about this opponent and then you shift gears once that time comes. But, for me, it's been locking in on the Kansas City Chiefs."
As far as peer recognition, Frazier receives high praise from Dungy himself.
"Leslie is special," Dungy said." With his connection to the Bears and knowing that city, the organization, and the mentality there, I don't know how you couldn't give him serious consideration. … Les knows how to galvanize people. He brings players together. And he has always had a good vision for how to get the most out of people."
That's a solid endorsement from a Hall of Famer who knows a thing or two about coaching. In fact, Frazier has worked for Marvin Lewis, Andy Reid, John Harbaugh, and Lovie Smith in addition to Dungy. While with the Vikings, Mike Singletary, Darell Bevell, and Kevin Stefanski all served as his coordinators. As a player, he performed under the watchful eyes of Buddy Ryan and Coach Ditka. Ryan always said Frazier was the best cornerback in the league and that he should have been an all-pro.
At halftime of the 1985 season opener, the nondescript Buccaneers were leading the Bears 28-17. Ryan told Frazier to disguise his coverage to start the third quarter, intercept a pass and run it back for a touchdown. That's exactly what Frazier did, scoring on a 29-yard pick six.
In case you didn't know, #Bills defensive coordinator and former #Vikings head coach Leslie Frazier used to play Cornerback for the #Bears and led the team with 6 INTs during their 1985 Super Bowl Championship season.pic.twitter.com/zbgzGreXCV

— Dov Kleiman (@NFL_DovKleiman) July 1, 2021
The accolades don't end with former coaches and teammates. Those who have played under Frazier revere the former defensive back, too.
"It's leadership," said NFL executive and former safety Troy Vincent, who was with the Eagles when Frazier broke in as a defensive backs coach in 1999.
"I [had] just got my butt whooped and I came back to the sideline, and [Frazier] was like, `Hey, make this slight adjustment and you'll make that play,`" Vincent said.
"Frazier is a hell of a coach, hell of a person," Buffalo safety Micah Hyde added. "Any organization in this league would be lucky to have him."
Bills' head coach Sean McDermott believes Frazier is ready to lead his own team.
"Leslie is ready. I was disappointed he didn't get one of those jobs last year," McDermott said. "He sees things through a different perspective than I can because I didn't play in the league."
Frazier's ready, too. In fact, the only thing that might hurt Frazier's chances is a deep playoff drive by the Bills. The Bears won't be able to bring him in for a second interview until after next month's Super Bowl unless Buffalo is eliminated this week or next.
"The fire's burning," Frazier said. "It's underneath, behind the chest cavity, but it's burning."
Don't let that cool, steady demeanor fool you, and don't judge him for leading a Vikings team that probably couldn't beat any of the Bears teams that Matt Nagy coached. According to some reports, Frazier is at or near the top of Chicago's list, and rightfully so. He deserves the respect of Bears fans and would be an excellent hire.