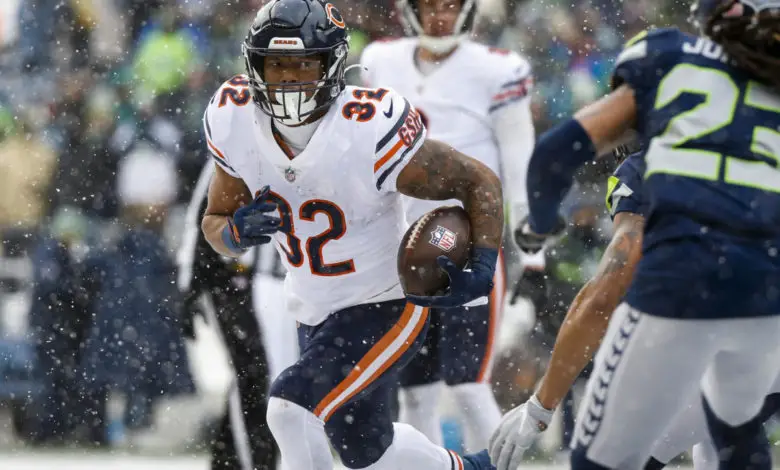 Bears Must Emphasize Running Game With David Montgomery
Though the jury is still out on how good (or great) Justin Fields will be now that he will no longer be contained by Matt Nagy, the Bears must remember to emphasize the team's running game next year. David Montgomery is the reason, and he may be the NFL's most underused weapon the last two seasons.
As running backs go, there may not be anyone better at punishing would-be tacklers than No. 32. In fact, Montgomery was named Good Morning Football's "Angry Runs" performer of the week for a number of ferocious runs against the Seahawks in Week 16. The Bears won that game on a dramatic two-point conversion, but Montgomery doesn't have to be angry to punish tacklers, as witnessed in the video below.
David Montgomery powers in for his second TD of the game! #DaBears

📺: #CHIvsMIN on FOX
📱: NFL app // Yahoo Sports app: https://t.co/EJLjYXQNy2 pic.twitter.com/EO0GBqLUyr

— NFL (@NFL) December 20, 2020
When healthy, the 24-year-old is the Bears' most consistent offensive weapon, but Chicago's general inability to outscore its opponents reduces the number of chances he gets to carry the ball. Nagy's predictable offense didn't help either, as far too often the Bears ran on first down, leaving the offense in long-yardage situations on second and third downs. Chicago's offense peaked under the former head coach in 2018 and hasn't topped its 21st-place finish since.
Montgomery ranked 12th among NFL backs this season with 88.5 yards from scrimmage per game. Additionally, he ranked eighth with 18.8 touches per game, making him perhaps the only sure bet in the Bears offense. Before the season started, Nagy pledged to get the star running back at least 25 touches per game, yet rarely had the confidence to use him on 3rd or 4th and short situations. That was evident in the season finale against the Vikings.
At one point, Montgomery stood on the sideline early in the second quarter with a blank expression, shaking his head ever so slightly. It wasn't just that Nagy refused to call his number, but that he wasn't even on the field. Nothing telegraphs a passing play like having your star running back on the sidelines for a critical fourth-and-1. Andy Dalton took a sack on that play and the Bears turned the ball over. In a similar situation during the 4th quarter, the veteran quarterback threw a pick-six that covered 65 yards.
The Bears were 1-for-6 on fourth down last Sunday, with Dalton getting sacked on three of the plays and throwing the interception on another. The only fourth down the Bears converted was when Nagy gave Montgomery the rock on fourth-and-1 in the first quarter.
It was par for the course during an up-and-down season for Montgomery and the rest of Chicago's offense. The third-year back missed four games this year to injuries, something he takes personally.
"I haven't done as much as I felt like I could to help the team,"  Montgomery said.  "I feel I could do better in a lot of areas, but you have times where you go through rough patches and you have to be able to fight and keep going."
Still, imagine how much more productive the Bears might have been if they gave Montgomery 7-10 more touches per game, especially for a guy who tends to get better with more work.
Despite being ignored in clutch situations for most of the season, nobody appeared more thankful for Nagy and Pace after the announcement of their dismissals.
"It's kind of pretty emotional for me just because I'm just a kid from Cincinnati who didn't have many shots coming out of high school," said Montgomery. "Then coming out in the draft, I'm being passed up by a lot of teams and I'm not thinking what's going to happen and not knowing what's going to happen next for me. And Pace and Nagy? They took a chance on me. They took a chance on a poor kid from Cincinnati who people looked at as if he wasn't going to be good enough to even get a chance to play. That's why it's emotional for me. Because they stuck their neck out on the line for me. And I appreciate them for that."
Most certainly the Bears want to hire a coach who will be able to expedite the development of their prized quarterback. Indeed, with the right tutelage, Fields could be special and has an opportunity to be Chicago's first franchise quarterback since Sid Luckman. At the same time, the Bears' next coaching staff has to utilize Montgomery for the weapon he is. A strong running game will better weaponize Fields and will help Chicago score more points. It would behoove George McCaskey and Bill Polian to stress a strong running game while conducting their head coaching interviews.