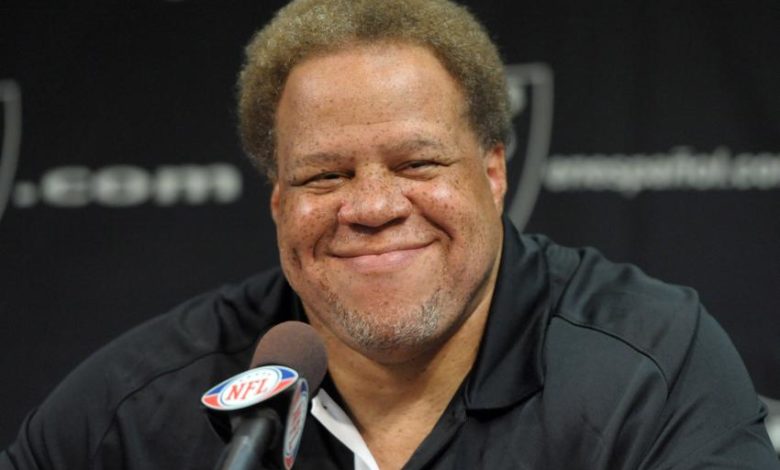 Report: Bears to Interview Reggie McKenzie for GM Opening
Former Raiders GM Reggie McKenzie, a senior personnel executive the last three years in Miami and longtime Packers executive, will be among the executives to interview for the Bears GM opening per Sports Illustrated's Albert Breer. McKenzie engineered the trade that brought linebacker Khalil Mack to Chicago right before the start of the 2018 season. The Bears have an opening at GM after firing Ryan Pace on Monday.
Bears Request Reggie McKenzie Interview https://t.co/i1vFEYyPlJ pic.twitter.com/vxrZm9agUh

— Pro Football Rumors (@pfrumors) January 16, 2022
His responsibility for the Mack trade was due to the fact the Raiders mismanaged their salary cap and couldn't afford to keep him, according to Vic Tafur of The Athletic (subscription required).
McKenzie also drafted Mack at No. 5 overall in the 2014 draft, and he's responsible for a number of talented Raiders players that were ousted by the Bengals in yesterday's Wild Card tilt. Quarterback Derek Carr was selected in Round 2 of that '14 draft, and McKenzie grabbed Amari Cooper, who now plays for the Cowboys, a year later. Current Bears DE Mario Edwards was also drafted by McKenzie in 2015.
The 58-year-old executive spent four years as a linebacker for the Raiders starting in 1985. After a 1992 comeback with the 49ers failed, McKenzie shifted gears to scouting and front office employment.
McKenzie worked for the Packers from 1997-2011, the first 11 years as Green Bay's pro personnel director and then as director of football operations.
Born in Knoxville, Tenn., on Feb. 8, 1963, McKenzie earned a bachelor's degree in business administration with an emphasis in personnel management at Tennessee. A two-way football star at Austin East High School in Knoxville, McKenzie was valedictorian of his 1981 graduating class. His twin brother, Raleigh, also attended Tennessee and enjoyed a 16-year NFL career, including his final two seasons with Green Bay (1999-2000), before he retired in 2001.
Chosen by Ron Wolf as a 10th-round selection out of the University of Tennessee in 1985 by the then-Los Angeles Raiders, McKenzie became an immediate starter on defense and went on to win all-rookie honors. After four years (1985-88) with the Raiders, McKenzie spent two injury-plagued seasons (1989-90) with the Cardinals and one year (1992) with the 49ers.
Prior to signing with the 49ers, he played with the World League's Montreal Machine in the spring of 1992. While out of football in 1991, McKenzie spent a season as a defensive coach for Dorsey High School in south-central Los Angeles.
In 1993, McKenzie returned to Tennessee and served as an assistant under head coach Philip Fulmer. That year, the Volunteers appeared in the Florida Citrus Bowl and landed one of the nation's top recruiting classes, highlighted by QB Peyton Manning. While back in Knoxville, McKenzie also pursued a master's degree in education administration.
He's spent the last two years in the Dolphins' front office working with GM Chris Grier and could provide keen insight on Brian Flores and why Miami ownership dismissed the head coach after winning eight of their final nine games. Flores interviewed with the Bears on Friday.
In addition to requesting an interview with McKenzie, the Bears have requested to speak with Morocco Brown and Ed Dodds as potential replacements for Ryan Pace. Joe Schoen of the Bills was scheduled for an interview today, and Chicago has also conducted interviews with a number of other candidates since Wednesday. Former NFL executive Bill Polian is leading the search for Pace's replacement.