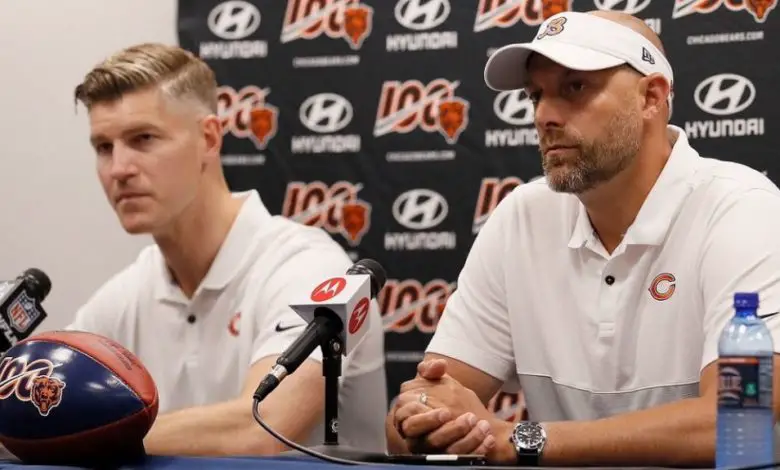 Bears Fire Pace and Nagy, May Cast Wide Net in GM Search
As expected, the Bears started a restructuring of their football operations department by firing general manager Ryan Pace and head coach Matt Nagy this morning. The fate of team president "Teflon" Ted Phillips has yet to be determined, and what happens next is anybody's guess. Brad Biggs of the Chicago Tribune indicated that there could be up to 27 candidates with some level of interest in replacing Nagy.
Bears part ways with HC Matt Nagy and GM Ryan Pace. pic.twitter.com/uZc0212tAq

— NFL (@NFL) January 10, 2022
As far as finding a new GM, Rod Graves and Morocco Brown are reportedly on a much shorter list to either replace Pace or become the team's new president of football operations. Such a move would slide Phillips back to the business side of things if he is retained by the organization, as expected. Phillips has been with the Bears since 1983.
Pace was hired with the help of talent evaluator Ernie Accorsi, who was contracted to drive the search for Phil Emery's replacement in 2014. Team chairman George McCaskey could lean on Graves or Tony Dungy to steer the current effort and each could lead the Bears to take a more diversified approach. Heck, why not make Graves the president and Dungy the team's GM?
Expect McCaskey to cast a wide net to fill both positions. The Bears are in no position to make a mistake here, and one would hope that Phillips will not be part of the hiring process. Being open-minded also means relying on professional football people only. Phillips, an accountant by trade, is no more qualified to weigh in on the hiring process than you or I. The fact that McCaskey needs outside consulting is all the proof you need that Phillips is out of his depth when it comes to front office hires.
Besides Graves and Brown, candidates for a position in Chicago's front office include Trace Armstrong, Jeff Ireland, Champ Kelly, Rick Spielman, Malik Boyd, Ed Dodds, Monte Ossenfort, and Omar Khan. You can assume there are probably about a dozen other candidates that the team would like to contact. I campaigned for Khan and Ossenfort late last season when it looked like the Bears might make a change.
Armstrong, who is Nagy's agent, has been mentioned for several weeks as someone who might run the team's football operations department, with a new GM reporting directly to him. The former defensive lineman played for 15 years, including six with the Bears. He was also the president of the NFLPA from 1996 to 2003. With Nagy dismissed, a conflict of interest no longer exists though the optics may seem slightly askew if he is hired.
Brown is the current director of college scouting for the Colts and was Chicago's assistant of player personnel from 2001 to 2007. His 2020 draft has yielded star running back Jonathan Taylor, safety Julian Blackmon, and breakout wide receiver Michael Pittman, Jr. Though there won't be much demand for executives this offseason, Brown is probably at the top of the list of any team that wants to make a change.
Ireland is the vice president and assistant GM with the Saints and was a ball boy for the Bears when he was 12-years old. New Orleans made the playoffs in four straight seasons under Ireland's stewardship, and he is responsible for drafting Marshon Lattimore and Alvin Kamara.
Kelly is the current assistant director of player personnel for the Bears and is highly regarded by the McCaskeys. He joined the Bears as director of pro scouting with John Fox in 2015. Kelly has previously interviewed for GM positions with the Panthers and Broncos.
Speilman was fired by the Vikings this morning after 16 seasons as GM. Minnesota was 132-123-2 under his guidance with a 3-6 record in postseason play. He also has ties to the Bears, having served as director of pro personnel from 1997 to 1999.
Boyd is part of the Bill Polian tree that includes Dungy and currently serves as director of pro personnel for the Bills. Boyd also worked for Graves with the Cardinals. Graves and Boyd would make a great front office tandem while sending a message that the Bears are serious about restructuring their front office as a true football-first organization. Graves also has previous experience with Chicago. The 63-year-old executive served as director of college scouting and director of personnel from 1984-1994 under Bill Tobin.
Dodds also works for the Colts as assistant GM and previously worked in the personnel department with the Seahawks, where he was part of five NFC West titles and one NFL championship.
Ossenfort currently serves as director of player personnel for the Titans, but worked as director of college scouting for the Patriots before joining Tennessee last May. The former collegiate quarterback was partly responsible for New England's selection of rookie QB Mac Jones. Ossenfort interviewed for the Browns' GM opening in 2020.
Khan would represent a very strategic hire because he would become president of football operations. The 44-year-old executive currently serves as vice president of football and business administration for the Steelers. If the Bears hire Khan, he would choose the team's next GM and ultimately Chicago's next head coach. He's been with Pittsburgh since 2001 and is regarded as one of the brightest front office minds in the game. He would bring stability to an organization that has been lacking that trait for nearly three decades.
Keep an eye on Mark Sadowski, too. He's currently Chicago's director of college scouting and has worked for the organization since 2005. A Chicago native, Sadowski got his start with Mike Ditka in New Orleans and was very instrumental in drafting imminent Hall of Fame special teams star Devin Hester while with the Bears. He's been a big influence in all of Chicago's drafts going back to the Jerry Angelo era and many of the team's current, best young players were selected based on Sadwoski's recommendations.
Nagy ends his career with a 34-31 record. Pace was 48-65 in seven seasons as GM. Both were 0-2 in postseason play.
Finally, change has come to Halas Hall. I'll have more on coaching candidates in a later post.